by Eldon MacDonald (edited by @ChrisRalphTHW)
Joshua Jacobs
THW's NHL Draft War Room Rankings – Apr-14: #40
THW's NHL Draft Rankings – The Next Ones Edition (aka Chris's List): #55 (March 2014)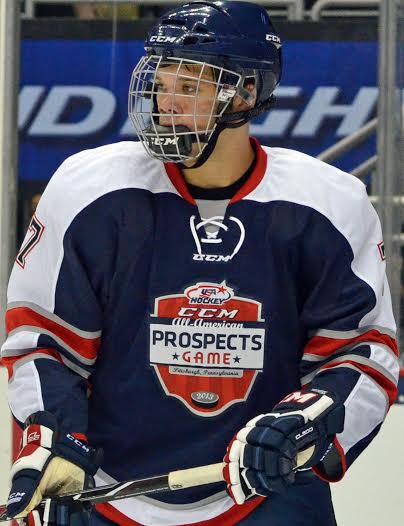 Hashtag: #MrFluid
Team: #8, Indiana, USHL
Commit: Michigan State University
Position: Defense
Shoots: Right
Height: 6'2
Weight: 193 lb.
Born: Wildwood, MO, 15-Feb-96
Twitter A/C: @JoshJacobs8
[Your quintessential draft resource:
Stats
Other Rankings
26 – Craig Button, Apr-14
55 – NHL Combined – Final, Apr-14
Worth Retweeting
http://t.co/TMB326PEad
#29 Joshua Jacobs @JoshJacobs8
Big upside for two-way game; displays strong mobility & size. Efficient physical game.

— ISS Hockey (@ISShockey) December 14, 2013
Josh Jacobs' PPG – his second goal in as many nights – has @indianaice up 1-0 on Waterloo after 1 in the @USHL Clark Cup Final!

— Andrew Smith – Fuel PXP (@FuelPXP) May 11, 2014
https://twitter.com/JoshJacobs8/statuses/403618186836201474
https://twitter.com/Canuckscout/statuses/436615374759788544
Thanks to @THNRyanKennedy for the latest edition of @TheHockeyNews Hot List featuring @indianaice D @JoshJacobs8 http://t.co/LmXgNKEJ8p

— USHL (@USHL) February 25, 2014
Profiles
Contains All the Prospects Profiled in This Series]
Interviews
Quotable
Quote 1: Craig Button, TSN Director of Scouting, at USAToday.com, "(Jacobs) is such a good and free skater, Sometimes with young defensemen, skating helps get them out of trouble. But what I see now with him he is using his skating to command the game."
Quote 2: Ben Kerr at LastWordOnSports.com, "He is a very good skater, with a fluid stride, good top end speed, and explosive acceleration.  He uses his size effectively exploding into big hits and battling hard along the boards and in front of the net, as well as being a willing shot blocker. He does need to work on his positioning, as well as a habit for giveaways, but he is young and raw with excellent potential to grow past those issues."
From the War Room
Eldon MacDonald, THW:  A few words on Joshua Jacobs:
Mr. Fluid – The first thing you notice about Josh Jacobs is the fluidity of his skating; it can help resolve a lot of problems as well as add to that offensive push when needed.
Offense – Fluid skater, puck carrier, the man to get you out of trouble.
Defense – Hard hitter, will use the body, provides that steady presence on the blue line that teammates, goalies and coaches like.
Improvements to make – On offense, Josh could work on putting a little more oomph in his shot. On defense, his high plus minus of +36 is potentially indicative that he doesn't have too many issues – however, he still can have those mental brain freezes which usually go away with a little more seasoning.
Draft placement – A defenseman such as Josh that has the size, speed and willingness to be physical should at least be a sure bet for the second round.
Clark Cup Update – As this is being written, Josh is helping to lead his team, the Indiana Ice, against the Waterloo Black Hawks in the 2014 Clark Cup Finals with a goal in each of the first two games of the series.
Video