by Eldon MacDonald (edited by @ChrisRalphTHW) 
THW's NHL Draft War Room Rankings – Apr-14: #66
THW's NHL Draft Rankings – The Next Ones Edition (aka Chris's List): #93 (March 2014; a definite riser for final rankings)
Justin Kirkland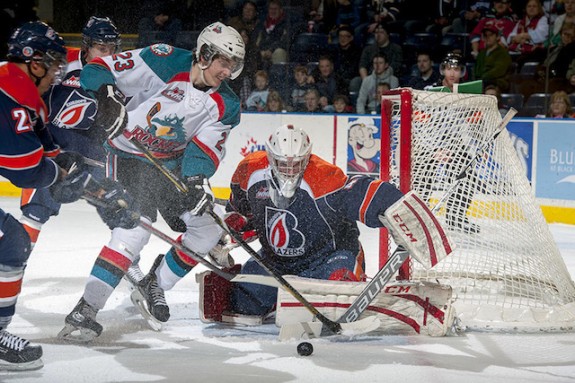 Hashtag: #MrProject
Team: 23, Kelowna, WHL
Position: Left Wing
Shoots: Left
Height: 6'3
Weight: 190 lb.
Born: Camrose, AB, 2-Aug-96
Twitter: @Kirkland96
Stats
Other Rankings
45 – Craig Button, Mar-14
88 – NHL Combined – Final, Apr-14
[Your quintessential draft resource:
Worth Retweeting
WHL: Kelowna rookie Justin Kirkland fills versatile role for Rockets – http://t.co/kR8Ju5gE7t via @KelownaCapNews #Kelowna @Kelowna_Rockets

— Black Press BC (@BlackPressMedia) April 2, 2014
17 – Adding 2 to his total last night, @Kelowna_Rockets rookie Justin Kirkland (@Kirkland96) now has 17 points in his last 16 games

— WHL Facts (@WHLFacts) March 6, 2014
1 goal,2 assists,a +2 rating,AND the shootout winner.Nice night for Justin Kirkland! @Kirkland96 #keepcalmandkirkyon pic.twitter.com/HfWUrcmZ7B

— Kelowna Rockets (@Kelowna_Rockets) November 2, 2013
Thanks Derek Cain @2131photography for sending us pics tonight incl. this one of @Kirkland96's Forsbergian beauty pic.twitter.com/9jq7bMNTMq

— Kelowna Rockets (@Kelowna_Rockets) March 15, 2014
Profile
Contains All the Prospects Profiled in This Series]
Quotable
Quote 1: Kyle Woodlief at USAToday.com, "Kelowna Rockets first-year man Justin Kirkland, who played the last two seasons at noted Saskatchewan hockey factory Notre Dame, is a late-blooming power forward who is still filling out an impressive 6-3 frame after a recent growth spurt. One of our WHL scouts has been impressed by the seamless transition he has made into major junior, and sees a high end hockey IQ. Kirkland already graduated high school a year early to dedicate his draft season towards improving on ice and logging extra hours needed in the gym. For now we'll call him a Red Line sleeper because we haven't heard much talk about him yet among the scouting fraternity. But we'll be surprised if there isn't some added scouting attention on Kelowna in the second half."
Quote 2: Bill Placzek at DraftSite.com, "Big winger is a late bloomer who played the past seasons at Notre Dame (Sask). Shows the ability to develop into a winger with a power game after some long term work."
From the War Room
Eldon MacDonald, THW:  A few words on Justin Kirkland:
Mr. Project – I think Kyle Woodlief of USAToday.com described the case of Justin Kirkland correctly when he asked, "Best-case scenario: Could he become Jamie Benn lite?".  Yes, Justin Kirkland is still a project but he is a worthwhile project that has power forward with size, speed and skills written all over him. A lot of teams and, yes, maybe all the teams, would be interested in taking on Mr. Project, Justin Kirkland.
Offense – Size, skating, hands, shooting, passing, Justin has all the basic skills you are looking for in a big power forward.
The goal – As a rookie in the Dub last season, Justin was very much a project in process. The long-term goal is for Justin to develop into that big power forward with speed, physicality and consistency. To achieve that goal, Justin will have to continue to improve upon the following:

Weight and strength– At 6'3, Justin already has the height of a power forward, two or three seasons of adding five to ten pounds of muscle will likely see him play professionally in the 205-215 range.
Physicality – The added weight and strength will cause Justin to naturally be more successful in his board work. With more success comes more confidence and with more confidence comes more willingness to compete and win battles along the boards and in front of the net like a true power forward should.
Consistency – This is something that will come naturally to Justin, I think, when he gains more experience and more strength.

Draft placement – OK, Justin's draft placements are all over the place. However, I find it hard to believe that a prospect with size and the potential to become a true power forward, like Justin Kirkland, would not warrant a second round draft pick, maybe even high second round. Jamie Bennwas not picked until the fifth round at 129th overall; I don't think all the teams in the NHL will make the same mistake twice.
Video
Video 1: ShawTV – Okanagan