The NHL perceives itself to have a marketing — or more accurately, penetration — issue, citing issues with success in non-traditional markets. The solution according to Bettman and company is to increase scoring. In their minds, a traditional hard-fought 2-1 battle is not enough to keep butts in seats and have otherwise-uninterested viewers tune in. Operating under the assumption that losing two inches from a section of padding that already has redundant coverage from a goalie's arsenal will turn those close-knit affairs into 6-5 shootouts of the 1980s, the NHL demanded another pad length reduction prior to the start of the 2013-2014 season.
As evidenced by Henrik Lundqvist's 40-save performance in game two of the Eastern Conference Finals, the best continue to respond with predictable results.
Kay Whitmore is the former NHL goaltender now in charge of literally signing off (his initials are found on the underside of every compliant pad) on this new initiative. Under the new rules he helped develop, pads are measured based on the ankle-to-knee measurement as before. The difference lies in the thigh rise, or the amount of padding found above the knee area. Most pad manufacturers offer their standard thigh rise, with an option to add plus-sizing above that base measurement. In an effort to standardize pad sizing from one goalie to the next, a hard set of parameters is now in place to ensure the pad predominantly focuses on protection rather than coverage. Prior to the new standards, the top of the pad could not extend more than 55 percent of the distance from knee to pelvis. Today, that is 45 percent, often representing a difference of up to 2 inches from the top of each pad. At the start of the season, goalies struggled with shots squeezing between knees when that extra leg pad used to be there.
Like all top athletes, Lundqvist adapted
Although his save percentage in 2013-2014 was the lowest since 2008-2009, that can also be attributed to a new system that places less focus on defensive shot blocking, and the Olympic break that affected many players. Lundqvist and the Rangers turned their season around by December, an improvement that is reaching its apex with a 2-0 series lead over the Canadiens in the ECF. If the slow start was attributed in any way to his smaller pads, it only took two months to adapt. Fans targeted goalies like him and other top names like Jaroslav Halak, Corey Crawford and Marc-Andre Fleury — previously accused of using equipment larger than necessary — expecting their game to hit the proverbial wall. Although there was an initial adjustment period, Lundqvist is in the Eastern Conference Finals putting up Conn Smythe numbers, Crawford is back in the Western Final and Fleury had his best post season since winning the Stanley Cup in 2009. Even AHL goalies like Jake Allen responded to the challenge, turning in the best season of his professional career.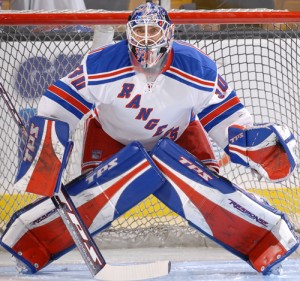 Most everyone wants goalies to make saves based on ability
Chest and arm protection was a favorite point of modification prior to official rules getting put in place, with enterprising goalies inserting extra padding under the shoulder floaters to increase height when down in the butterfly. Current Islander GM Garth Snow is a virtual meme in the goalie community for his excessively (and illegally) beefed up gear in the late 1990s. Most keepers that were expected to be the most affected by gear rule changes eventually found that speed and mobility increased without the encumbrance of extra padding.
The primary problem with goalies adapting to these new changes revolves around the idea that reductions will continue, to the point where actual protection is compromised and more injuries occur. The league doesn't place restrictions on the types of stick materials shooters use to achieve the incredible velocities formerly reserved for only the top shooters. Now, any player using the newest composite stick can fire rockets with less effort than before. Goalies like Lundqvist need to feel confident their gear can keep up to prevent damage to knees and clavicles. If the 2013-2014 season proved — and 2004-2005 before that — Lundqvist and the rest of his colleagues will continue to prove that their abilities are God-given, not gear manufacturer issued.
Freelance writer and public relations practitioner. 20+ years in goal and long-time Blues fan.