Jake Virtanen
THW's NHL Draft War Room Rankings: #8
THW's NHL Draft Rankings – The Next Ones Edition (aka Chris's List): #7 (March 2014)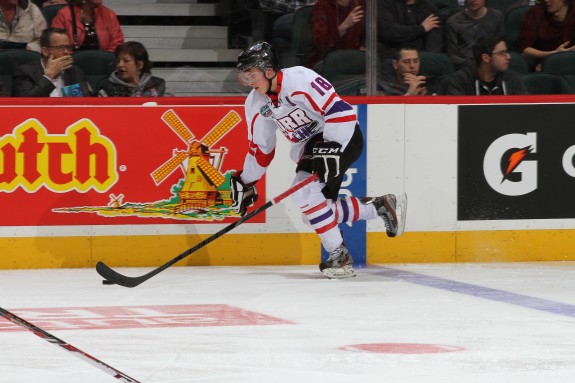 Hashtag/Nickname: #LocomotiV, #JakeTheSnake
Team: #18, Calgary, WHL
Position: Left Wing
Shoots: Right
Height: 6'1
Weight: 210 lb.
Born: Abbotsford, BC, 17-Aug-96
Twitter: @Jake_Virtanen
Stats
Other Rankings
7 – ISS, Feb-14
9 – NHL Combined – Mid-term, Jan-14
10 – Bob MacKenzie, Jan-14
14 – Future Considerations, Feb-14
47 – Craig Button, Jan-14
Worth Retweeting
Jake Virtanen finally surpasses the point per game mark, with 63 in 62. 40 of those are goals. He'll be Top 10 come June, without a doubt.

— Christian Roatis (@croatis) February 25, 2014
#WHLHitmen forward @Jake_Virtanen was mic'd up during warmup of yesterday's Top Prospects Game. (VIDEO) ~ http://t.co/UKKnZmDCBY

— Calgary Hitmen (@WHLHitmen) January 16, 2014
Jake Virtanen of the @WHLHitmen has hit the 40-goal mark. He leads all CHL draft eligibles in the category: http://t.co/xljCmff0Pt #NHLDraft

— FCHockey (@FCHockey) February 23, 2014
http://t.co/TMB326PEad
#7 Jake Virtanen @Jake_Virtanen
Very dangerous when engaged… Powerful fwd who hits like a truck… Excellent shot.

— ISS Hockey (@ISShockey) February 21, 2014
Profiles
Calgary Hitmen LW @Jake_Virtanen (top tester at Top Prospects) prepared for 2014 draft via @AAVickers. http://t.co/lEZPkEJpc9

— Mike Morreale (@mikemorrealeNHL) January 30, 2014
Quotable
Future Considerations' (FC) head WHL scout Zenon Herasymiuk, in describing the FC draft eligible forward of the month for January, at FutureConsiderations.ca:
"Jake has been playing outstanding hockey for the Hitmen as of late. Everything he touches seems to find the back of the net. He is starting work harder to get his chances and is bringing a little bit more creativity to the ice making him a handful for opposing teams."
Interview
New McKeen's: Interview with a Hitman: Jake Virtanen http://t.co/S40aenkAEC via @randygo1964

— Gus Katsaros🏒 (@KatsHockey) November 20, 2013
From the War Room
Eldon MacDonald, THW: A few words on Jake Virtanen:

Speed – Big man speed with acceleration, agility, balance. Won the 30 metre sprint, backward and forward, at the CHL Top Prospects game.
Shot – Big gun, quick finger, hits target, penetrates net.
Power forward – Jake Virtanen has the size, skating, drive and physicality teams look for in a power forward – Jake is probably the purest power forward in the draft.
Improvements to make – Judging by his performance in January (13 goals and 20 points in 14 games), Jake has already come a long way. However, he should continue to work on using his teammates better, push for excellence in his defensive work and exert his physicality on a constant basis to win puck battles.
Draft placement – Most have Jake at or around the top 10 now but if he continues to produce at or improve upon his January pace he could go significantly higher because his size and physical skills are as elite as just about anyone in the draft.
Video
About NHL Draft War Room Series
This series is compiled by Eldon MacDonald and edited by @ChrisRalphTHW)