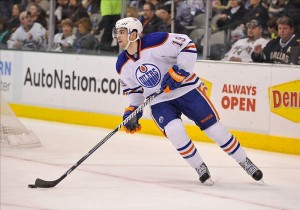 When Justin Schultz signed on the Edmonton Oilers in 2012, he brought with him a lot of hoopla. Originally drafted by Anaheim in 2008, Schultz elected not to sign with the Ducks, and ultimately became a free agent. He immediately became the target of many NHL General Managers, but the B.C native decided to go with the Oilers. Now, with his entry-level deal set to expire, he and the Oilers to decide if Edmonton will be his long-term home.
Schultz Has No Regrets
Considering how many teams were after him, many of them much better than the Oilers, one wonders if Schultz feels he made the right decision signing on with Edmonton. That notion was quickly dispelled by the man himself.
"I don't regret it at all," he said. "Some people might find that hard to believe but I knew it wasn't going to be immediate winning. It's going to take some time. Maybe this year hasn't gone as good as we all hoped for, but I know it's going to get better around here and it's going to be fun." [Edmonton Sun]
What speaks even louder than those words is the fact that he wants to stay in Edmonton and be part of what they're building.
"I'm pretty open to anything right now," he said. "Obviously I want to stay here and play for a long time. With the young guys they have locked up in a matter of no time we'll be winning. This is where I want to play and if the opportunity presents itself, that's what will happen. We'll see how that plays out, but I'm just worried about finishing this year strong and getting ready for next year. Whatever happens is going to happen. I'll just worry about hockey." [Edmonton Sun]
Defence hasn't exactly been the Oilers strong point the past few seasons. Schultz has a lot of tools that teams covet. He skates well, he moves the puck with ease and he has a lot of offensive upside. The sample size for Schultz at the NHL level isn't very large. He scored eight goals and 27 points in 48 games last season, his rookie year. So far this season he already has eight goals and 24 points, and should easily eclipse his totals from last season.
Schultz has a -13 rating on the season. Plus/minus is a stat many people don't like to put much stock into, especially on a bad team, but Schultz's defensive game still hasn't rounded into form, something that Oilers management will have to consider.
Will Schultz Sign a Long-Term Contract or Bridge Deal?
With the season already lost, Craig MacTavish will be selling at the trade deadline, and once again has to look to the future. The question is, will Schultz be a big part of that future. MacTavish remained diplomatic when discussing the upcoming negotiations.
"It'll be after the deadline," general manager MacTavish said of the timetable for a new pact. "I've had some preliminary conversations with his representation and after the deadline I think we'll get down to more serious discussions. It all depends on the number. But if you're asking me if I consider Justin Schultz in that skill-level potential, I do. I think he's a terrific talent. His development has taken some steps this year — maybe in the last six weeks, in terms of really establishing himself as a guy who has a very, very high upside." [Edmonton Sun]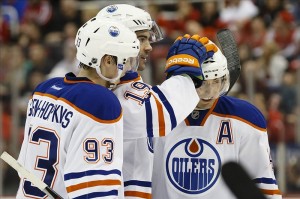 It doesn't necessarily seem as though MacTavish feels that Schultz is an untouchable. Is he a top-two defenceman? Is he more of a bottom pairing/powerplay guy? All of that has to be considered when a new contract comes into play. Will the Oilers give him a Hall/Eberle/Nugent-Hopkins type deal, or a shorter-term Sam Gagner contract? Everyone knows blueliners take a little longer to develop, and it's evident Schultz has the tools, but there's never a guarantee he will really pan out.
Many will argue that Schultz has already shown that he has the goods to make it in the NHL, but certainly what the Oilers do with this negotiation will speak to how they feel about him. Coach Dallas Eakins said last week that there aren't many untouchables in the Oilers locker-room. Young, mobile defenceman are always highly sought after. And if the Oilers think they could get a comparable in this years draft, there's a chance he could be a trading piece.
Is Justin Schultz a main part of the future of this team? We'll soon find out.