Haydn Fleury
THW's NHL Draft War Room Rankings: #7 (Feb 2014)
THW's NHL Draft Rankings – The Next Ones Edition (aka Chris's List): #8 (March 2014)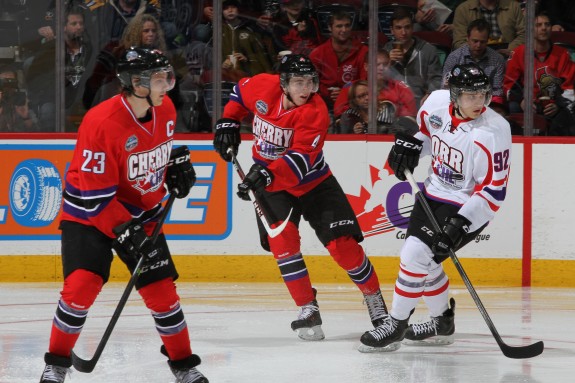 Hashtag/Nickname: #MrD, #McFleury (available in Philadelphia at the 2014 NHL draft for a limited time only)
Team: #4, Red Deer, WHL
Position: Defense
Shoots: Left
Height: 6'3
Weight: 198 lb.
Born: Carlyle, SK, 8-Jul-96
Twitter: @fleury96
Stats
Other Rankings
6 – Bob MacKenzie, Jan-14
7 – NHL Combined – Mid-term, Jan-14
8 – ISS, Feb-14
9 – Craig Button, Jan-14
9 – Future Considerations, Feb-14
Worth Retweeting
@Rebelshockey teammates ready for #BMOTP – Haydn Fleury & Conner Bleackley pic.twitter.com/1vCQE9u9yo

— The WHL (@TheWHL) January 15, 2014
NHL exec on Red Deer's Haydn Fleury: "It's hard to find defensemen like him: size, skating and (hockey) sense."

— Ryan Kennedy (@THNRyanKennedy) November 5, 2013
http://t.co/TMB326PEad
#10 Haydn Fleury @fleury96
Strong skating defenseman w/ mobility & power stride; Elite def. instincts & awareness.

— ISS Hockey (@ISShockey) December 26, 2013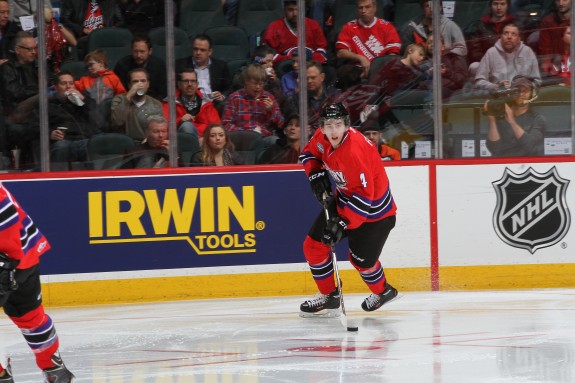 Profiles
Here's a @AAVickers feature on @FCHockey's 10th ranked skater Haydn Fleury. Exciting young prospect. #2014NHLDraft http://t.co/SxHMacLdD8

— Zenon Herasymiuk (@ZenonHerasymiuk) October 15, 2013
Quotable
"Fleury is a big two-way defenseman that has taken big strides forward in virtually every aspect of his game. His mix of athleticism and smarts have allowed him to contribute at both ends of the ice. Fleury plays big minutes in all situations and has a unique combination of tools which will make him a highly sought after player at the 2014 draft."
Haydn Fleury has some real ability. Size, quick feet, great pace in possession. Has the tools.

— Sean Lafortune (@SeanLafortune) July 26, 2013
From the War Room
Eldon MacDonald, THW: A few words on Haydn Fleury:

Mobile – Excellent skater, joins the rush and delivers a good outlet pass. He is a mobile defenseman with the right size but should not be considered a high-end offensive defenseman although there is definite offensive upside.
Shutdown guy – Seems to have the right mentality, size and skillset to be a shutdown defenseman in the NHL. Disciplined, calm, composed, does not take bad penalties, physical – Brent Sutter seems to be giving the hard assignments already.
Soaring stock – This is a year with slim pickings for top end d-men; after Ekblad and Fleury there are not many blueliners of high-end size and mobility that could challenge for the first round. I can't see him not making the top ten for this reason plus, of course, his obvious skill set.
Video
About NHL Draft War Room Series
This series is compiled by Eldon MacDonald and edited by @ChrisRalphTHW)