Austin Lotz THW Close-Up:
Date of birth: 1995-May-27
Hometown: St. Aldophe, MB
Ht: 6′ 0″  Wt: 185 lbs
Shoots: Left
Position: Goaltender
NHL Draft Eligibility: 2013 1st year eligible
Twitter: @lotzy30
THW The Next Ones Rankings (Final Top 210): 160th
Other Rankings: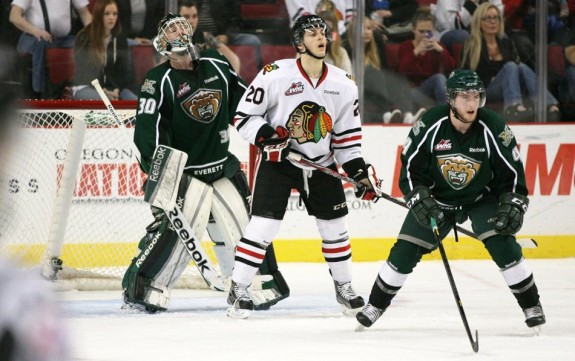 ***
[NHL 2013 Draft Guide – The Next Ones Draft Headquarters: Your quintessential draft resource]
***
Lotz: Everett goaltender flies under the radar

After spending the majority of the 2011-2012 season sitting behind Chicago prospect Kent Simpson, Everett's Austin Lotz finally got his shot in 2012-2013. Taking over a number one goalie slot at only 17 in the WHL is no easy task and as the season wore on Lotz got stronger and stronger. After a slow start he got hot and put a young Silvertips club on his back and drug them into the playoffs. By the end of the season he was one of the tougher goalies to beat in the WHL and could be a sleeper pick in this year's NHL draft.
Lotz is a fierce competitor who never gives up on a play and will battle to stop every puck he can find. He is athletic and seems to make acrobatic saves every night. His competitiveness and willingness to battle was evident in a couple of high profile games this past year. In a January game against the Kamloops Blazers Lotz set an Everett record by recording 65 saves to earn his team a point in a 4-3 overtime loss. He turned in two equally impressive performances against the eventual WHL champions Portland Winterhawks in the first round of the playoffs. Lotz single hand-idly stole two games from the leagues best team as the Silvertips somehow pushed the much more talented Winterhawks to six games.
Suffering a couple of injuries during the season Lotz played in 42 games, posting a 3.37 goals against with a .907 save percentage. Looking at the youth of the team in front of him, along with the injuries they suffered (losing Ryan Murray for the year among the bigger ones) Lotz's numbers seem even more impressive. Early in the year he showed some signs of inconsistency but as the season wore on he became more and more steady as he willed the 'Tips into the playoffs.
His desire to compete makes him an aggressive goalie, not afraid to challenge shooters, and at times that aggressiveness can leave him out of position — something he will have to work on moving forward.  That feels like a good problem to have as you can coach patience but it's harder to coach compete level. As Lotz matures he should be able to hone that aggressiveness and get even tougher to beat.
Where He'll Land in June:
Lotz came on strong during the year and because of that is not the most well known player out there. Goalies frequently get undervalued in the draft for some reason and because of that Lotz is probably going to hear is name in the 3rd or 4th round. With his athleticism and compete level he will be an interesting prospect to keep an eye on. Flying under the pundit radar is one thing but you can rest assured that NHL scouts have noticed him.
Scout's Honour:
"I think he's like most young goalies, it's a mental thing. He's had some great starts for us but he's inconsistent at times. That's what goal tending is, they have to get to a maturity level where they're the same game in and game out. He's a very competitive kid, he never gives up on the puck. If he can refine other aspects of his game, get more consistent and keep that level of compete up he's a promising young goalie."  – Everett Silvertips general manager Garry Davidson
A giant 6-foot-6 defensive defenseman, Hauf is able to shutdown one entire half of the defensive zone because of his long strides, large wingspan and impressive strength. Like many big defensemen, the Calgary product will need to continue refining his agility but currently displays decent mobility with strong defensive hockey smarts and physical gifts to keep even the more skilled forwards contained against the boards. He also has surprisingly decent hands for a big man to play a safe and mistake-free game. – See more at: http://futureconsiderations.ca/fcs-scout-series-dan-chan-whlbchl/#sthash.PFJB7aWl.dpuf
***
Statistics:
Bio/Interview(s)/Link(s):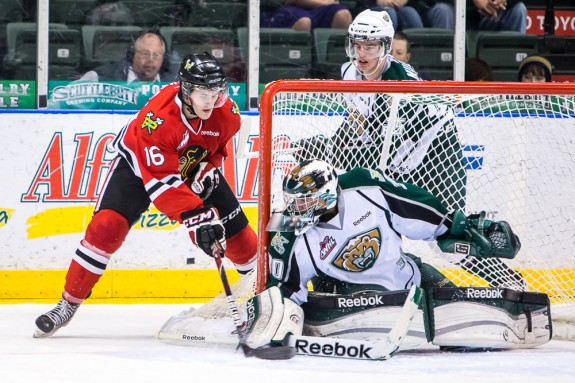 ETA :
3-4years
Risk-Reward Analysis:  
Risk = 3/5   Reward = 4/5 
NHL Potential:
Has the potential to be a number one goalie in the NHL, will make highlight saves.
Strengths:
Athleticism
Compete Level
Reaction/quickness
Flaws/Aspects He Needs To Work On:
Consistency
Learn to not be overly aggressive
NHL Player(s) Comparison:
Marc-Andrey Fluery
Video(s):
***
THW's The Next Ones prospect profile template design architect: Chris Ralph