It wasn't supposed to end this way for the Boston Bruins.
Dating back to 2008, this team's playoff run had been decided in a Game 7 every year, and, with less than 2 minutes to go in Game 6 of their series with the Chicago Blackhawks, it appeared as though they were destined to push it to that point once again.
But then the Brian Bickell goal happened, followed 17 seconds later by the Cup clinching goal off the stick of David Bolland.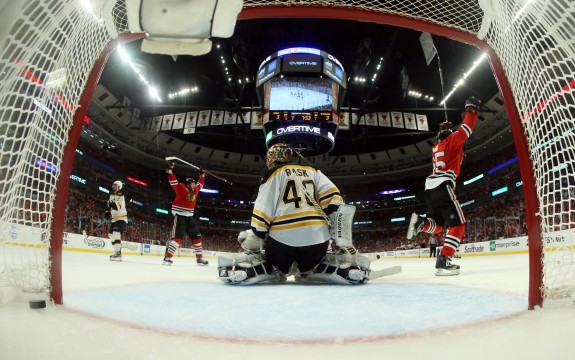 And just like that, all hopes of a second Stanley Cup in 3 years were dashed for the Boston Bruins and their fans, with all kinds of "what could have been?" questions and "man, look what this team accomplished" feelings left to sort through over the summer and beyond.
"Feeling of loss can co-exist with being proud"
On one hand, consider the 3-1 lead the Bruins gave up in Game 1, the OT loss in Game 4 on home ice that tied the series up at 2, and the aforementioned 2 goals in 17 seconds in Game 6 that cost the Bruins at shot at a Game 7 back at the United Center.
These are moments that are looked back on, that make you think "if only …", that stick with you for a long, long time.
Just ask Johnny Boychuk, who said this after the Game 6 loss:
Forever. I mean, you are going to remember forever. You remember winning it, but I think you remember losing it a little bit more. (via Bruce Arthur, National Post)
At the same time, there's a tremendous sense of pride that should be felt around this playoff run, not only for the way the Bruins helped lift the city of Boston during troubled times, but also because of the way that they were able to excel when they needed to the most, in the face of a near first round exit at the hands of the Toronto Maple Leafs and beyond.
That win over Toronto, and the subsequent impressive performances over the New York Rangers and Pittsburgh Penguins, gave the Bruins a sort of "team of destiny" aroma, one that reeked of an eventual if not inevitable Game 7 vs Chicago. It also to proved to everyone that these Bruins are indeed one of the top teams in the NHL.
That's what makes this loss seem half as bad but twice as worse as what happened against Toronto; this close after being that far away.
After the game, the long list of injuries began to be revealed, highlighted by Patrice Bergeron's broken rib, torn cartilage and separated shoulder. The fact that he was still out there battling for the Cup is a microcosm of what can be great about this game and this team, giving everyone something to be proud of.
In Andrew Ference's (last?) words:
The feeling of loss can co-exist with being proud of yourself and your teammates. Those things don't have to be one or the other. (via Bruce Arthur, National Post)
Pride in the face of loss – but why does it still sting so much?
Enjoying The Game For What It Is, Despite a Bruins Loss
Recently, Jeff Marek made an interesting point on the MvsW podcast that speaks to the divisive nature of sports fandom. His basic premise was that sports marketing and culture is set up to create and "us vs them" mentality, and that this is expressed most clearly in the use of "(Blank) Nation" or "(Blank) Army" to describe a fan base.
What this does is establish a mobilization of the fans wherein we feel as though we are actually part of the battle, so to speak. We follow and support the cause of our favorite teams, and feel intimately linked to the outcomes that befall them. If they win, we take to the streets to celebrate; if they lose, we feel like our home and native land has been invaded and pillaged, leaving us wander aimlessly until the battle picks up again.
The fallacy here, of course, is that what will be will be, regardless of how we personally feel about the team in question. Our attachments to our teams are mostly peripheral, in the sense that we likely have no personal knowledge of or attachment to the actual people who are playing the game. We pay money for tickets, jerseys and cable packages, investing in war bonds if you will, but we don't affect the outcomes of the games, Bartman notwithstanding.
Again, regardless of what happens, it's not a reflection of who we are personally; if they win, we cheer but the accolades are not ours, and if we lose, it stinks but the failure is also not really ours.
So how do we get around this? I can only a bit of a personal reflection at this point, so here's what I've been learning about balancing being a fan of the Bruins (one who writes about them no less) with enjoying the game, no matter what happens.
Over the past couple of years, I've dipped my toes into the deep pool of hockey writers. While whether or not I'm any good at it is very much up for debate, what I've learned through the process is the importance of trying to maintain a level head, to look at situations from all sorts of angles, and to remain as reasonable and logical as possible when watching games.
Obviously that's easier said than done, especially for a guy who's approaching that task and the craft as one who had been conditioned to wear a loyal fan hat in all circumstances, reason be damned. But the reality is that approaching the game from a position of responsibility and with a view to building credibility lends itself to being more honest, more realistic, less attached, less emotionally engaged in the success or failure of the team.
An old boss of mine used to say to me "it's not whether or you not you disagree, but how." There's no question that I will, at times, see things through black and gold lenses, as any fan of any team will. It's OK to disagree about incidents on the ice, the merits of roster composition and fancy stats or which team won a trade, and hell, even to feel bitterly disappointed about a loss in the Stanley Cup Final. But if one is not prepared to step aside and admit that their biases and preconceived notions might be off, and hey, to acknowledge that sometimes your team is going to get beat or just straight up lose, then it's game over and there's no point in continuing the conversation.
Look, I struggle with all of the above to a certain degree, and I'm not going to pretend like it all doesn't matter to me, because it does. But what I'm trying to learn (and subsequently demonstrate to my sons) is that you can be a loyal fan and a reasonable observer of a particular team and still enjoy the game for what it is supposed to be – FUN!
And holy crap, this playoff season for the Bruins, the comeback, the Final (especially), and everything in between was pretty damn fun to watch, regardless of the result. Speaking truthfully, the Game 6 loss was incredibly tough, but the whole run was a hell of a lot better than losing in Game 7 on home ice in round 1.
As far as the Bruins were able to go, my goal was to enjoy it, to soak in the ability to watch my team in the playoffs, to write about their journey as credibly and responsibly as possible, and to know that whatever happens, life will go on as per usual.
It will take a while to stop thinking about what might have been if the Bruins hadn't coughed up leads in 1 & 6, if this or that bounce had gone here instead of there. While all Bruins fans hoped for a better ending, they got beat by a good team and it's hard to be mad about them taking it that far.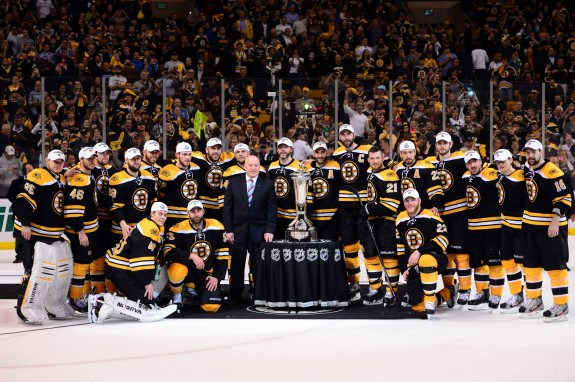 The reality is that the Bruins have the most postseason wins of any team since 2008-09 (47), and while that might be small consolation, they do have 1 Cup and a 2 Final appearances to speak of. Quite frankly, that's not something to be taken for granted, because it wasn't too long ago that this team was drafting first overall and regularly missing the playoffs.
While it's all over for now, there's every reason to believe that these Bruins will be remain highly competitive for the foreseeable future. This loss stings, but they will regroup, shake it off, and start it all up again in just 10 short weeks.
Summer is upon us, so there's the Draft to look forward to (with no 1st round pick to speak of, with no regrets over the Jagr acquisition, in my opinion), free agency coming up next week, (what will become of Horton & Ference, and can they get Tuukka and Bergeron signed long-term?), and no doubt several other interesting developments along the way.
I'll do my best to stay on top of it all through the summer. Until then, a sincere thank you to all those who have taken the time to read my stuff and follow on Twitter. It's all very much appreciated.
At the end of the day, there's one thing that all fans of the game should be able to agree on – hockey. is. the. best. period.