It's the most wonderful time of the year. The time for 211 dreams to come true. The time for fans to dream of the next wave of talent for their team. The 2013 NHL Entry Draft gets underway at 3 P.M. EDT on Sunday, June 30 in Newark, New Jersey. The Tampa Bay Lightning currently hold six selections, including the third overall. In this five part Lightning draft preview, the consensus top three available draft prospects in Seth Jones, Nathan MacKinnon and Jonathan Drouin will be put under the microscope. Also included will be names to watch when the Lightning are on the clock with the 33rd overall selection and possible names to keep in mind for their remaining four selections.
Tampa Bay Lightning 2013 Draft Preview Part Three – The Case for Jonathan Drouin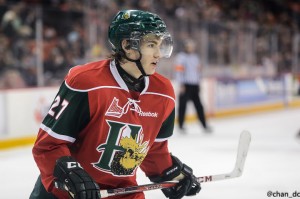 The Tampa Bay Lightning have been collecting a talented group of young wingers recently. Alex Killorn, Richard Panik, Ondrej Palat, J.T. Brown and Nikita Kucherov lead an impressive wave of wingers who could soon see action in Tampa. While this is a current strength in the system, additional options are always welcome.
A likely option on Sunday will be Jonathan Drouin. Despite having played only 49 regular season games for Halifax of the QMJHL, he finished second in scoring with 105 points (41 goals, 64 assists). His superb play continued in the QMJHL playoffs, as he led all skaters in scoring with 35 points (12 goals, 23 assists) in 17 games while helping Halifax earn their way into the 2013 Memorial Cup. He finished with 9 points (1 goal, 8 assists) in 4 games, including a five assist performance in the championship game victory over the Portland Winterhawks.
Drouin's remarkable season earned the young winger three QMJHL honors. He won the Michel Briere Trophy as the QMJHL's most valuable player, the Paul Dumont Trophy as the QMJHL's personality of the year, and the Michael Bossy Trophy as the QMJHL's best professional prospect.
Playing a game reminiscent of Conn Smythe Trophy winner Patrick Kane, Drouin controls the pace of the game while on the ice. Given his slight 5-foot-11, 175 pound frame, one would expect his natural talent to be off the charts. He has exceptional hands and vision, and his puck skill is arguably the best in the entire draft.
"He shows some of the best puck handling skills in the entire 2013 draft class. The puck just seems to be glued on his stick at times. He's very creative in the offensive zone, almost to a fault. He protects the puck very well, especially for a player of his size. A natural playmaker, his head is always up looking for an open teammate. His vision is very impressive, setting up players even when they don't expect it." – Aaron Vickers, Future Considerations

"Mr. Smooth and Easy – Vision, passing, stick-handling are sublime; makes everyone around him better, even the dynamo named Nathan MacKinnon." – Eldon MacDonald, THW

"His skill set, hands and vision, really are at an elite level, so he's going to be a prime-time NHL scorer." – Canadian National Junior Team coach Steve Spott
While he isn't an elite skater in terms of straight line speed, his agility and quickness just might be. Then there is his beautiful hockey mind, which allows his exceptional skill to shine on a nightly basis.
"If there was a school of hockey, Drouin would be at the top of class in his quest for a PhD in hockey sense. He is a student of the game and should only continue to develop his immense potential. Like a master orchestra conductor, Drouin is a maestro on the ice, controlling the tempo, anticipating play, dictating play, executing and striking precisely when his composition comes together. And just when you think he's done all he's going to do in a given game, he'll strike again for an unexpected encore." – Christopher Ralph, THW

"The foundation of Jonathan's game is built on exceptional intelligence as well as quickness in his hands and feet to execute on his intentions. He has the ability to recognize opportunities and can exploit them quickly. What seemingly looks like an innocent play is anything but when he's on the ice. Very adaptable to the challenges he faces in the game and has a calm, poised 'go about his business' approach. He's dangerous with the puck because he can shoot, pass or beat you one-on-one and there is no easy way to play versus him because he's a multi-faceted threat." – Craig Button, TSN Scout
Should the draft unfold like many believe, with Seth Jones and Nathan MacKinnon off the board, the Lightning won't have anything to sweat. Everything about Jonathan Drouin points to NHL stardom. Such a young talent could hardly ask for a better environment to step into than one housing Steven Stamkos, Martin St. Louis and Vincent Lecavalier. Drouin has the potential to be a game changing player, and that could manifest itself on NHL as soon as next season. Having a chance at any of the top three draft prospects is great for the Lightning, and Drouin might just be the best fit of all.
I am a Tampa Bay Lightning correspondent for TheHockeyWriters.com. Hockey and writing have been passions of mine as long as I can remember. I have followed the Lightning from the initial puck drop at Expo Hall in 1992 and plan to keep fans in the loop with all things Lightning hockey.