Nathan MacKinnon THW Close-Up:
Date of birth: 1995-Mar-27
Place of birth:  Halifax, NS, CAN
Ht: 6'0  Wt: 180 lbs
Shoots: Right
Position: Centre
NHL Draft Eligibility: 2013 1st year eligible
Twitter:  @Mackinnon9
THW The Next Ones Ranking (January 2013): 2nd
Other Rankings:
***
[NHL 2013 Draft Guide – The Next Ones Draft Headquarters: Your quintessential draft resource]
***
MacKinnon: From Memorial Cup Masterpiece to NHL Stardom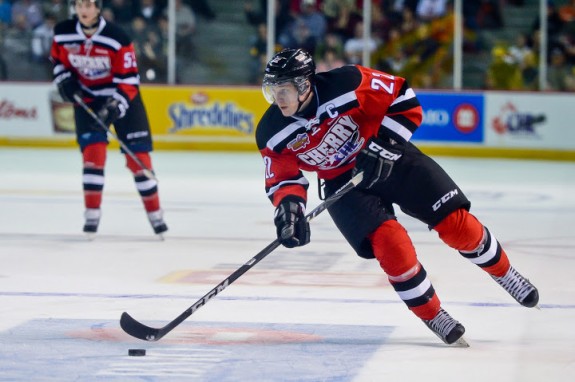 In trying to recapitulate what MacKinnon brings to a NHL franchise, I ended up with an acronym –
DEADLY
(in reference to the offensive weapon that is Nathan MacKinnon):
D – Determination: His performance at the Memorial Cup and capped off by an epic hat-trick, five point exclamation performance in the finals was just one highlight in a long resume of clutch performances when the stakes get higher. He's a relentless, possessed hockey player, determined to succeed, determined to better himself as a player each and every day, in all aspects of the game.
E – Explosive: MacKinnon is an explosive offensive force – possessing explosive skating ability, an explosive shot, explosive drive and hands when possessing the puck and explosive pursuit when he is without it.
A – Acceleration: His first two to three strides have been described by a variety of scouts as the amongst the best or even the very best they have ever seen in a draft eligible player.
D – Dangerous: whenever he's on the ice defenders and goalies alike will be terrorized by his tantalizing combination of talent, speed and skill.
L – Leadership: Nate can take a team on his back and leads by example. He's an outstanding teammate and just a confident, humble, fantastic young man.
Y – Yzerman: While their respective styles of play may not be a carbon copy of each other, it's hard not to be reminded of the hall of famer Steve Yzerman (former Detroit Red Wings great and current GM of the Tampa Bay Lightning) when you see a right-handed center with the skating ability and offensive gifts that MacKinnon posseses. Franchise forward. I could also see MacKinnon, given the right coaching, continue to develop his defensive game as his career matures, as Yzerman did. He already has shown he's amenable to playing whatever role a coach gives him, as evidenced by the way he was utilized (for better or worse) at the World Juniors in Ufa, Russia.
Mooseheads forward Martin Frk on teammates Nathan MacKinnon & Jonathan Drouin: "That's how they were born. God made them to play hockey."

— Sunaya Sapurji (@sunayas) April 22, 2013
The Similar Paths of Sid and Nate Will Diverge
By now, most hockey fans know the story of Nathan (Nate) MacKinnon and the uncannily similar path shared with Sidney Crosby. The two sub-6'0" (although MacKinnon recently listed at 6'0"), ultra-talented, exceptionally explosive, game-breaking centremen both grew up in Cole Harbour, Nova Scotia.
They both played at the hockey factory that is Shattuck-St. Mary's prep school. They were both drafted 1stoverall in the QMJHL.
There's more. They both have athletic parents. Crosby: father drafted by Montreal; MacKinnon: father a marathon runner; mother was youngest swimmer in the Canada games.
Pat Brisson is the agent for both. Both Crosby and MacKinnon went into their draft eligible seasons as the favoured number one overall selection, although the latter has faced heavy competition this draft year as Seth Jones and Jonathan Drouin have presented a colossal challenge. MacKinnon came this close to also being part of a post-lockout draft.
They both have a similar physical build – robust, stocky with remarkable lower body power resulting in supreme acceleration and aggressive edges. Both MacKinnon and Crosby have a natural born ability to perform in clutch situations. They have a superior will to strive to be the best and will to win.
As our Eastern Canada bird dog, Eldon MacDonald summed it up earlier in the year, MacKinnon is still his own player when he hits the ice:
"You would think with all the similarities MacKinnon is very similar to Crosby on the ice. Well, such is not the case.

Crosby is a puck carrier with outstanding vision who thinks pass first but still has an elite shot.

MacKinnon is more a shooter of the Steven Stamkos variety and has excellent, but not elite vision. 

Assuming MacKinnon continues to progress, his upside is that of a perennial candidate for the Rocket Richard Trophy (most goals in the season). He probably will never win the Art Ross Trophy (most points in a season). Maurice "The Rocket" Richard never won the scoring title either, but that does not diminish his legendary status.

Thus, MacKinnon's game projects to the NHL as an elite goal scorer, but he will do it as Nathan MacKinnon and not in the mold of Sidney Crosby."
One of the youngest players eligible for this draft, it's almost hard to fathom that if he was born just a shade over two weeks later, he'd be draft eligible for the first time in 2014.
Memorial cup champion !! pic.twitter.com/nThAa04XD2

— Nathan Mackinnon (@Mackinnon9) May 27, 2013
Where He'll Land in June:
 While he was ranked 2nd overall in The Next Ones Midterm Top 100 Rankings (January, 2013; final rankings due to be released early June), he landed in Colorado to the Avalanche with the 1st overall slot in The Next Ones Memorial Cup Edition Mock Draft. He's a surefire 1st or 2nd overall pick.
Post-Memorial Cup, one scout who had Jones No. 1 switched to MacKinnon and two others wanted to "think about it" some more.

— Bob McKenzie (@TSNBobMcKenzie) May 27, 2013
With Patrick Roy installed as coach and uber-hockey-decision guy (but not GM) of Avs, hearing it's more likely COL goes for Nate MacKinnon

— Kevin McGran (@kevin_mcgran) May 28, 2013
Some scouts have Drouin ahead of MacKinnon, and vice vera obviously, and I know at least one who has Aleksander Barkov ahead of both of them

— Bob McKenzie (@TSNBobMcKenzie) May 27, 2013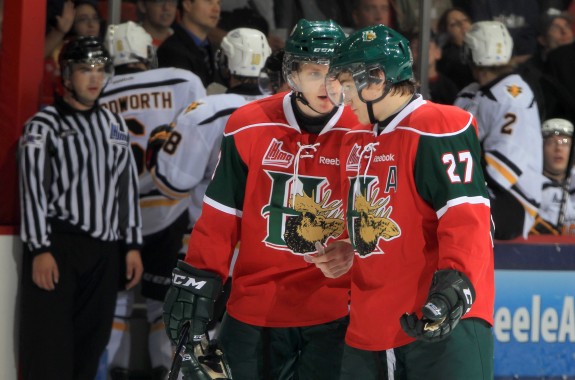 Scout's Honour:
"MacKinnon is an extremely explosive and powerful forward that can shred defenses in almost any way imaginable. His skating is probably his best attribute as he has probably one of the best first two strides I have ever seen. When he gets to top speed he likes to use power moves to drive the net, but also uses his vision and shot to bring a different looks to the table every shift. He is unpredictable and unstoppable when he is at his best. MacKinnon is exceptionally strong for his size and his strength allows him to fend off bigger forwards and play the cycle game. His on-ice intensity is world class and I have zero doubt that he will become an allstar for many years in the NHL."
– Zenon Herasymiuk, Western Scout – Future Considerations/Dobber Prospects
***
"His skill level with the quickness with which he can execute, read and react — there aren't many players who can do that," 
– NHL Central Scouting Director Dan Marr (NHL.com)
***
"Mr. MacMoney – Generational talent; clutch scorer; able to elevate his game at key times; and an intensity like "The Rocket", Maurice Richard."
–  Eldon MacDonald, THW (War Room Series)
***
"He's pretty mature about that (media exposure). It started last year. He's used to it. We know it's important for our team, it's important for Nathan. We want to give everyone a fair chance but at the same time we try to manage it so he can be concentrating on what he needs to do. He has improved a lot on the little things with and without the puck. He's maturing a lot with his game and the way he reacts to the play."
– Dominique Ducharme, Halifax Mooseheads Head Coach (via Yahoo Sports)
*** 
"Nate has a burning desire to make a difference in the game and more times than not, he's successful. His skating is excellent with first step quickness that is exceptional which allows him to beat defenders and create opportunities in a flash. He has great hands and is able to maneuver the puck in the tight areas. His shot is quick and accurate and he doesn't allow goalies to get a read on it. He is forceful and at times may be inclined to shoot first but his playmaking is very good. He is single-minded player in his approach and his determination along with his skill allows him to impact the game. A clear cut number one center."
– Craig Button, TSN Scout
***
"Off the rush he is dangerous, with fantastic cuts, and the type of lateral agility that is very rare in a player and gives defenders nightmares. He can make that first step in either direction and be gone before the defender knows it. MacKinnon is a pure goal scorer, he knows how to finish plays in-tight, and has an excellent wrist shot and release from further away. With excellent hockey sense he is always in the right position, and his good vision and playmaking skills make him a threat to set up plays as well. This is one player who has the complete package. MacKinnon is an outstanding skater. His top-end speed is very good, and his acceleration and change of pace ability, one of the best in the draft."
– Ben Kerr, Last Word On Sports
***
ISS Top 30
#1 Nathan MacKinnon @Mackinnon9
Dynamic Fwd w/ability to lift fans out of seats. Natural smooth stride, acceleration 2nd to none.

— ISS Hockey (@ISShockey) December 14, 2012
Not only is MacKinnon so incredibly talented, but he works so hard. He has the naturally given talent, but works relentlessly.

— Ryan Yessie (@RyanYessie) May 27, 2013
Nathan MacKinnon's middle name is "Beast Mode"- both goals scored in skate-to-stick moves. No-brainer MVP

— Kirk Luedeke (@kluedeke29) May 27, 2013
From October 2011, scout's opinions on the phenom hockey prospect:
Statistics:
Bio/Interview(s)/Link(s):
International Tournaments:
"MacKinnon's first experience with Hockey Canada came when he was named to the Canada Atlantic team for the 2011 World U-17 Hockey challenge in Winnipeg, Manitoba.
Despite being the second youngest player at the tournament, MacKinnon scored five goals and eight points in only five games to finish seventh in tournament scoring.This included a game in which he scored two goals and two assists to be named player of the game as Canada Atlantic defeated Finland 4–3.
His impressive play helped Canada Atlantic to its best finish since the 2005 World U-17 Hockey Challenge, defeating Canada West 2–1 in the fifth place game.
The following year, MacKinnon was named to the Canada Atlantic team for the 2012 World U-17 Hockey Challenge in Windsor, Ontario.

On December 13, 2012, MacKinnon was named a member of team Canada for the 2013 World Junior Ice Hockey Championships along with Mooseheads teammate Jonathan Drouin."(Wikipedia)
If anyone worried about Nathan MacKinnon's WJC numbers, I just talked to a scout who notes that Mac is "built for North American pro game."

— Ryan Kennedy (@THNRyanKennedy) January 14, 2013
ETA :
0-1 years
Risk-Reward Analysis:  
Risk = 0.5/5   Reward = 5/5 
NHL Potential:
Franchise forward 
Strengths:
Explosive acceleration
NHL caliber shot and quick release
Scintillating, powerful skater
Game breaking pure goal scorer
Lower body strength and balance
Highly energized  and electrifying player
Excellent  hockey sense and IQ
Highly creative
Incredible hands
Shiftiness and elusiveness
Adaptability
Superior level of competitiveness and work ethic; always striving to improve his game
Clutch performer
Flaws/Aspects He Needs To Work On:
Continue to develop defensive acumen and add strength to handle the physical rigors of the NHL.
Fantasy Hockey Potential:
Offensive = 9.5/10   Defensive = 8.5/10
NHL Player(s) Comparison:
– A hybrid of Steven Stamkos, John Tavares and Sidney Crosby – if you can envision that.
– Hall of Fame comparator: Steve Yzerman; Maurice "The Rocket" Richard
– Cross-sport comparison: Minnesota Vikings running back Adrian Peterson; "All Day" is a ferocious and explosive competitor in the same vein as Nate and both are dangerous offensive weapons. Although not so severe as Peterson's, MacKinnon also had to come back from a knee injury. One also has to throw in Kobe Bryant as Nate admires him as an athlete.
Video(s):
Off The Iron (Interesting Notes):
QMJHL news: Nathan MacKinnon traded from Baie-Comeau to Halifax for 2 players and 3 first round picks. Expect to hear the name MacKinnon a..

— Jeff Marek (@JeffMarek) July 13, 2011
Working on a Nathan MacKinnon nickname. Thinking about 'Riptide.' He pulls in defenders before overwhelming them, plus it's Maritimey.

— Ryan Kennedy (@THNRyanKennedy) October 9, 2012
MacKinnon trains with Sidney Crosby in the summers.
***
THW's The Next Ones prospect profile template design architect: Chris Ralph