Eric Comrie THW Close-UP
Team: Tri-City Americans
Date of Birth: 7/6/1995
Place of Birth: Edmonton, Alberta
Ht:  6'1″     Wt:  170 lbs
Catches: Right
Position: Goalie
NHL Draft Eligibility: 2013
Twitter: @ericcomrie1
THW Ranking: 44
Other Rankings:
ISS (North American Goalies): 6
CSS (North American Goalies): 2
Future Considerations:
Craig Button: 49
***
*Check out THW 2013 Draft Guide: The Next Ones, your quintessential draft resource*
***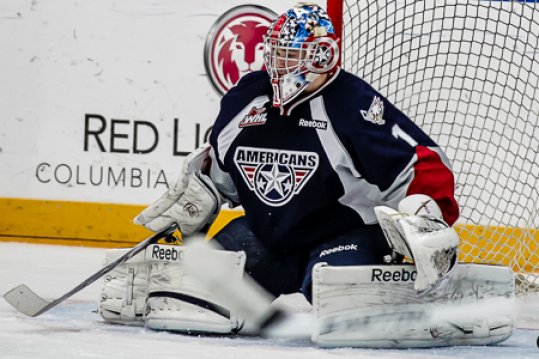 The Best Comrie Yet?
Mike and Paul Comrie know all about what it takes to play in the NHL, and hopefully Eric Comrie will start to follow the same path this summer. Even though Comrie suffered a season-ending hip injury during his most recent hockey season in the WHL, the goalie is still poised to be among the top netminders available in the 2013 NHL Draft.
Over the last two years, Comrie has been developing quite nicely with the Tri-City Americans of the WHL, and his growth has certainly been evidenced through his play. While Comrie's statistics improved during the 2012-2013 WHL season, hockey fans were not able to see what the goalie could have brought to the team over a full season's workload. Not only did Comrie shave some figures off of his GAA, his Save Percentage increased to .915 this season and he appeared in six more games with the Tri-City Americans than he did back in the 2011-2012 WHL season.
Since Comrie's season was cut short by an injury, he might have fallen a bit in some draft rankings – but there is undoubtedly a lot of upside to the goalie. Despite suffering a hip injury and not being able to complete a full hockey season, Comrie has the skills necessary to succeed in the NHL one day. As of now, Comrie could still be considered to be more of a raw talent with potential for improvement in some areas.
Comrie's lateral movements, glove hand, and ability to read plays are among his most highly valued assets, but the goalie could certainly improve in other areas such as rebound control and stick handling. Although Comrie will likely take more time to develop than other goalie prospects in the draft, he will undoubtedly be on many teams' radar when late June rolls around. Regardless of where he ends up when the draft festivities are over, Comrie will be an asset to any team that spends their selection on him as the goalie has not yet reached his maximum potential – something that he will undoubtedly do over the next several years of development.
Scout's Honour:
"Comrie has decent size and good technique as a hybrid goalie. He has very good lateral movement and gets side to side quickly and efficiently. He reads the play well and shows excellent puck tracking as he is rarely caught out of position. His quick legs do a great job of taking away the bottom of the net. He also has a very quick glove hand which helps him to take away the top portions… Like many young goalies, he does need work on his rebound control and this is the biggest issue in his game today. He does show the ability to recover quickly and square up to rebounds which does help him recover quickly, however the rebound control must also still improve."
– Ben Kerr, Last Word on Sports
"Developing goaler with strong glove, good lateral movement, and quick feet. Was a key component in Canada's Ivan Hlinka Tournament win. Has been a workhorse for his team and has shown great tools while advancing his game skyward. Rising talent who most assuredly will be drafted early in June."
– Bill Placzek, Draftsite.com
"This season, however, is like night and day compared to last year. Top prospect Eric Comrie is leading a growing list of emerging netminders out west. Comrie has been carrying the Tri-City Americans on his back nearly every game, and his heroic efforts have him in the top echelon of available netminders this year, and knocking on the door of the first round."
– Kyle Woodlief, USA Today (December 2012)
"I believe he'll be drafted third or fourth overall (among goalies), but it's really tough to say if his injury has hurt his draft stock… I think most NHL teams interested in drafting him will do their homework and realize the surgery he had won't slow him down in the long run. From what I've learned about his hip injury, I'm very confident he'll come back stronger, and anywhere from 5-10 percent more flexible than before. The key for Comrie will be educating scouts and teams on exactly what the surgery entailed and how the surgery he had clears up those issues and possibly makes him even more flexible. Once they learn this, while the general perception may lead us to believe his draft value is waning, I don't think you'll see him slip past the second round."
– Justin Goldman, Buzzing the Net
Where He'll End Up in June:
Comrie certainly won't be selected in the first round after sustaining a hip injury. However, hockey fans shouldn't be surprised to see Comrie still get selected in the early rounds (second or third) of the draft.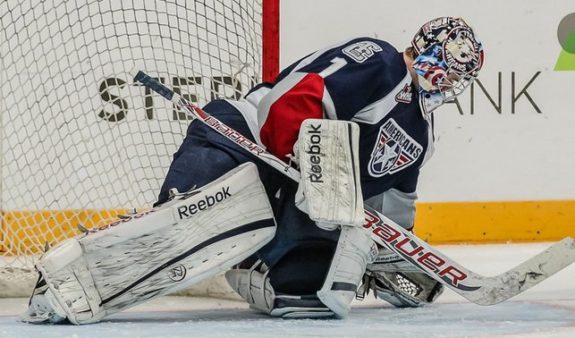 Statistics:
Bio/Interviews:
Q & A with Eric Comrie by Puck Central HQ
Interview/Bio by Kelly Friesen of Buzzing the Net
THW Draft Feature by Andy Eide
International Tournaments:
2012 Ivan Hlinka Memorial Tournament (2.00 GAA, .913 Save Percentage) – Gold Medal Placement.
NHL ETA:
3-5 Years
Risk/Reward Analysis:
Risk: 2.5/5 Reward: 4/5
NHL Potential:
Number one starting goalie
Strengths:
Good glove hand
Great lateral movements
Quick but efficient movements
Can read plays well
Energetic
Stays in position quite well
Quick recovery
Flaws/Aspects He Needs to Work On:
Stick Handling
Rebound Control
Fantasy Potential:
Goaltending: 9/10
NHL Comparable:
Has drawn some comparisons to Carey Price and Semyon Varlamov.
Video:
*** THW's The Next Ones prospect profile template design architect: Chris Ralph