Without a doubt goalie is one of the most vital positions on a hockey club. You need look no further than the defending Stanley Cup Champion Los Angeles Kings for proof of how important good goaltending is. When it comes to ranking NHL Draft prospects most pundits rate goalies lower than other players for some reason. Despite that, every spring NHL teams take one or two in the first round, knowing that it may be the key to success.
For the 2013 NHL Draft, Tri City's Eric Comire may be the guy those teams are looking at in the first round.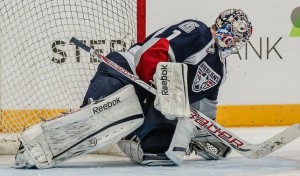 Comrie burst onto the scene last year, appearing in 31 games for the Americans and playing so well that the team felt they could move their number one goalie Ty Rimmer this summer and hand the reigns to Comrie. He has not let them down.
Comrie has started 21 of the Americans 22 games this year and has a 12-7-1-0 record with a 2.42 goals against average and a stellar .914 save percentage. His play has the Americans off to a hot start and are competing in the always tough U.S. Division.
"Our team is really starting to gel right now," Comrie says.  "We're really coming together, our last couple weekends, our road trip, we've really competed and battled. My game has really been a lot about the team, they're blocking shots, they're letting me see a lot of pucks, they're really playing solidly defensively and chipping in on offense also."
Tri-City was not afraid to play Comrie in some high pressure spots last year as they battled the Portland Winterhawks for the division title. The Americans eventually out lasted Portland and Comrie gained some valuable experience playing in big moments. Did that help him coming into this season as the number one guy?
"It's helped a lot," he says. "Every game you really grow as a goalie, I can really see it from the younger guys this year, I feel much more experienced, reading plays a lot easier, more relaxed going into games, you know what's it like, your preparation is that much better and everything grows as you get older."
The Americans lost over 150 goals from their roster due to graduation this year. They've had to alter their game from a high-flying up and down the ice fare to a more defensive game with scoring from a number of players. Does that change add any pressure to Comrie?
"Not at all actually," Comrie says about his role. " I feel our team chips in, we get the goals as we need to, we're winning games scoring as much as we need to, we're a really solid defensive teams and we chip in when we have to."
One of Comrie's strongest assets as a goalie is his anticipation and ability to read the plays in front of him. He seems to always be in the right spot to make tough saves seem routine. He sees the ice well, has a good sense of where the other players are on the ice and where the puck is headed. How did he develop those skills?
"I think the best way to develop those skills is pre scouting," he says. "You watch a lot of their video and understand their tendencies and what the team likes to do with the puck and also just by playing you gain experience. That's why goalies make it at older ages, they have experiences they know where the puck is going in different situations."
When talking with Comrie it's clear he is a student of the game and the craft of goaltending. What does he feel that he needs to improve on as a net-minder?
"Everything really. It's about gaining experience, just getting better every year but if I had to focus on one thing it would be puck handling, that could be better by me," he says.
Comrie developed his game in Southern California, where more and more hockey prospects are popping up. While that does not seem like a likely place to find the next great hockey player, Comrie speaks glowingly of playing in the Los Angeles area.
"Its one of the best hockey culture's I've ever been in," says the Canadian native. "You get private sessions with coaches, I was on the ice every single day whether it was with a goalie coach, skills coach, just taking shots. Then our practices were really good, they had really top notch coaches there. I had Rick Kelly, Sandy Gasseau, to name a couple who were influential in getting me here. James Jansen, my goalie coach in California has been huge in getting me here."
Now in the WHL, Comrie has been selected as one of the two goalies to represent the league in the Subway Super Series against the Russian Junior team this week in Vancouver and Victoria. He joins Edmonton's Laurent Brossoit as the two goalies to take on the Russians.
"It's a huge honor to be able to represent the league," Comrie says. " I'm excited to learn from a guy like Brossoit, really see his preparation, how good he is and pick up different things. Also to watch (Andrei) Vasilevski, first round NHL draft pick, learn different things from him. I Look to practice well, get some good experience, meet some friends and hopefully get into a game."
Comrie also played for Team Canada at this summer's U18 Memorial of Ivan Hlinka tournament in the Czech Republic and Slovakia. Is there a chance that he could get an invite this season to join the Canadians for the World Juniors? He's just going to wait and see.
"It always a dream in the back of your head, like a goal I have set," Comrie says of the World Juniors. "I just focus on every single day. I can only play in the moment, so right now it's just about gaining experience and hopefully one day, if I get the chance, I'd love to represent my country."
Comrie talks a lot about the mental preparation for playing goalie and not worrying too much about what other top end prospects he might be facing that night.
"I treat every game the same and want to stop every single puck," he says. "At the same time you say that you have to know other guy's tendencies, what they like to do with the puck and know in the back of your mind what they are most likely to do, but I still prepare the same for every game."
The same goes for facing other top rated goaltenders.
"I try not to think about it too much, I can't focus on what he's doing, have to focus on my game, " Comrie says. "If I start thinking about the other goalie some different thoughts pop in my head. I like to focus on my game the exact same way, I like to prepare as if every game is the biggest game of my life so that when you come to the biggest game, you're prepared for that game."
As young players start to see their names on NHL Draft lists and being rated by this scout and that one you wonder how they keep that from being a distraction. These are still young kids, and everyone likes to see their name in print. Comrie seems to have a good support system in place to keep him from worrying too much about the draft and more about the task at hand.
"I have a great group of management and organization here that really helps me with that," Comrie says. "You have Olaf Kolzig, Stu Barnes who have been through that and they come here and tell me not to worry about it, that stuff will take care of itself in the end, just go out there and have fun, relax every day and do your best and that's all you can do"
Like most young goalies growing up Comrie says he admired Martin Brodeur, but as he got older his tastes moved to a younger goalie.
"When I first started growing up it was always Martin Brodeur," he says of his favorite goalie. "But then as I got older it moved to Carey Price. I just loved how smooth he is and technically efficient. Now as I get older I just watch every single goalie and try to take something from each one, take their strengths and weaknesses and see if there is anything I can add to my game from them."
Carey Price played his junior hockey in the same place that Comrie is now, Tri City. Price manned the pipes for the Americans from 2002 to 2007 and is one of a long line of Tri City goalies that Comrie is now a part of.
"It was a thrill when I got drafted here," Comrie says. "Not just for Carey Price, its Chet Pickard, Olaf Kolzig, its Brian Boucher, its Drew Owsley, Ty Rimmer, all these guys that have come through Tri City, it's known as a goalie hotbed and it's a thrill to be with an organization that thrives on making goalies."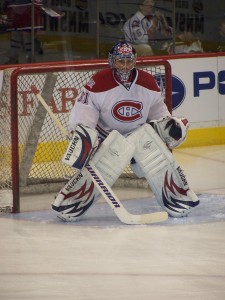 Comrie has the Americans in the thick of things again in the WHL's U.S. Division. With Portland and Spokane also off to good starts it seems like Tri City is going to have another long battle this year. Luckily for them they have some great goal tending to help them out.
"I think we have to stick with our process and just take every game and battle as hard as we can every single night," Comrie says about the rest of the year. "Which I know our guys can do, we have one of the best coaches in the world, we have unbelievable management in Bob Tory, our GM, and we have a great group of forwards and defenseman and great leadership that I think we can do something special this season."
With Eric Comrie in net the Americans will be a tough team to beat night in and night out this year. You can also be assured that you will hear his name called out in June at the NHL Draft. Some NHL club is going to get a great goalie who prepares hard for each game and studies the craft with an eye on improvement. Those intangibles just may make him the first goalie drafted this June.