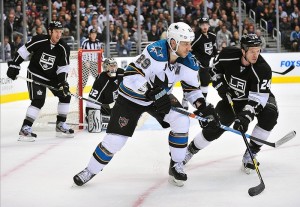 With the entire Winter Classic program officially cancelled and CBA discussions stalled once again, the NHL effectively ruined the momentum it gained from hosting this New Year's Day event in such historic sites as Wrigley Park, Fenway Way Park, Heinz Field, and Citizens Bank Park.  Seeing two of the Original Six teams play at Michigan Stadium would have been a treat for so many fans. Unfortunately, we are left to speculate on what good this Winter Classic could have done to the NHL and hockey in general. With CBA discussions still ongoing, it seems speculating and guessing is what NHL fans are left to do these days. Ryane Clowe's unrestricted free agent status is something many Sharks fans have already started to think about. Is Ryane Clowe someone San Jose absolutely need to keep in order to stay competitive, or is he easily replaceable?
2012-13 season is Clowe's last season under his current contract. Unfortunately, due to the ongoing dispute between the league and the player associations, Clowe might not get another chance to prove his worth wearing teal uniforms. He was quite vocal in his tweets about how Gary Bettman and a handful of NHL owners already "have a date when they want hockey to [be] played again" and how both "fans and players have to wait and listen to there [their] web of BS". With NHL players locked out, Ryane decided against going across the ocean to play hockey, instead opting to stay in the Bay area where he started practising with Sharks' ECHL affiliate San Francisco Bulls about a week ago. Last Tuesday he signed a contract with the Bulls, a team which recently signed his fellow NHLer Theo Peckham from the Edmonton Oilers. It was an important step for Ryane to secure his spot in professional hockey league, to ensure he will be match fit and ready. If the season will materialize, he will need to show all he's got – both for his own sake (read 'contract year'), and for the sake of San Jose Sharks where he still remains an important part of the quest for the Cup. But exactly how important is Ryane to Sharks?
For Ryane Clowe, 30, the last four seasons were particularly successful – he recorded 82 goals and 134 assists in his last 304 games. He has grown into one of the leaders on the team, the fact recognized by coaching staff in naming Ryane an alternate captain prior to 2010-11 season. He is 0.66 PPG in all his 395 regular season games, and 0.66 PPG in 68 playoff games to date. But as many of us know – there is so much more to Ryane's game than scoring. Ryane is the closest player to be called power forward in Sharks' lineup, a gritty player – one of the best on the team in playing along the boards and in the corners. He uses his body (6'2"/225lbs) well, and is not afraid to stand up for his teammates. According to website hockeyfights.com – Ryane dropped his gloves on 46 occasions during regular season games, with few more pre- and post-season fights to his name.
All in all, Clowe is a good forward – his combination of scoring and checking is good enough to be on 2nd/3rd line on most of NHL teams. With current salary cap, Clowe's contract is decent too – according to capgeek.com Clowe's $3. 625 million will count against the cap this season. If Doug Wilson will manage to negotiate something similar to Ryane's current contract – it will be a job well done. However, while Ryane is a good power forward and an important part of the team, he is by no means a 'deal-breaker' for Sharks' quest for the Cup. Clowe can certainly help the team in many ways, and his work ethics should not be underrated, but it's hard to see him as a finalist for Conn Smythe trophy, or as someone who singlehandedly can shift the momentum in the series.
Sharks are a better team with Clowe, but if he is not signed – there will be another player with similar style of play available for similar money. This to me is the key things that Doug Wilson needs to remember when dealing with Ryane's agent next year. It is worth extending Clowe's contract, but for the future of the franchise it is crucial not to overpay him. A contract similar to his current one sounds sensible and fair for the services Clowe provides. If Ryane decides to test free agency waters next summer, he will definitely have several suitors willing to offer him lucrative deals. In fact Ryane will have a better leverage against Doug Wilson in negotiating, as he will be well informed of teams sniffing around to grab him.
For the sake of Sharks fans, it is even more important that we will see some part of the season – Doug Wilson will be able to start his negotiations and be able to get a sense of what kind of numbers Clowe is looking for. If he has an intention to stay – then sign him! If he will be too indecisive – then it might be worth considering a trade around the deadline, this way Shark's will get someone in return instead of him walking away for no compensation. There are still too many uncertainties surrounding CBA to be able to have a constructive argument with regards to Ryane's future, but with your best assumptions in mind – what would be Clowe's next contract in your opinion?