When Red Wings general manager, Ken Holland signed Mikael Samuelsson to a 2-year, $6 million contract on July 1st, 2012, he thought he was signing the Swedish, right-winger that helped the Florida Panthers reach the playoffs for the first time in 10 seasons in the 2011-2012 season.
He started the 2011-2012 season with Vancouver Canucks, playing six games and registering 3 points before being dealt to the Panthers with Marco Sturm for David Booth (who has also coincidentally been a huge waste for the 'Nucks as well), Steven Reinprecht, and a 3rd-rounder in this year's draft.
In 48 games with the Panthers, Samuelsson had 13 goals and 15 assists. He was great on the man advantage, scoring 6 power play goals for Dale Tallon's squad.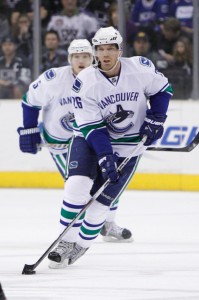 The 2012-2013 season was going to bring a lot of uncertainty to the Red Wings after losing Nicklas Lidstrom, Brad Stuart (now playing for San Jose), and Tomas Holmstrom. Samuelsson has not provided the veteran presence needed after the departure of said players, and has not provided the scoring he did the year prior.
1st-Line Money For 4th-Line Production
In 4 seasons with the Red Wings from 2005 to 2009, Samuelsson had 159 points in 278 games. In his first season back in the Motor City, he's been dreadful. After missing 41 games of the shortened NHL season because of various injures, in only 4 games played, he had 1 assist, and was a -3.
In these playoffs, he had one goal and one assist in 5 games in the Anaheim series. He's been a press-box hog since game 6 of that series.
What's worse is that he's been a defensive liability for coach Mike Babcock. He's -4 in 9 games combined this year. I don't blame Babcock for only playing him more than 20 minutes once this year; before that the max ice-time he received was just 15 minutes.
I'm not sure that Ken Holland is comfortable with having $3 million (this year) sitting in the press box while the Red Wings were fighting for their playoff lives on Wednesday night. One would think an impact player, actually worth $3 million, may have made the difference for Detroit.
Mikael turns 37 in December. He is due another $3 million for the remaining year in his contract. Ken Holland received minimal play from a man getting paid 1st-line money. Perhaps that $6 million should have gone to someone who produced this year, someone like P.A. Parenteau…
What Should Ken Holland Do With Mikael Samuelsson?
The NHL salary cap will be reduced by $6 million for the 2013-2014 season, at $64.3 million. Detroit has a number of restricted (Andersson, Nyquist, Kindl, and Smith), and unrestricted free-agents (Filppula and Brunner) which Holland will be really pushing to sign.
The Grand Rapids Griffins, Detroit's AHL affiliate, are also bursting with talent that will most likely see NHL action next year. Tomas Tatar, Jan Mursak, and Brian Lashoff have all played a big part in sending the Griffins to the AHL Conference Finals. One has to figure that Holland and Babcock are considering bringing up some of these players next year, but with a reduced cap, all of these smaller contracts will add up.
Option 1: Buy out the rest of Samuelsson's contract
Per the newly ratified CBA, each NHL team has the luxury of two amnesty buy-outs, meaning each team has the option of buying out the remaining money on a player's contract prior to the 2013-2014, or 2014-2015 season.
$3 million for Holland would go a long way this summer for acquiring another defence-man, a top 6 forward, a physical bottom 6 winger, or in re-signing one of the UFA or RFAs.
A number of expiring contracts this summer will provide many options to Holland, given that he uses the amnesty buy-out on Samuelsson. David Clarkson, Dustin Penner, Michael Ryder, and Pascal Dupuis are all pending UFA's who should be in the $3 million range come July 5th. All 4 are impact players, with plenty of experience, but skill AND physicality which is what the Red Wings are lacking in their bottom 2 forward lines.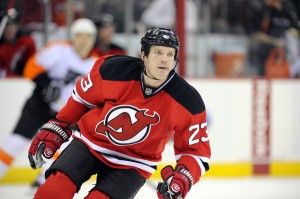 Option 2: Trade Mikael Samuelsson (RW) and the 2nd round pick in 2013 to the Carolina Hurricanes for Jamie McBain (D).
This trade makes sense going both ways. As much as this is a salary dump for the Red Wings, McBain has two years left on his contract where he will make $1.8 million both years.
Detroit is taking a bit of salary back for a player who can play in the second pairing if Holland feels like Brendan Smith or Carlo Colaiacovo don't fit the role well beside Jakub Kindl. McBain and Kindl would be the second pairing, while Smith and DeKeyser (with a sprinkling of Colaiacovo and Quincey) would take the third pairing. Holland would most likely move one of the latter to avoid a huge log jam of defence-man on his roster.
He's a big defender, a physical presence on the blue line, and can play solid minutes for Babcock. Between McBain and Samuelsson, I think Jamie takes the cake, and the $3 million that Mikael's been given now.
Carolina will be receiving some much needed experience on a squad that will be losing Chad LaRose to free-agency. McBain's departure then opens the door for Ryan Murphy to make the jump to the NHL.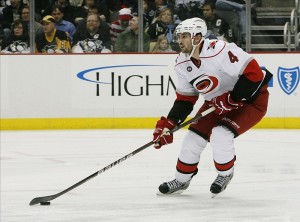 The second pick is the key in this deal. With the Red Wings having been eliminated in the Western Conference Semi-Finals, their second rounder will most likely be somewhere in the 20-24 range. Jim Rutherford would then have 3 picks in the first 2 rounds to work with (either use them or package them in another transaction).
This is just one of many deals that could be made with Samuelsson. Given the Red Wings' need for another solid d-man and some physicality, and Carolina's lack of veteran leadership as well as some room to manoeuvre in the draft, this trade makes sense to me. But Samuelsson is turning 37 this year, and also has a no-trade clause, so its anyone's guess if anyone will want him or if he wants to go anywhere specifically.
Option 3: Send Samuelsson to the AHL (a la Scott Gomez)
This may be the worst case scenario if Holland does not want to buy out Samuelsson. Stashing $3 million in the minors is essentially the same thing as Samuelsson sitting in the press box; it's salary sitting there, wasted away. Many feel Holland is inclined to buy him out, and that sending him to Grand Rapids is not an option.
Ken Holland *must* use an amnesty buyout on Mikael Samuelsson and I think he will. Todd Bertuzzi is another candidate to be bought out, too.

— Dan Fenner (@DanFenner) May 30, 2013
The Detroit Red Wings hoped that Mikael Samuelsson could find the same magic he did when he was in the Motor City from 2005 to 2009. Unfortunately, injuries and subpar play from the Swede derailed their plans. To boot, Samuelsson was sitting in the press box of the United Center in Chicago when Brent Seabrook scored the OT, and series winning goal on Wednesday night. Perhaps a player who actually deserved the same amount of money would have played, and could have been the difference against the Chicago Blackhawks.
I am a fourth year student at the University of Toronto studying Physical Education/Concurrent Teacher Education. I have been a hockey fan all my life and play in a men's league during the winter. My favourite leagues are the NHL first and foremost, the MLB, and the NFL. I also work at the hockey megastore Pro Hockey Life. Follow me on twitter @rob_ruscitti and check out my sports blog on twitter as well @EhSport360