After a fantastic season that exceeded all expectations, the Ottawa Senators season came to an end this past week as they lost to the powerhouse Pittsburgh Penguins. At the final press conference of the season, General Manager Bryan Murray discussed his intentions over the offseason and his willingness to bring in a proven goal-scorer. Whether this is through free agency or a trade was not mentioned and Murray addressed that some of the Senators prospects are available.
Heading into next season it appears as though there will be limited spots available on the team, but the Sens desperately need an upgrade on offense if they want to improve and be a contender in the future. The Senators will be looking for a winger who can provide offense and preferably a power forward with some size. That being said, let's look at who I think the Ottawa Senators will target through the upcoming free agency:
1.)  Nathan Horton
Nathan Horton could be on his way out of Boston this offseason after a couple of lackluster seasons. Boston has very little cap space for next season, and unless they make a trade, Horton could be available. He would be a perfect fit for the Ottawa Senators as he could replace Daniel Alfredsson on the top line if Alfredsson chooses to retire and brings a ton of playoff experience to a young Senators squad. The Senators have loads of cap space heading into free agency and have the ability to give the money and term that Horton is looking for. Horton has had injury problems over the last few seasons but he's still one of the premier power forwards in the league and would be a huge addition for the Senators. I think the Senators will make a strong push for Nathan Horton if he becomes available.
2.)  David Clarkson
Clarkson is due for a huge raise after a couple of great seasons in New Jersey and you can almost guarantee the Senators will make an offer. A lot of teams will be hesitant to make a significant pitch for Clarkson but the Senators have the cap space available and would address a lot of the Sens needs. Whether his thirty goal season was a fluke or not, he is still an extremely hard worker and plays his game with an edge. He would look good on Spezza's wing and especially in front of the net on the powerplay. Teams win with players like Clarkson and even if he isn't scoring, he's still noticeable on the ice by making huge hits or driving the net hard to get quality scoring chances. If New Jersey doesn't resign Clarkson, the Senators will certainly make an offer.
3.)  Ryane Clowe
After an awful start to the year, Clowe landed on his feet when he was traded to the New York Rangers and had an immediate impact recording eight points in twelve games. It's likely that he resigns with the Rangers in the summer, but the chance that he doesn't makes you have to speculate that the Senators would make an offer. Like David Clarkson and Nathan Horton; Ryane Clowe is your typical power forward and is exactly what the Senators need. He is more proven offensively compared to the other two players but his point totals have been decreasing since getting 62 points in 2010-11.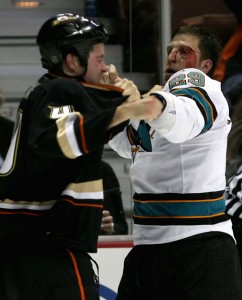 I wouldn't be surprised to see one of the three in a Senators uniform at the start of the season. The Sens are looking for a scoring power forward with size and look no further then these three as they are exactly what Bryan Murray is looking for.
4.)  Pascal Dupuis
Pittsburgh is another team that will face some cap troubles heading into next season. Dupuis could be made available and will be due for a huge upgrade as his point totals have continuously increased over the past few seasons. The Senators would be able to give him the contract he is looking for and could be a solid addition to the top six. It would be interesting to see how he plays without being surrounded by an all-star lineup and if he can sustain his high point totals. He is one of the best two-way forwards in the game and would no doubt be an upgrade to the Senators offensively and defensively. He is a right winger who could take over Daniel Alfredsson's position if he chooses to retire and brings veteran leadership.
5.)  Andrew Ference
While one of the major concerns for the Ottawa Senators is offense, it's hard to pass up an opportunity for a steady stay-at-home defenseman. If the Senators choose to not resign Sergei Gonchar, Andre Benoit, or Mike Lundin; there could be an opening available on the blueline. The Senators have a couple of prospects who are ready to step-in and play in the NHL but the Sens might want to add a veteran instead of having a rather inexperienced blueline. During the playoffs there were multiples times that the defenseman got walked around and by adding Ference, you're adding someone who can play against other teams top lines and will log lots of minutes. He could be signed for a similar contract as to the one he has now and would be a good top-four defenseman for the Senators.
I think the Senators are going to look for a proven player that can come in and improve the lineup right away. The Senators have amazing depth and tons of top end prospects, so they will only make a move via free agency if it is a significant upgrade to the roster. If Daniel Alfredsson retires during this offseason, then I can see the Senators acquiring someone that brings leadership and playoff experience. It will be an interesting offseason for the Ottawa Senators and without a doubt there will be a significant move made.
Follow me on Twitter @ConorTHW