When a professional hockey team doesn't make the playoffs, fans, local media and hockey analysts will play the blame game—it's just human nature. Such is the case pertaining to the Dallas Stars.
And to that I say, give credit where credit is due: the Stars defensive corps are at the top of my blame list.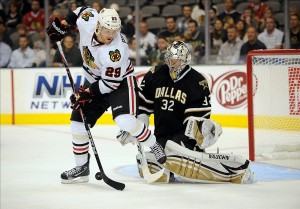 In its defense (no pun intended), the defensive corps isn't the only reason the Stars missed the playoffs for a fifth consecutive year, but just review the defensive corps' performance. They don't defend the crease, they have trouble transitioning the puck out of their zone and they are constantly out of position. Here's a look at how the starters and reserves graded out:
Stephane Robidas – Grade: C-
No doubt, Robidas is a warrior with a lion's heart. Still, this is a guy who early in his Stars tenure was an occasionally used number six and sometime booted up to left wing. As the elder statesman of the group, he is what he's always been…a serviceable number five or six. Poor trades and the overall diminishment of the defensive corps over time vaulted him into the number one slot and he's not that guy.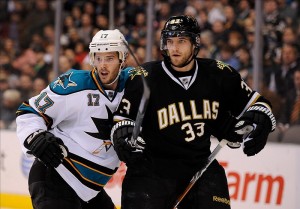 Alex Goligoski – Grade: F
Poor Alex was immediately thrust into the hot seat when traded for James Neal and Matt Niskanen. Goligoski hasn't shown consistent scoring prowess or the ability to quarterback the power play. Moreover, he is incapable of defending his own zone. Too many times he is out of position and doesn't play with a hint of physicality. Opposing forwards know they can crash the crease at will when "Goose" is on the ice.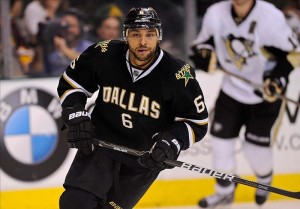 Trevor Daley – Grade: D-
The club signed Daley long-term, but he's proven to be nothing more than a streaky player. Like Goligoski, he is a hindrance in his own zone. He's got speed, but is prone to turnovers and makes too many mistakes in front of goalie Kari Lehtonen.
Brendan Dillon – Grade: B+
As a rookie, Dillon outshined his peers as the sole physical presence on the back end. He also showed the ability to hit a second gear and carry the puck deep into the offensive zone. He appeared to lose steam late in the season, but this is a kid the Stars pencil in as a solid third or fourth with potential to be the top dog someday.
Philip Larsen – Grade: C
A small statured player with a game based on speed and offensive potential. Asking the young guy (who looks like he's 14) to play that game fits his tools, but he has no authoritative presence in his own zone. Defensemen generally take longer to develop and adapt to the NHL than do forwards, but Larsen had plenty of chances and didn't show he's on an upward trend.
Jordie Benn – Grade: D
Presumably, Nieuwendyk cleared out veterans Sheldon Souray and Mark Fistric before the season to make way for the youngsters' development. In the case of Benn, that backfired. Benn proved he needs more seasoning, maybe much more, at the AHL level. In the season finale against Detroit, Benn played a large portion of the third period and proved he's just not ready for the NHL.
Jamie Oleksiak – Grade: Incomplete
The towering rookie didn't get nearly as many chances as Larsen or Benn. When he did, he played like a deer in headlights. Not surprising since he's only 20 and probably in need of more AHL time, but his presence as a 6'7" defender would suggest he could and should play nastier than he did.
Aaron Rome – Grade: C+
Rome dealt with injuries and healthy scratches for much of the campaign but when he did play, he was serviceable. He displayed some physicality and smarter play in his own zone than most of his teammates. He can be a good fit as a five or six, but the Stars already have several of those on the roster.