Everett Silvertips goalie Austin Lotz may not top the list of draft eligible goalies this year, but he just might turn out to be one of the best. Lotz has come on this season for Everett and in many ways has carried his club.
Hailing from St. Adolphe, MB the six foot goalie is a fierce competitor who battles all game long and never gives up on a play. He has led a young Everett team to the playoffs and many nights has had to stand on his head to do so. He finished the season with a save percentage of .907 and a lot of shots. In his 42 games the young goalie faced an average of 32 shots a game.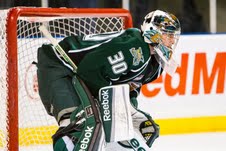 Growing up in Manitoba Lotz donned the goalie gear pretty early on.
"I started playing goalie when I was seven," he said. "I guess in what they call Tim Bits now, we called it Squirts, that was the only time I was a player."
This season was Lotz's first as the regular goalie as he only played 17 games last year backing up Chicago Blackhawks prospect Kent Simpson. Lotz says sitting behind an established NHL prospect like Simpson did wonders for him and his game.
"It helped more off the ice than on," he said about Simpson's tutelage. "I roomed with Kent at the beginning of the season, through training camp and we became really good friends. Obviously on the ice it was awesome to see him and with our goalie coach, to hear what they were talking about helped a lot. He taught me a bunch of things, not only just on the ice stuff but how to carry myself in the dressing room, media and just everywhere."
Lotz says that he and Simpson, who has played the majority of this year in the ECHL, are still friends and still talk from time to time. That experience may have helped Lotz maintain his confidence despite missing some games with nagging injuries. While nothing serious, Lotz is a competitor and hates to miss any game action.
"It's frustrating, I was injured twice this year," he said. "They kept me out for eight games each. I'm not the kind of guy that likes to sit in the stands and take a day off. I like to be on the ice helping my team win as much as possible. Seeing another guy in my net never makes me feel too good. I'm just happy those injuries are over."
Compete Compete Compete
Lotz is a goalie with good size, he's athletic, competitive and plays with confidence. What would his scouting report on himself be?
"I'm a pretty aggressive goalie," he says of his game. "Pretty quick and have good reflexes."
As a young player he still feels he can improve in some areas.
"Growing up it's always been the same story for me being aggressive," he says. "It gets me out of position some times and that's something that almost every goalie coach I've been with has preached with me to work on. I feel like it's getting better."
Lotz feels that his aggressive play comes from a strong competitive nature he has. That nature has worked well for him this season as he has become one of the stronger goalies in the league. The WHL is a tough league for goalies as there are a ton of prospects to face each night. As a competitor how does Lotz handle seeing those other top end guys?
"When it comes to the other goaltenders we like to have a good relationship with each other," he says of his competition. "When it comes to playing the game , for me, it doesn't go through my mind that much. I guess when it's guys my age a little bit, but that's the competitiveness amongst us, we want to be better than each other, but it's a healthy relationship."
To see proof of his competitiveness one need to look no further to the opening night of the WHL playoffs this past weekend. The Silvertips are taking on the highly rated Portland Winterhawks in a series that everyone predicted to be a sweep. Everett stunned Portland with a 4-3 win in a game that Lotz was incredible in and made 55 saves.
That's a pretty good game for most goalies but for Lotz, it's not even the best of the season. The best came in Kamloops earlier in the season when he made 65 saves in a 4-3 overtime loss to the Kamloops Blazers. Everett was out-shot 69-21 in that game and had no business getting a point.
"After the first period I looked up and saw that there were 30 shots," he says of that memorable game. "I couldn't really believe it but at the end of the day you can't really think about that. Can't look too much into numbers at any point during the season, never mind during a game."
Lotz made headlines again, a month ago, when he got into a goalie fight with Seattle's Brandon Glover. The video of the fight made the rounds on the internet and Lotz can only laugh about it now.
"It was my first goalie fight that's for sure," Lotz said with a chuckle. "You don't really see that below junior hockey that much. It's the first time I've been challenged to fight, it was a little bit surprising but I had some fun with it."
Everett is a very young team up front and because of that have struggled to score goals this year. They ended the season as the lowest scoring team in the WHL. Despite that, they made the playoffs for the 10th consecutive season, thanks in large part to their net minder. Does playing for a low scoring team add any pressure?
"Obviously in any game I don't want to let in any goals," he says of the pressure. "I know that my role on this team is a little bigger than it probably will be in the next couple of years just because of our team. Even the progression I've seen with our team in the second half is huge. Rookie players are starting to look like second year guys ."
Like many young goalies Lotz says he grew up watching and admiring New Jersey's Martin Brodeur but now as an older player his allegiance has shifted a bit.
"Back in the day I used to love Martin Brodeur," he says. "But these days I like Marc-Andrey Fluery just because, if I was to model myself it would be him. He's very flexible and a reaction goaltender which is what I strive to be like."
NHL Draft Looms
Lotz says he hasn't given the NHL draft too much thought and has stayed away from online rankings and scouting reports. He is happy to play for any team but if he had to pick he would get a kick of playing for his home town franchise.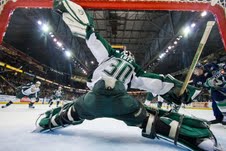 "I'd have to go with my home town team in Winnipeg," he said of the dream scenario. "I think that would be pretty special to play for that organization just because the history behind it and how involved my family's been with the team before they moved."
Austin Lotz is being projected to go in the later rounds in the upcoming NHL Draft. With the way he progressed as the season went on it wouldn't be too shocking if some team nabbed him earlier than the fourth round. No matter where he goes, his competitiveness and athletic ability will land him in an NHL crease in the near future.