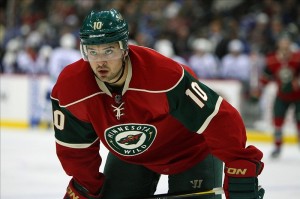 The Minnesota Wild is headed for a fall.
It's no exaggeration to say that Devin Setoguchi and Matt Cullen have ignited the 14-5-1 explosion which has propelled the Wild near the top of the Northwest Division.  With 11 goals leading the squad in that stretch, Setoguchi has done the finishing, while his centerman Cullen has shown off the playmaking by tying for second with 13 assists.
However, this type of production isn't likely to last as Setoguchi and Cullen are defying their past track records.  And while we can't discount the possibility that the 26-year-old sniper is finally seizing his prime, his career so far has been defined as much by his promise as it has his inconsistency, demonstrated by nine-game or more goalless droughts in every season of his career, including this year.
| | | | |
| --- | --- | --- | --- |
| Devin Setoguchi | Last 20 Games | Season High | Career (Before 2012-13) |
| Goals Per Game | 0.55 (45 goals prorated over 82 games) | 0.38 (2008-09) (31 goals in 81 games) | 0.31 (Career before 2012-13) |
| | | | |
| --- | --- | --- | --- |
| Matt Cullen | Last 20 Games | Season High | Career (Before 2012-13) |
| Assists Per Game | 0.65 (53 assists prorated over 82 games) | 0.61 (2007-08) (36 assists in 59 games) | 0.33 (Career before 2012-13) |
That said, this article isn't an assault on what Setoguchi and Cullen have achieved so far.  Second-line forwards aren't supposed to carry teams, yet they've managed to do so recently.  Instead, we're looking ahead to a fast-approaching question for Minnesota: Who will step up next?
Here are four likely candidates based on past track records.  Wild grip on a playoff spot may rest in the hands of these underachievers.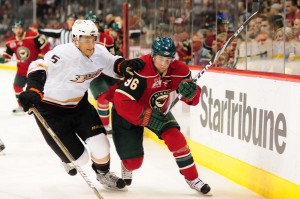 Pierre-Marc Bouchard, at a career crossroads just two weeks ago, has dazzled with six assists in the last five games, replacing Jason Zucker on the Cullen-Setoguchi line.  We can hope that his recent benching has brought back a much-needed focus, as he's the most offensively gifted of this quartet of underachieving forwards.
Dany Heatley has slipped in every facet of his game except one: Picking the corner of the net.  However, his Shots/60 minutes on 5v5 Even Strength (Zone Start Adjusted) have dropped from 8.640 (2007-10) to 5.853 this season, meaning he hasn't been earning himself enough chances at the only thing he still does well.  Currently enduring a nine-game goalless streak, he's hit a few posts and is bound to pot a couple soon.  However, declining ATOI is an issue (20:12 ATOI in the first nine games to 16:44 ATOI in the last nine) as he's a defensive liability who must be protected by his linemates.  While not a be-all-end-all stat, he managed to get tagged with a -8 in that 7-2 stretch, even though the Wild only gave up 20 goals.
In the midst of a terribly disappointing season, Kyle Brodziak has displayed a few signs of a life recently.  With four goals in the last 11 games, increasing ATOI, and some nice setups for linemate Heatley, he seems to be energized recently, also demonstrated by his (admittedly subjective) five takeaways in his last five games (after 10 in the first 25).  This recent statistical bump portends the return of his overall game, as he's averaged 0.67 takeaways a game over the last three seasons (166 in 244 games).
With a few more scoring chances recently, Cal Clutterbuck's game also seems to be trending upward as the final piece of the offensively-improving and defensively-questionable trio with Heatley and Brodziak.  His trademark, of course, is hitting, which hasn't diminished, suggesting he's still on his game.  However, Minnesota expects a couple more goals from him than three in 24 games.
So perhaps, it's more accurate to say that the Minnesota Wild is headed for a fall, unless…