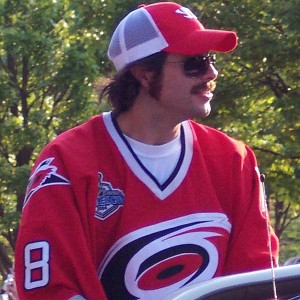 Matt Cullen is turning back the clock to 2006 when he was a key offensive piece on a Stanley Cup winning team in the Carolina Hurricanes and the 2013 Minnesota Wild are benefiting. This team is starting to roll and the play of Cullen as the second line center has been pretty valuable in Minnesota's recent success.
The Wild started the 2013 season battling despite an offseason that saw them investing a lot of money in major offseason free agents Ryan Suter and Zach Parise.
They are 8-4-0 in their past 12 games moving them up to sixth position in the Western conference and only two points behind Northwest division leaders Vancouver.
A big part of that recent success has been an offense that has found its feet. They have scored 34 goals in the past 12 games, which is 2.83 goals per game. That's well above their 26th ranked 2.35 goals per game. Charlie Coyle has slotted perfectly alongside Parise and Mikko Koivu on the team's top line, while the third line featuring Kyle Brodziak, Cal Clutterbuck and Dany Heatley showed plenty of energy and has generally been playing pretty well of late.
A pretty important part of that recent offensive success is the play of Matt Cullen marshaling the second line. That second line has generally featured Jason Zucker and Devin Setoguchi and they have produced consistently behind the Koivu line. It should be noted that they were productive again on Thursday night against the Colorado Avalanche even with Zucker sidelined and Pierre-Marc Bouchard completing that line.
During the last 12 games Matt Cullen has scored 11 points spending most of that period at center. He played a pretty important role at the beginnin of the winning streak scoring two goals and adding an assist on February 21 against the Edmonton Oilers. He also has eight assists in eight games and has been pretty important in re-generating the scoring touch of line mate Setoguchi. The 26-year old has scored five goals and nine points in the past 11 games while playing with Matt Cullen.
He may be 36, but Matt Cullen is looking a lot more like the player who was a key cog in the 2006 cup winning Hurricanes offense. He scored 25 goals and 49 points in the regular season that year, before tallying four goals and 18 points in 25 playoff games.
Cullen's best season also came with the Hurricanes when he scored 49 points in 59 games, but there's little doubt that this is some of his best and most significant offensive play since his peak days with Carolina, and certainly a far cry from scoring 39 and 35 points in the past two seasons with the Wild.
In previous articles for The Hockey Writers [Minnesota Wild Struggles In Key Stretch] I have questioned whether Cullen can be a key offensive contributor for this line-up. However, it's fairly clear that he might just be the key cog for this line-up especially after Mikael Granlund was sent down to the AHL earlier this week.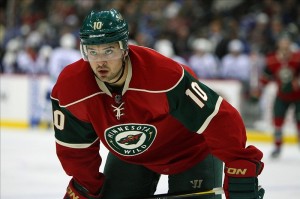 Matt Cullen is a finesse player in being a good playmaker and having good on-ice vision. However, he is also a player who has the experience and knowledge to understand how goals are scored in the NHL. He isn't afraid to take physical punishment to create offense  and right now he is finding tremendous chemistry playing on a line with talented young offensive players like Setoguchi and Zucker.
Maybe age will catch up to him and his production will slow down. Perhaps he is just keeping a seat warm for Granlund. Generally, it's pretty clear that Matt Cullen is an important part of Yeo's Minnesota Wild offense right now.