Minnesota Wild head coach Mike Yeo surprised more than a few people in his post-game interviews on Tuesday night when he described his team's 2-1 overtime victory against the Calgary Flames as a critical turning point. Minnesota had just scrapped to victory on home ice thanks to a late equalizer from rookie Jason Zucker, and then an overtime winner from Zach Parise. Even more concerning is the fact that the Wild simply failed to perform in what was undoubtedly a key stretch of games for this hockey club.
The timing of this post may seem strange since the Minnesota Wild are 5-3-1 in their last nine games, including victories in three of their last four. They are 11th place in the Western conference, but only two points behind sixth with two games in hand.
However, in a post published on this site two weeks ago, I alluded to an important stretch of five games for Yeo's team [Analyzing The Minnesota Wild's Offensive Woes] suggesting that it was a critical opportunity for a faltering offense to find its game. Tuesday night's match-up concluded that run of games and the reality is that Yeo and his team failed to produce despite posting a respectable 3-1-1 record.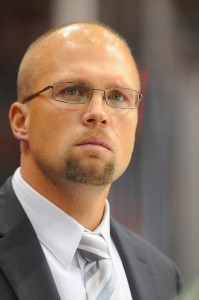 That stretch of games featured one game against an erratic Detroit Red Wings team with an inexperienced blue line. The other four games were against the Colorado Avalanche, Calgary Flames and Edmonton Oilers; all of whom are below Minnesota in the Western conference standings. Still, the Wild only managed to score 12 goals during that stretch. That's an average of just 2.4 goals per game. It's certainly an improvement on their current NHL bottom ranked 2.06 goals per game, but not especially encouraging given the competition.
More concerning is the picture produced by a game by game analysis, which reveals that the team's offensive output has not been improved by effective line combinations working together or a consistent commitment to a certain style of play. Mike Yeo definitely has plenty of work to do if he wants to quieten talk about his position and steer his Minnesota Wild towards locking down a Western conference playoff position. Here's a game-by-game analysis of the Wild's offensive performance.
Wild v Avalanche (Feb 14th)
4-3 shootout loss
The first game of the stretch saw Minnesota take on a Colorado team without Gabriel Landeskog, without Erik Johnson and generally with a blue line that was a little short on skating and transition. This was a pretty good offensive effort overall with the top Zach Parise line producing a pair of goals and Mike Rupp scoring another goal assisted by Mikael Granlund. Defensive lapses cost the Wild a pretty critical home game against a depleted team in a sloppy effort. However, the even-strength offensive potency was much improved.
Wild v Red Wings (Feb 17th)
3-2 regulation victory
Things continued to look up at home, where Minnesota are 7-2-1, in many respects. Three goals were scored in an encouraging victory against Detroit. Dany Heatley pounced on a loose puck after a scramble, Torrey Mitchell did the same thing on the game winner in the third period, and Jason Zucker also scored on a strong individual effort as Yeo got scoring from three separate lines. Still, all of that scoring came in the space of just four minutes and those good habits were not recognizable for the whole 60 minutes, or even 40 minutes.
Wild @ Oilers (Feb 21st)
3-1 regulation victory
36-year old Matt Cullen hasn't looked like an offensive force in 2013 after fairly consistently scoring 35-45 points per season in recent history. He is on that sort of pace in 2013 with nine points in 18 games, and he has four points in his last seven games. However, he has three points in one game (Feb 21st against Edmonton) and just one point in his the other six. Niklas Backstrom was superb in the victory, while the scoring came from one line and the offensive effort only really picked up after the halfway mark of the game when Minnesota were 1-0 down.
Wild @ Flames (Feb 23rd)
3-1 regulation loss
Charlie Coyle's first career NHL goal was a small consolation during an otherwise feeble offensive effort from Minnesota in a tough 3-1 road loss against Calgary. This is a Flames team that ranks 28th in the league conceding 3.22 goals per game. Journeyman Joey MacDonald played well between the pipes, but the Wild failed to generate a serious net presence and none of the offensive lines really posed a consistent scoring threat.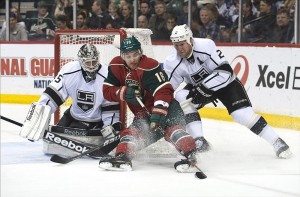 Wild v Flames (Feb 26th)
2-1 overtime victory
This is the game that Mike Yeo has claimed is a turning point for this franchise. His point presumably being that Minnesota found a way to win despite not playing especially well. That certainly is important for any playoff team, but the Wild had already been finding ways to get results despite below par performance as evidenced from the earlier analysis in this article. The reality is that Minnesota failed to generate much of anything for 55 minutes besides a burst of chances in the middle of the second period. The power-play finally connected on its seventh chance in overtime, while Backstrom was once again in fantastic form in net.
If anything, the Minnesota Wild's offensive output actually got worse during this important five-game stretch. They are still ranked dead last in the NHL in terms of goals per game and Yeo's line combinations still haven't come together. While the Wild remain in contention, they still have plenty of time and no need to panic to find their offensive game, especially considering their offensive skill level.
Yeo, Parise and the rest of this offense still have plenty to work on. They won't have it easy either as they begin a stretch of seven games which sees them face the red hot Anaheim Ducks twice as well as the Chicago Blackhawks, Vancouver Canucks, Nashville Predators and Phoenix Coyotes. If the Minnesota Wild have turned a corner, then the next corner looks like a much longer challenge for Yeo and co to face.