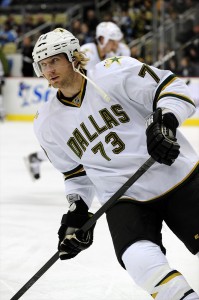 The Montreal Canadiens announced Tuesday evening that they had traded the team's top goal scorer from last year, Erik Cole, for ex-Hab Michael Ryder, last year's top goal getter for Dallas. While the two players stack up pretty evenly on paper, the Canadiens ended up with bit extra on the trade, and that's on top of the third round pick that GM Marc Bergevin managed to pick up along with Ryder.
Cole and Ryder both fill about the same role in a lineup, they are big wingers counted on to produce offense; they're the guys that are supposed to get the lion's share of their team's goals. Ryder and Cole both lit the lamp 35 times last season, putting them in a tie for eleventh place in the league. They both have over 200 goals in their careers, and while Ryder has slightly higher average of goals per game, Cole has scored a few more goals overall.
While the Habs came out ahead in this deal in terms of offense, they did so at the cost of a bit of toughness. Cole is two inches taller, about 15 pounds bigger and has more than twice the hits this season than Michael Ryder. But toughness is something the Habs need right now, especially not from someone who is also supposed to be occupying a scoring role. And although Cole is a bit more physical than Ryder, the latter isn't exactly a pushover either, the Bonavista native has been averaging over a hit a game during the last three seasons and has 19 hits in 19 games this year.
How Ryder will Help the Team
One of the big plusses for Montreal is that Ryder has quite a few more power play markers in his career than Cole does, an area the Habs have struggled in recently. The Canadiens have been in need of a winger with a heavy shot to help keep their power play unpredictable. Max Pacioretty will probably fill out that role at some point in his career, but he's struggled somewhat to find the back of the net this season. Patches had just 4 goals on the season and only one power play marker so far.
It's important to note Pacioretty's struggles at putting the puck in the net this year. Another role Ryder will probably be expected to play is that of role model and mentor to some of the younger Habs. Cole was seen as a leader in the room and was credited for helping Pacioretty and David Desharnais have breakout seasons last year. Ryder will probably be looked to for the same type of leadership, he'll can help teach Pacioretty and Desharnais, as well as rookies Alex Galchenyuk and Brendan Gallagher, what it means to be a youngster playing for the blue blanc et rouge and how to handle all the pressure that goes along with it.
Michael Ryder comes up big for Boston during their Cup run, robbing Tomas Plekanec of a sure goal.
A Friendly Contract Doesn't Hurt Either
As similar as Cole and Ryder are, there is one glaring disparity: their contracts. Michael Ryder will be a UFA at the end of this season and his current contract has him at a 3.5 million dollar cap hit. Erik Cole has a 4.5 million dollar cap hit and is under contract for two more seasons after this one. Clearly Marc Bergevin is happy to shed a bit of a cap hit here in preparation for next year's falling salary cap.
And that isn't to say that there is no chance Ryder will be with the team at the start of next season. Cole has had a slow start to the year and by making this move now, Bergevin has given himself some extra room to manoeuvre when the salary cap comes down. If Michael Ryder plays his role properly, the Canadiens have room to offer him a new contract, and if Bergevin feels he can improve his team another way, that option will be open as well.
As with any trade, it will take time to see which team got the better deal, but at first glance the Canadiens came out ahead in this bargain.
Rob has been blogging about the Habs since 2011 at MontrealHockeyTalk.com and can usually be heard before every Canadiens games on the MHT Pregame Show.