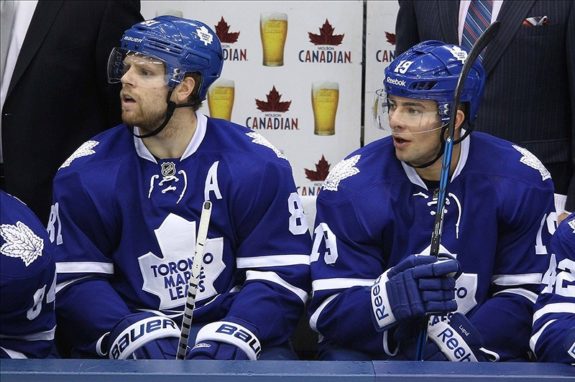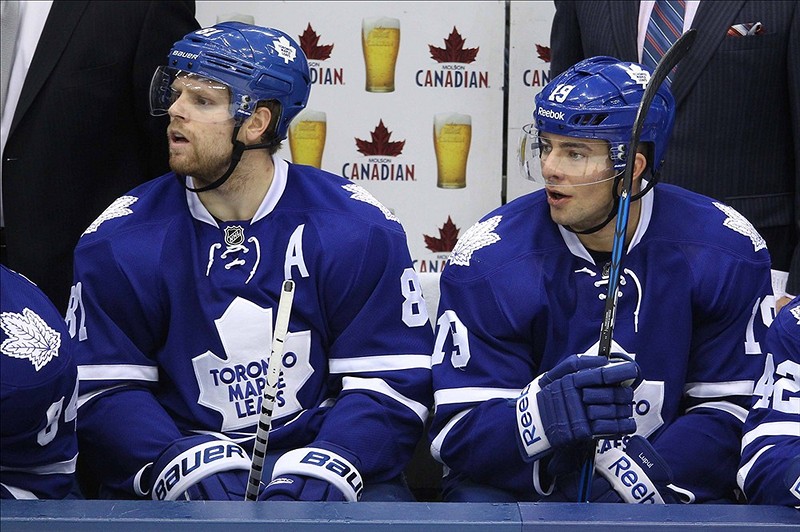 Maple Leafs Panel is a weekly feature that is published every Monday throughout the season here at The Hockey Writers. It's a feature where THW Editor Lukas Hardonk as well as THW Toronto Maple Leafs correspondents Mark Ascione and Stephen Stoneman answer three questions that concern the Maple Leafs each week. To catch up on previous editions, click here.
Question: Especially after Rick Nash didn't receive any type of discipline from the league following his hit on Tomas Kopecky, we can't help but wonder if two games was the right number for Joffrey Lupul's hit on Victor Hedman. Was it too much, too little, or just right?
Lukas Hardonk: I've talked over and over again about why I think Rick Nash wasn't suspended for his hit on Kopecky; Nash is a star playing for a team that is in the thick of the playoff battle. Brendan Shanahan argues that Nash didn't hit Kopecky in the head, but regardless, it's clear that there was intent to injure. Joffrey Lupul, on the other hand, is only a star in Toronto. Other than that, he's just another top-six NHLer.
There is no doubt that Lupul should have been suspended for his hit, and he was. Two games was perfect given that he has no track record with supplemental discipline, Hedman wasn't badly injured, Lupul left his feet and the head was targeted. With that, it would be next to impossible to say that Lupul deserved more or less. Good call by Shanahan and company.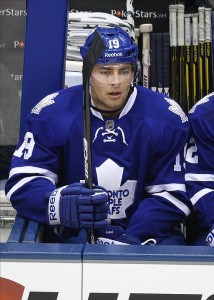 Mark Ascione: I do agree that Lupul made contact with the head of his opponent and I agree some discipline was probably warranted. And initially I would have agreed with two games. But─there are always mitigating factors─these kinds of incidents are relatable and comparable to similar incidents.
In light of the decision on Rick Nash's hit which was not suspended, I tend to agree with the sentiment that NHL supplemental discipline is a moving target and difficult to figure out. As I said, at first I could have accepted two games, but seeing Nash launch into his hit and not get a suspension, I tend to think that Lupul got too much and Nash was lucky to get away without penalty.
Stephen Stoneman: Just right.  In my opinion, the Leafs were having a great shift in terms of defensively covering for one another.  Nazem Kadri laid out Cory Conacher deep in the Leafs zone and on the ensuing play as the puck made it's way around the boards and over to the opposite point, it appeared that Lupul was looking to make an equally motivating play.  In his attempt, he crossed the line and, although his intent was without malice, he made contact with Victor Hedman's head.
Hedman, of course, was the guy who reinforced Sidney Crosby's concussion after Crosby had been hit by then-Washington Capital David Steckel. As for Lupul, the team managed three out of a possible four points without him but he will be a welcomed addition in Boston on Monday night.  My suggestion to him is that he keep his focus on putting the puck in the net and worry less about making the big hit.  Rub a guy out, fine, but there's no need to drop a guy like Hedman, especially with your team leading by such a large margin.
Question: Coach Randy Carlyle's handling of Frazer McLaren and Colton Orr has been a hot topic among Maple Leafs fans this season. Is it time we saw Carlyle regularly scratch one of them or should he continue to do what he has?
Lukas Hardonk: McLaren and Orr have both contributed to the Maple Leafs' offence more than expected. However, fans must realize that four points over 23 and 29 games respectively don't matter much in today's NHL and that fighting only goes so far. They are both role players and they must be given minutes accordingly.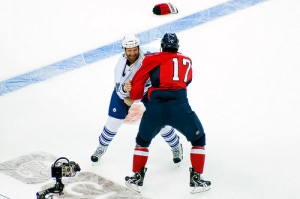 As tough guys who are meant to provide a physical presence, they should only be used as a pair against teams that posses a strong and/or intimidating lineup. One is the Boston Bruins, who the Leafs played on Saturday evening and will play again this week. The Bruins are one of the teams the Leafs must use both McLaren and Orr against. Aside from maybe a handful of other teams, there is no sense in regularly inserting both players in the lineup when there are young guys with the Toronto Marlies who are waiting on their chance.
Mark Ascione: Mid-week, I would have automatically said there was no good reason to have both Frazer McLaren and Colton Orr in the lineup night after night. To see the boxscore and realize Orr had two seconds of playing time before getting thrown from the game against Buffalo, it made me wonder just what the benefit was to holding a spot for him when you'd play 11 forwards all night. Then Orr goes and has a decent tilt (staged as it was) against Thornton and lends some credence to the idea the Leafs won't be shoved around by a tough Bruins team, and McLaren manages a game-winning goal.
Carlyle has them playing a tougher style and as long as he favours that style, Orr and McLaren are going to get ice time. If there was a Marlie who really deserved a callup and say 5-7 minutes of NHL ice time, I'd say sit Orr. But it seems these two tough guys are contributing what they can and we'll just have to accept that sometimes it won't be very much.
Stephen Stoneman: If the Leafs are successful at reaching the post-season, neither McLaren nor Orr will be in their opening night roster.  These two have played exceptionally well in a Maple Leafs uniform this season, both as fighters and, on most nights, as checkers.  McLaren has even dented the score sheet on more than one occasion as he managed his third goal of the season in Saturday night's game against Boston.   Orr was one of the main reasons that Toronto was able to secure a point in last Saturday night's game against Winnipeg as he had a great shift alongside Kadri and Lupul as they started the comeback.
Unfortunately, neither of them can play a regular shift in a post-season game, which rarely features fighting.  Therefore, I suggest that Carlyle start benching at least one of them and start to ensure that there's a couple of players that will be playing to get up to speed.  It may be Ryan Hamilton or it may be a player who is not yet a Leaf.  If I was in Dave Nonis' shoes, I would be going after a guy like Eric Nystrom of the Dallas Stars who at 6-foot-1 and 195 lbs, is tough as nails and can play a regular shift.
Question: Mike Komisarek was recently sent to the Toronto Marlies after spending the vast majority of the season watching his team from the pressbox. Does this move signal GM Dave Nonis' intent on being bold when it comes to rebuilding this team?
Lukas Hardonk: It was a move that fans were waiting on for a long, long time. When it was announced that the Leafs had sent Komisarek to the Marlies, those fans immediately rejoiced. Now the reality is beginning to set in, that Dave Nonis believes in something former GM Brian Burke had never accomplished to realize: it's time to move on from players who used to be big names, give the Maple Leafs a new identity and modernize the roster.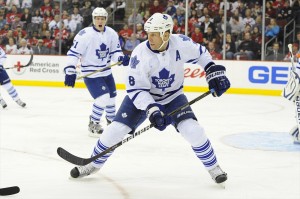 Komisarek had been the laughingstock of fans all around the league since his first season in Toronto. Now the Maple Leafs have finally relieved themselves of the troubles his contract has provided them with, allowed Jake Gardiner a chance in the big leagues and will surely buy out Komisarek's contract in the summer. The Maple Leafs are past the point of a rebuild but this certainly shows that Nonis will take a different approach to putting together a winning lineup.
Mark Ascione: I am not sure what the purpose was to play Komisarek in four games and sit him through 26 others but the management finally sent him to the Marlies. I think to some extent it does show that Nonis is not going to be tied to the players his predecessor brought in (though, in fairness, Nonis was part of that administration). We've seen Nonis dump Matthew Lombardi, begin the season with Tim Connolly in the AHL and now he's sent Komisarek there also.
I think these are three players that Brian Burke would have been 'loyal' to; he would have found a way to have them in the Leaf lineup and periodically sitting in the pressbox. Perhaps Nonis knows there is a limited (or no) market for Komisarek and as such, there's no reason to maintain him with the NHL club and he'll likely be a buyout candidate. That's not to say Nonis is disloyal but I think it signals he is willing to cut his losses when it comes to contracts that have not worked out in the team's favour.
Stephen Stoneman: Not at all. Komisarek waiving his no-movement clause was all about him wanting to play hockey. The writing is clearly on the wall in Toronto and the line-up to get into a game was getting even longer.  With Phaneuf, Franson, Gunnarson and Gardiner locked in as the top-four and with the growing confidence in Liles, Kostka and Fraser, there was no spot coming open for Komisarek, especially when you consider the way that Holzer has played on most nights.
Frankly, I think Komisarek could be the number one candidate to be bought out or he could be someone who gets traded with Toronto keeping a lot of his contract on the books.  Clearly Nonis is remodeling his team but I don't think that the Komisarek move has much to do with it.  With Morgan Rielly now in Toronto at the AHL level, it will be interesting to see if he gets called up to play in the NHL before the season is over.
Follow the panel on Twitter: Lukas Hardonk, Mark Ascione and Stephen Stoneman.
Visit The Hockey Writers: Maple Leafs Edition, 'Like' it on Facebook and follow on Twitter.