Nikolaj Ehlers THW Close-Up:
Date of birth: 2/14/1996
Place of birth: Aalborg, Denmark
Ht: 6'0″     Wt: 163 lbs
Shoots: Left
Position: LW
NHL Draft Eligibility: 2014
Twitter: @NikolajEhlers24
THW The Next Ones Rankings (January 2014): 4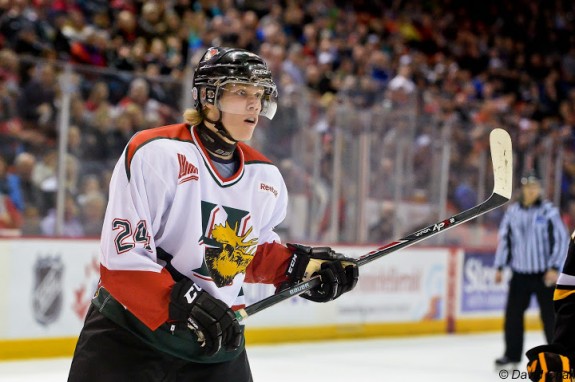 Other Rankings:
THW War Room Rankings (April): 6
Craig Button: 7
CS Final Rankings for North American skaters: 13
***
The rich just keep getting richer. After losing Nathan MacKinnon to the pros this season, the tandem of Jonathan Drouin and Nikolaj Ehlers didn't seem to skip a beat. Ehlers exploded onto the scene this year with 49 goals and 104 points.
Probably my favorite player in the draft, Ehlers isn't big at all, but he's fast…REALLY fast. He's a nimble skater that rarely loses momentum even in tight turns. He's a dynamic offensive winger with a powerful repertoire skills he uses to fool defenders. When Ehlers kicks it into that extra gear, there is no stopping him or trying to chase him down.
Terrifically smart in tight areas, Ehlers dangles through defenders like Swiss cheese. He drives the net well and drags defensemen out of position when he goes wide into the zone.
You can't score if you don't shoot and Ehlers' snap shot is a thing of beauty. He gets his shots off in a fraction of a second and they are lightning quick. Ehlers possesses great balance on his skates with a low center of gravity making it difficult to knock him off the puck.
He's scrawny, but a little time with some professional trainers and he should bulk up to a respectable weight in no time.
Where Will He End Up In June:
While not a popular opinion, I feel Ehlers has the capability of being a top five pick in the draft. However, somewhere between #7-#10 is more likely.
Scout's Honor:
"Ehlers is an explosive player who can beat even the quickest defensemen wide with his speed. He plays on his off wing and creates chances with sharp cuts to the middle comple- mented by an explosive wrister. He's equally good with the puck and can handle it both at top speed and in traffic."
Aaron Vickers – Future Considerations
"A Danish blazer who has high end acceleration and a set of gears. One of the best skaters in this draft. Fearless in traffic. Possesses an excellent wrist shot. Can makes plays while moving at his top gear. A bit undersized, but developing in all phases."
Bill Placzek – Draftsite.com
Statistics:
Bio/Interview(s)/Links:
International Tournaments:
Nikolaj Ehlers has played for Denmark six times at various stages. In 34 international games Ehlers has 48 points.
ETA:
1-2 years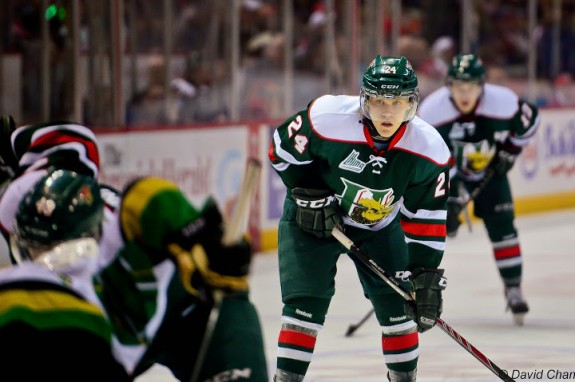 Risk/Reward Analysis:
Risk: 1/5   Reward: 5/5
NHL Potential:
1st line left wing with potential to be one of the best point scorers in the NHL
Strengths:
Great speed and acceleration
Balance
Lightning quick wrist/snap shot
Effective in every zone
Solid puckhandler, especially in tight spaces and in front of the net
Flaws/Aspects He Needs To Work On:
Adding more weight
Fantasy Hockey Potential:
Offensive: 10/10    Defensive: 2/10
NHL Player Comparison:
– NHL comparison: Patrick Kane
Video(s):
***
THW's The Next Ones prospect profile template design architect: Chris Ralph
Follow Shawn on Twitter: @ShawnTHW