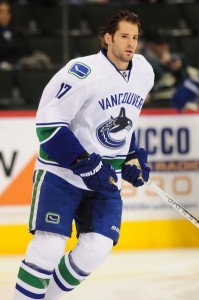 This is Part 2 of a three-part series detailing the possible landing spots for Ryan Kesler via trade. Click here if you haven't read Part 1 yet, and stay tuned for Part 3 in the coming days.
Trade Bait
In Part 1 of this series, I've already gone into some detail on a few teams that might have something to offer in a Ryan Kesler deal. Those were based strictly on a "picks and prospects" criteria, making them deals for Vancouver's future rather than its present. In essence, were one of those deals (or something like it) to be made by Jim Benning this summer, it would be a fairly good indicator of whether the Canucks will be re-tooling on the fly or going through a complete rebuild (hint: I wouldn't expect to be watching any playoff games in the coming few years). With that in mind, lets move forward in our playing of every sports-fan's favourite game, "Who Wants to be an Armchair GM"?
Package #2: The "Hockey Trade"
This is possibly one of the most fabled and hard to come by trades in all of hockey. Every trade these days is so closely scrutinized in the search for a "winner" in the transaction. Even when a trade is made with the best intentions from either side, one team is usually declared victorious within a year of that trade being made. Take, for instance, the Hodgson-Kassian trade between Vancouver and Buffalo. Despite a mountain of criticism from certain pundits that Buffalo fleeced Vancouver in the deal, the two teams needed two different types of players at the time. At the time, it appeared as though Hodgson was never going to supplant Ryan Kesler in his second line centre role despite the clearly offensive bias to his game, while Zack Kassian was still very much figuring out the defensive part of the game. In short, Buffalo needed a skilled centreman, while Vancouver needed to up the ante in the size department following Boston's manhandling of the Canucks. And so in theory, this trade very much exemplifies the "hockey trade" every sports fan loves to hear about (even though people are still evaluating that particular trade to this day)
With that in mind, here are some potential partners that hopefully won't laugh maniacally upon the completion of a trade with Vancouver.
The Dance Partners
Tampa Bay
The Lightning were one of the teams believed to be on Kesler's list of preferred destinations at the trade deadline, but as Ben Kuzma and Jim Jamieson of the Vancouver Province said yesterday, Kesler's list may expand or contract before this year's draft. This could leave Tampa on the outside looking in for a potential Kesler sweepstakes, but for argument's sake we'll go into who might fulfill the fabled "hockey deal" criterium on the Tampa side.
Victor Hedman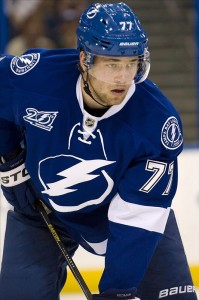 Hedman has been largely underwhelming since going 2nd overall in the 2009 Entry Draft, hovering at the 20 point mark for most of his career. His real breakout came during the lockout-shortened season of 2012-2013, where he managed to maintain his 20 point quota for the year, but did so in 41 less games. That continued into a fine point total of 55 blue-line points through 75 games in 2013-2014. Were he to have been on Vancouver for this past season and maintained this pace, Hedman would have led the Canucks in scoring.
Many in Canucksland might feel as though this trade would be a straight fleece job on the part of Steve Yzerman, but Hedman is slowly proving to be the defenceman that many thought he could be in the NHL. He's a big, physically punishing blue-liner with a cannon of a shot and eats up over 20 minutes a game. Vancouver certainly has depth at defence that is fairly strong at the moment, but what they lack is a bonafide #1 defenceman who can play in all situations and lead the team from the back end. Hedman would help in that regard.
The Others
The only other deal from Tampa that I would deem worthy of a mention would be the possibility of a sign and trade of Ryan Callahan to Vancouver. He's essentially the same player archetype as Kesler, albeit without the same pedigree that #17 has amounted over the last few years. What I find skeptical of such a deal, is that neither team would gain anything aside from a different face in the trade. Why trade a defensively sound, hard-nosed 2nd line centreman when all you receive in return is the exact same thing?
Columbus Blue Jackets
Since the Rick Nash and Marian Gaborik trades, many have overlooked the talent still remaining in Ohio as a dangerous team to face. I'm sure that's at least what a lot of Pittsburgh fans thought when they matched up with CBJ in the first round this year, but Bobrovsky and company have taken the old "let's let Nash do everything" attitude, lit it on fire and used the smoke as a screen to the real danger their roster poses. They are a young, hard working bunch that, above all else, plays for each other. Maybe all they need is a player like Kesler to jump into that culture and give it that extra offensive push to get to the next level.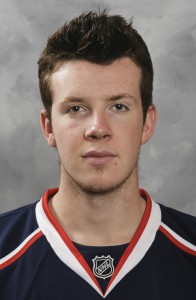 Ryan Johansen
The native of Port Moody has long been beloved by many in the Vancouver-Lower Mainland area as a talent to look out for. He is only just blossoming as a player in the NHL at the young age of 21, but with parts of 3 seasons (2012-2013 being his first full season) under his belt already it's hard to call him a future talent. His 63 points this year led all Blue Jackets skaters during the regular season, and after posting 6 points in 6 games this post season he finished second only to famed singer/songwriter/boxer/surfer/NHL defenceman Jack Johnson in playoff points.
Johansen represents every aspect of the type of player Jim Benning wants to build his team around. Big, fast, strong and skilled with the puck. Add in the fact that he could very well become a media darling here in Vancouver as the Lower Mainland's hometown hockey hero and he becomes a very attractive option indeed. The only problem is that now Johansen has had his coming out party this year in the NHL, every other team knows exactly what type of player he can be, including the Columbus Blue Jackets. That's going to make him a very hard piece to trade away. The only way Columbus could rationalize trading a player like Johansen, who not only outscored Kesler this year but also is 9 years younger, would be if Vancouver sweetened the pot. And I'm not talking just throwaway draft picks; Vancouver would have to give up a Bo Horvat along with Kesler to land a player like Johansen, so the likeliness of this deal happening now is becoming less and less.
The Others
Another player of note that Columbus could possibly get rid of include Brandon Dubinsky. He's never matched Kesler's offensive output, but his tenacious playing style and leadership qualities make him a fairly attractive asset. A straight up Dubinsky for Kesler deal would most likely never take flight, however, so CBJ would have to throw another player or high pick into the mix in order to make it feasible. Boone Jenner, anyone?
The Fan's Reaction
"Hockey Deals" are always easy to promote because they're usually backed by a firm set of statistics. Fans can plainly see on point spreadsheets ranging several years that the player they gave up will be replaced adequately by the returning piece. Sometimes, however, hockey deals don't always end up favouring both sides. In the case of the Hodgson-Kassian trade, the initial thought of Buffalo having won that trade seems to be wavering in light of how the last season has gone for each player. Hodgson started out as the undisputed number 1 centre for the Sabres, but under Ted Nolan managed to play his way out of a centreman's job, onto the wing and at times even playing on the 4th line. Kassian, on the other hand, started the season in Vancouver's bottom-six (much to the chagrin of fans across the Lower Mainland). There he began to learn the subtleties of defensive play, and while he still struggles to exit the zone consistently, he has vastly improved in his own end from a year ago. Hodgson appears to be trending downward in his value, while Kassian has shown he has room to grow as a complete player, which in my mind will make this a trade "win" for Vancouver in the long run.
But as everyone always says, hindsight is 20/20 (or whatever perfect vision is these days) and it may never be possible to see into the future of a player's career to accurately estimate his trade value. Sometimes, the dice needs to be thrown and a trade needs to get made. If Gretzky can get traded for cash and a few prospects, I'd imagine just about anything can happen with the right players involved.
As always, feel free to chime in on your version of what might happen with Kesler. Who knows, if we all keep talking about it so much, one of us is bound to be right at some point, eh?
In case you missed it, here's Part 1. Check back again tomorrow for the final instalment in my three-part series "The Kesler Conundrum"