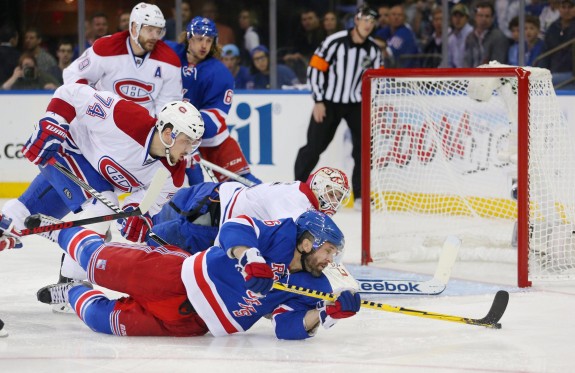 We get it.  New York Rangers forward Martin St. Louis is on fire.  A fire fueled by a difficult season that saw the defending Art Ross Trophy winner (awarded to the NHL's leading scorer) snubbed from Canada's Olympic roster only to be a sparingly-used late addition; who was then traded from the team that gave him a career; and then suffered the sudden, tragic passing of his mother in the midst of a tough Division Final series against the Pittsburgh Penguins.  It has probably been the most emotional season of St. Louis' career and still he led both his teams in scoring, in the regular season and playoffs.
So, we get it.  He's a ridiculously talented player who's been dealt a crappy hand.
At least, that's how he's playing; with a chip on his shoulder bigger than Brian Boyle and a Monte-Cristo like vengeance that is wreaking havoc on the Montreal Canadiens. As though we'd forgotten his talent or overlooked his devotion.  We haven't. You can stop reminding us now.
St. Louis Might Still be a Bolt
Habs fans can thank Tampa Bay Lightning GM Steve Yzerman for making St. Louis a Ranger in the first place, a situation that could have easily been avoided.
Firstly, Yzerman was the Team Canada General Manager who passed over his star player.  Secondly, he couldn't repair the ensuing damage enough to keep his captain on the Bolts' roster at the deadline and was forced to trade captain for captain to the Blueshirts; a deal that is paying dividends for the Rangers but surely prevented the Bolts from winning a game against the Canadiens in their Atlantic Division Semi Final series.
Yes, the Canadiens would have had to face St. Louis either way; a player who has lit the lamp 3 times against his would-be hometown team in the playoffs, including the Game 4 OT winner that has the Habs on the brink of elimination.  But if St. Louis were still with the Bolts, the Habs would have had goaltender Carey Price to trim the edge off his confidence just enough, or so we'd like to think.
The tragic passing of France St. Louis when the Rangers were on the brink of elimination at the hands of the Pittsburgh Penguins has rightfully brought the team together and propelled them deep into the playoffs. It has cloaked St. Louis in a fierce intensity that was absent from his early days with the Rangers. It's visible in his stride, his stoic expression and even in his goal celebration.
It's only fitting that the Rangers' next opponent would be the Montreal Canadiens, a City that refers to St. Louis as its own though he has never played for the CH.  The City where his family and friends still live; and where he and his teammates could attend his mother's funeral, after Game 1 of the Conference Finals.    The Rangers are matching number 26's energy, and feeding off his drive.  That's the beauty of team sports.
It's Enough
But isn't that enough? St. Louis and the Rangers have proven their worth, their brotherly bond and their talent.  Should they fall out of the playoffs now, no one would think less of them, except maybe their fans.
There's no need for the diminutive forward to prove anything to his Montreal fans.  For our part, we've never doubted St. Louis, his talent or ability.  To show him any more respect or support would be to the detriment of our own Cup dreams.  In fact, we've already done too much.
We were outraged when Marty wasn't named to Team Canada and rejoiced when he made the squad, albeit due to a crushing injury to teammate Steven Stamkos.  We went ballistic on social media when he was benched for a game during the Sochi tournament and blamed Steve Yzerman for the trade that sent him to the Rangers from Tampa, our winter home, where we could see No. 26 play during the crucial Christmas months.
We've celebrated our surrogate player long enough. So have the Canadian media, especially the CBC, who have skated alongside St. Louis throughout the playoffs and left 'Canada's team' to fend for itself.  It's time to shift the focus back to our team.
A Rally Cry for the Habs
Thankfully, there is no tragedy to meld a struggling Canadiens squad.  But they need a rallying point. Something to overshadow what, until now, has been the St. Louis show.
Anthem darling Ginette Reno has gone above and beyond the call to bring luck to her beloved team but it hasn't been enough in this series.  Vindicating Chris Kreider's run at Price hasn't worked either because he didn't just take out Price's knee, he sapped the team's confidence.
With the Habs facing elimination for the third time in these amazing 2014 playoffs, there's plenty of story lines on which to focus:  Head coach Michel Therrien has surprised and impressed a fan base bent on his removal; Goaltender Dustin Tokarski is proving to be a young phenom:
Peter Budaj may be the most gracious player to lace up skates:
THIS is a teammate!!! @peterbudaj30 #nameonthefront pic.twitter.com/IMm55OGFhA

— Tim Burke (@timburke44) May 23, 2014
There are plenty of stories to write about but perhaps there is no rallying point as important as the fans who want their team to move on more than they want warm weather; who on two occasions sold out the Bell Centre to support Les Glorieux via big screen and yet raucously cheered as though the Habs were on the ice in front of them.
It's time for the Habs to find a way to keep the dream alive.
Down 3-1 in the Conference Finals going into tonight's Game 5 contest in Montreal, let us, the fans, be the inspiration they're looking for.  Play for the crest, the team and play up to their natural talent, yes, but play for us too, because we know they can go the distance; because we're as exhausted as they are but are thirsty for more; because we feel we've earned a chance at the Cup.
Marty St. Louis might be a great athlete and a great story line but you are our team.  We're in this together.