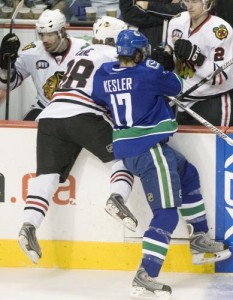 This is the final post in my three-part series detailing the possible return Ryan Kesler might get on the trading block. If you haven't already, check out Part 1 and Part 2 before reading ahead.
The Grey Area
If you've read Part 1 and Part 2 of this series already and haven't caught on to a unifying theme between the two of them, let me save you the trouble: Vancouver needs to trade Ryan Kesler. He's been a great player for the Canucks not only on the  ice, but in the community as well. The defensive centreman with an offensive flair has been a fan favourite for the majority of his time spent in beautiful British Columbia. All of that shouldn't cloud Jim Benning's assessment of the Canucks this off-season. What Benning needs to realize is that the core of this team, no matter how successful in the past, desperately needs a re-shuffling if they are to change the culture in that dressing room. [By the way, if you like this post you can subscribe to our free newsletter to receive others like it]
What's the fastest way to change a dressing room's culture, you say? In no uncertain terms, you trade away players from your core. What you get in return for them, however, is entirely dependent on each teams managerial philosophy. In the first two installment's of this series, I went in to a couple of different styles of packages that Vancouver fans might hope to receive in return for Kesler. One was a way to plan for the future, while the other was more of a re-tool on the fly scenario. When playing a game of "Armchair GM" though, isn't it always better to have a little bit of both?
 Package #3: Hedging Your Bets
When it comes time to take a necessary gamble in life, it's never a bad idea to have a safety net involved. In the world of modern day transactions in today's NHL,  that usually means not only going for picks and prospects in a trade but also a roster player that can help your team immediately. The return on any one of these assets might not equal the one you're giving up, but the sum of all parts can make the return easier to stomach for a team in need of making a move. Here are a few teams that could have what Vancouver needs.
Philadelphia
Ever since Bobby Clarke tried signing Kesler to a then laughably humungous $1.9 million dollar offer sheet back in 2006, it's been no secret that Philly sees value in a player like Kes. Because of this, it came as no surprise when the rumours of Philly being in on the Kesler sweepstakes at this past trade deadline started popping up with more frequency. It makes sense, really, as the Flyers top priority is to find a top-flight centre who can play with Claude Giroux, or play right wing with Claude Giroux, or centre the 2nd line, or……basically whatever other hole Philly needs filled. Especially with Vincent Lecavalier again being mentioned in potential buyout scenarios, the Flyers could certainly do with an upgrade at centre. Here's who they might give up:
Scott Laughton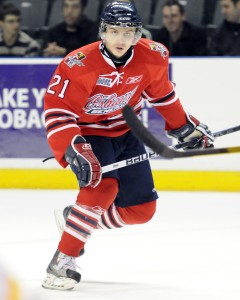 Drafted 20th overall in the 2012 Entry Draft, Scott Laughton has enjoyed somewhat of a breakout year this season for the OHL's Oshawa Generals. While the rugged centreman isn't projected as being a top-six forward, the defensive side of his game is sterling so could make for a very effective 3rd or 4th line player. What was it that Jim Benning said about his number one priority for this team? Oh yeah, he said to make it a four-line demolition crew that plays an up-tempo, fast and aggressive style of hockey. His number two priority? Making Miley Cyrus' "Wrecking Ball" the new goal song at Rogers Arena. All kidding aside, Laughton fits that model quite well and could be a valuable asset down the middle in the bottom-six for years to come. Couple him with another rugged winger in Zac Rinaldo and Benning could have a fairly substantial start to his re-imagined 3rd and 4th lines.
I know the first two names that people are going to want to hear coming from Philly are one of Brayden Schenn or Sean Couturier, but I feel as though that because they're such an integral part of a young Flyers nucleus that Paul Holmgren would rather watch the world burn than give them up on the cheap. Especially when he had to trade the last core of his team away in order to get them.
Washington Capitals
Much has been made already of a possible Kesler for Mike Green trade, but I think it would be a rather poor risk for Vancouver to trade Kesler at a possibility their blue-line might get better. We all know Mike Green's faults by this point; the defensive liabilities, the proneness to injury, etc. so why send your highest valued asset for a wild card? This isn't to say that a possible trade with Washington couldn't happen, but let's consider a different possibility for a return on Kesler.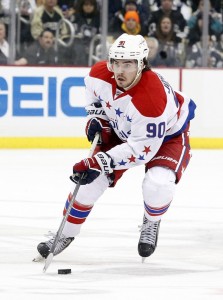 Marcus Johansson
Marcus Johansson is a great young player and a big reason why Washington felt they could deal Mathieu Perrault to Anaheim this year. While he's not large in stature, his playmaking ability and tenacity relative to his size have rocketed him up the Capital's depth chart to the point he sits as the number 2 centre in their organization. This proves that he could step in to a second line centre position across the league right now and be a contributor, but certainly isn't the same quality of player as Ryan Kesler.
That's where a player like Tom Wilson comes in.  Standing at 6'4″ and weighing in at 210 lbs, Wilson was born to be a power forward. Already a contributor on the fourth line in Washington, Wilson has the potential to move up the lineup based on size and skating ability alone (hey if we can see Dale Weise on the second line in Vancouver, anything is possible). What remains to be seen is whether or not he can put the puck in the net at the NHL level, after only managing one season in the OHL with more than a point per game pace. Throw in a 2nd or 3rd round pick from Washington to this deal and it could make for a very attractive option for Vancouver to consider.
The Fan's Reaction
Some fans might look at these deals and see lower quality return for a player like Kesler. For people of that ilk, it's important to remember that Ryan Kesler, no matter how amazing, is only one player. One physical body in your lineup, no matter how versatile, can only play one position at a time (even though Kesler might try to play goalie sometimes). By getting multiple players in return that can not only plug into your lineup in this coming season but have the possibility of growing into game-breakers with your organization.
In Closing
There's never really a good time to trade away a franchise player. Sentimentality towards veteran players always plays a huge part in how a lot of hockey organizations evaluate talent. Where it becomes dangerous is when that type of loyalty to a certain player causes teams to over-value them as assets. Hanging on to a player because he's a good guy and has been there a while might be a great human resources policy in most companies, but in the NHL where a team's business is winning Stanley Cups there is no room for sentimentality.
Ryan Kesler has had a lot of great years in Vancouver, of which I've seen all of them. From the pesky third line energy player he was when he first broke into the league to where he stands now as a top-flight centre who can play in almost any situation, watching his development over the years has been a real treat. Ryan Kesler might be the hero Vancouver wants right now, but he's not the one it needs. Get as much as you can for him, because we all know waiting a few years won't get you anything more. Just ask Jay Feaster.
Got any other trade ideas? Hit up the comments below and we'll see how good of an Armchair GM you are.
Read ahead when you weren't supposed to? Click here for Part 1, or here for Part 2.