There's always the players you may not like, but certainly respect. The player you can't stand, but would love to have on your team. And then there's the players who cheat. The dishonor of embellishment has been on full display in this postseason with the New York Rangers being whistled for multiple diving penalties, and more recently, Tomas Plekanec giving several Broadway performances of his own. Unlike the other unwritten etiquette codes in other sports, embellishment carries out consequences beyond the game policing itself. So why is it so common in the NHL?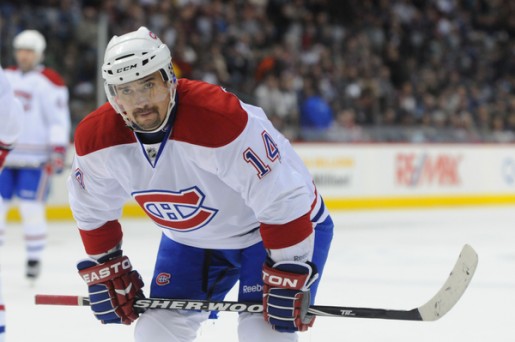 Embellishment in the Playoffs
Embellishment is not only dishonorable, it's flat out cheating. And although the New York Rangers haven't gone sober in this department, the Montreal Canadiens have unquestionably had their hand in the cookie jar the most throughout the current postseason.
Throughout each round, dating back to the quarterfinals against Tampa Bay, the Habs have gotten under their opponents' skin with acting/cheating. What's even worse than that is that it's worked.
Alexei Emelin skated on as Steven Stamkos was in need of a straightjacket fitting in the penalty box. P.K. Subban added support to his NHL 15 video game campaign as Claude Julien's blood pressure boiled.
"It's frustrating because tonight as everybody saw, there's a lot of embellishment," said Julien during the quarterfinal matchup with Montreal. "And this is embarrassing for our game, the embellishing. And right now they've got over 100 power plays, so far, and it's pretty obvious why. And we're trying to clean that out of our game. And it's got to be done soon because it's not about tonight, it's about the game. And embellishment embarrasses our game. And we need to be better at that.
"It was pretty obvious, you know, when P.K. [Subban] gets hit and he throws himself into the glass and holds his head. You know what? We start calling those penalties for embellishment, maybe teams will stop doing it. But until we take charge of that, it's going to be an issue."
You can add Brian Boyle and Rick Nash to the list of those victimized by the Canadiens' embellishment, despite Plekanec being caught red handed in Game 5.
"The Canadiens have become very adept at acting, hamming it up, or, to use that dreaded hockey word, embellishing. They managed to draw some penalties in the last game by throwing their heads back at strategic times – say, when a New York stick was in the same postal code as a Montreal head. It worked a few times tonight, but the officials did call Plekanec for diving when he tried to draw a penalty in the second." — SI.com
The dishonor of embellishment takes attention away from where it should be in respect to a player such as Plekanec, and places it on depicting him in a less favorable light. The Habs are 4-0 in games that Plekanec finds the back of the net, and has seen increasing ice time in four consecutive games. But instead of earning attention for his value to a team packed with talent, Plekanec's name is now synonymous with the bush league actions of embellishment.
"Selling a penalty is one thing. It's a tactic. It's something every offensive player does, at every level of hockey. It's not exactly honorable, but it's commonplace.

"Inventing a penalty is another story. Plekanec was doing the latter in the last two games, and was finally whistled for his embarrassment, er, embellishment.

"The Internet correctly shamed Plekanec for his behavior with a Twitter hashtag on Tuesday night: #Plekanecing!" — Greg Wyshynski, Puck Daddy
The guy next to me on bus was caught #Plekanecing when my bag brushed him on the soldier. 2 minutes in the box!

— Anthony Onesto (@anthonyonesto) May 28, 2014
#Plekanecing — in the animal kingdom. pic.twitter.com/3Nn7eQBMDv

— Dale Arnold (@DaleEArnold) May 28, 2014
Other Offenders
This isn't to single out Plekanec and his teammates. After all, it's not like they're the lone offenders. In the quarterfinal series against Philadelphia, the Rangers were caught embellishing multiple times.
Derek Dorsett and Mats Zuccarello served respective penalties for "diving" in Game 2 against the Flyers, making the Rangers only the second team in NHL history to commit two embellishment penalties in the same game.
"I'm not sure if [the referees] changed their mind after [the Flyers] started yelling," pondered Dorsett. "I watched the one replay, and I don't think there was any embellishment. Whether I went down easy or not, it wasn't a dive."
Whether Dorsett has an argument or not is moot. He, like teammate Dan Carcillo, have been dramatic in their on-ice actions, whether it's falling to the ice at the drop of a feather, or whiplashing his head back upon any contact.
Although Dorsett's 19 penalty minutes rank him seventh among players who are left standing in the playoffs, his 128 PIM's throughout the regular season were enough to crack the top 10. But penalty minutes are easy to accumulate, especially when you're installed into the role of an enforcer. Furthermore, the error in correlating total time spent in the penalty box to the dishonorable offense of "diving" is proven with Pittsburgh's James Neal.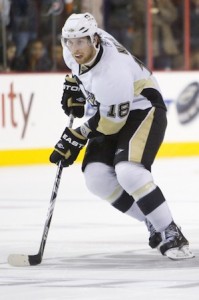 Neal, who ranked fourth on his own team, and 138th in the league with 55 PIM's, led the entire NHL with three separate embellishment penalties; offenses that nearly resulted in the 61 point scorer receiving a suspension.
"Had Neal received a warning call from Shanahan after one of the embellishing penalties — he was given the penalties in games against Edmonton, Phoenix and the Rangers this season — he would have been a candidate for a fine or suspension.

"However, the league confirmed that Neal, who is vacationing in Mexico during the Olympic break, is not a candidate for an automatic fine or suspension." — Josh Yohe, Trib Live
Like Plekanec, Neal's antics have overshadowed his ability. Neal's 315 points in 413 NHL games played show he is not lacking in ability or production. But the reputation he's developed over the few years he's skated in the league leave many players and fans alike to view him in a negative light.
Being known as a habitual diver extends beyond just the few mentioned. To prove the unwanted accusation of one who commits embellishment, just look at the accusations themselves. Anaheim coach Bruce Boudreau dished out his thoughts on those who "dive" while serving as the coach of the Washington Capitals.
"If I'm a ref, I would never make a call on Steve Downie," said Boudreau in 2011. "He dives every two seconds. Steve Stamkos, he dives every two seconds. You start to get a hatred for guys like that."
Why So Common?
The popular phrase, "If you aren't cheating, you aren't trying" is applied to the game that pays its players handsomely. The allure and prestige of winning the Stanley Cup enhances this temptation. If taking a "dive" results in a goal scoring power play, the embellishment is just a means of adding value to a team.
"Hockey isn't played on moral grounds. It's played on ice, where everyone is as slippery as the surface. And for every Ryan Getzlaf, who would never target a guy's injury, perish the thought, there's a Corey Perry, or Ryan Garbutt or Duncan Keith, who long ago gave up going to hockey heaven. They don't really care about rightness. They don't care about much, outside of winning. That's why they're here. That's why they win so often.

"You, the fan, may care about class, likely because it makes you feel good to cheer for the team that appears to be exhibiting a higher degree of righteousness. Similarly, the players may care once the game is over and they're back in their right minds. At that point, they may condemn their opponents for cheap or dirty play. It feels good to tell yourself you're the good guy.

"But on the ice, pretty much everybody is playing the villain." — Harrison Mooney, Puck Daddy
Saddens me, after 50 years of watching #NHL, to see multimillionaire players disrespect the sport, selves, officials w/ faking/diving.

— Kevin Paul Dupont (@GlobeKPD) May 28, 2014
Faking/diving not only turns off viewing audience, but further undermines player respect of NHL on-ice officials.

— Kevin Paul Dupont (@GlobeKPD) May 28, 2014
But for a sport that prides itself on both intensity and sportsmanship, righteousness does matter. And although the sport is undoubtedly a man's game, the integrity of the game, which the sport rightfully touts, is incredibly in doubt when embellishment becomes a common practice. But why? Why is one penalty accepted as a norm, but another isn't?
While all penalties may not be as black and white as most think, the embellishment penalty is difficult to catch. Making it even more difficult to enforce, the rule itself puts the officials at even more of a disadvantage. That's because the rule requires the "diver" to first be victimized by an infraction, such as tripping, slashing, or hooking. These penalties are difficult enough, at times, to see themselves. When identifying the embellishment is added, it results in offsetting penatlies – two minutes of 4-on-4 hockey.
While "stand alone" embellishment penalties are optional for the officials, the difficulty in determining such an offense is worthy enough for modification. If the league wants to crack down on this embarrassment to its product, and they should, the rule should be modified. After all, if the players didn't implement the "win at all cost" mantra, the officials would have an easier job, if one at all. But despite the dishonorable stigma that being labeled a "diver," or "flopper" carries, don't expect to see this type of cheating to go extinct.
Yes, it's bush league. And yes, it's dishonorable. Hockey is too great of a game to have this type of action jeopardize its reputation.