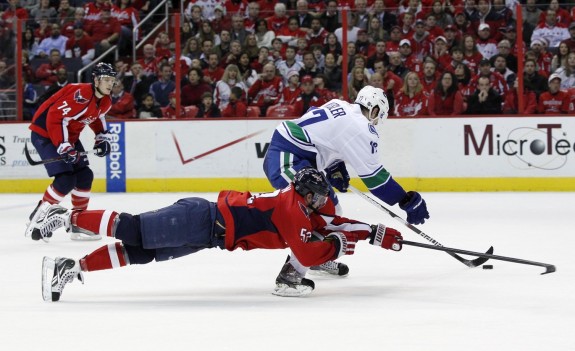 What do the Washington Capitals and Vancouver Canucks have in common?
Both have an experienced, fan-favorite veteran whose name has been tied to his respective franchise since being drafted–the same type of player whose presence is arguably prohibiting his team from transforming into a Stanley Cup contender. The two players have cap hits in the same ballpark and have been plagued by injury, yet offer a skill set that could help transform another franchise.
Their names? Mike Green and Ryan Kesler. One is a two-time Norris Trophy nominee who's set NHL records, yet is believed by some to have run his course in Washington. The other is a Selke winner and two-time Olympian arguably in need of a change of scenery. Their faces are plastered throughout D.C. and Vancouver; both have served as alternate captains for their teams. And as home-grown prospects and members of their organizations' cores, Green and Kesler have strong ties to the Capitals and Canucks.
On paper, it seems difficult to justify trading either. They're not quite franchise players, but they have high trade value. Furthermore, each is linked to happier days when visions of Stanley Cup parades seemed inevitable. With those memories part of the bitter past, fanbases understandably want change beyond firing personnel–and that type of change can only come from making over a roster. A retooling is arguably more necessary for the Canucks, but expect the Capitals to undergo some renovations, too.
Analyzing Green
At his best, Green is an offensive threat who drives play in his own zone without sacrificing defensive coverage. Both Adam Oates and Dale Hunter–coaches who emphasized defense–struggled to elicit this type of performance from Green, with the former going so far as to dub the blueliner an "enigma" who needed to focus on consistent defensive play. Unsurprisingly, Green's best years were under Bruce Boudreau, a coach who favored an offense-first, high-risk/high-reward approach.
At his worst, Green has trouble scoring goals and is responsible for numerous defensive slip-ups. Yet he simultaneously notches numerous even-strength assists and boasts the best puck-possession numbers on a team notorious for struggling in both areas of play. In scoring, he finished 28th among all NHL defensemen despite seeing his power-play minutes decrease as he lost the top position to John Carlson.
What does Green bring to the Capitals?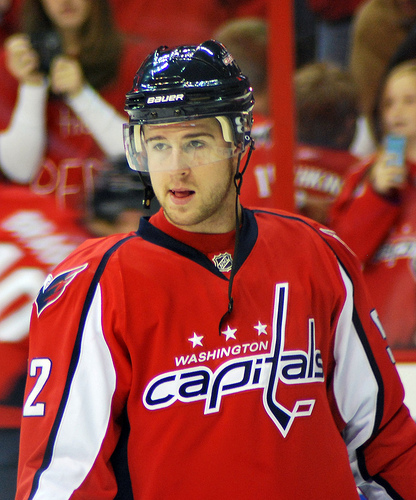 Roughly a third of the Capitals' offense was generated on the power play. While the Caps should aim to drastically improve their even-strength play, having a strong power-play quarterback like Green is never a disadvantage. As the Capitals work out their even-strength woes, the power play will be more important than ever.
But at even-strength, where the Capitals needed the most help, Green would misread plays and was frequently responsible for turnovers. These errors would often lead to frustration: Green racked up 64 penalty minutes, second to his career high of 68.
At this point, it's difficult to describe Green as anything but a solid top-four defender. His ice time reflects that role, as it's decreased significantly over time, and his offensive production doesn't come close to justifying his egregious defensive mistakes. From that angle, paying over 6 million dollars for such a player is excessive, regardless of his leadership ability and history with the franchise.
Beware–if the Capitals deal Green, they'll have traded one of their few reliable veteran defensemen. Carlson and Karl Alzner will likely constitute the team's top pairing for the foreseeable future, leaving Green stuck with an ill-equipped rotating cast of rookies and AHL call-ups. Green isn't a one-size-fits-all type of blueliner; he flourishes only when healthy and paired with the right partner.
Does such a player exist in the Capitals system? Green needs someone experienced who can ideally complement his offensive ability, but more importantly, account for missed cues in his own zone. Dmitry Orlov is just that on paper–but not in practice. At present, Nate Schmidt is arguably the strongest candidate for the role, but there's no word on whether he'll be-resigned. And pairing John Erskine, Connor Carrick, or Jack Hillen with Green would contend with the Alex Ovechkin-Jay Beagle experiment for worst coaching decision in recent memory.
In this sense, Green may not fulfill the "guiding light" role coaches are looking for. But Washington's weak defensive corps is stronger with him, if it's able to bear painful blunders and the possibility of playing under a defensively-minded coach–the kind that hasn't yet been able to procure a strong all-around performance from Green. It's also worth noting that Green's contract expires at the end of the upcoming season.
Could the Canucks use Green?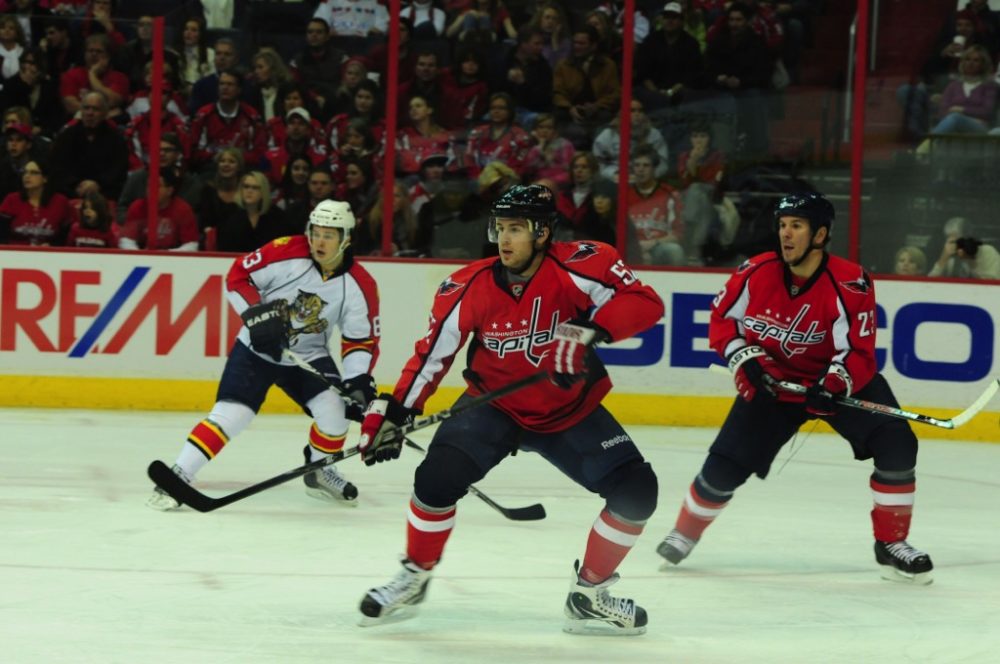 As mentioned earlier, Green is an excellent power-play quarterback. His talents are capable of helping transform the Canucks' moribund power play, which ranked 26th. This depressing statistic was indicative of the Canucks' offensive firepower under John Tortorella: the team narrowly surpassed the Florida Panthers and Buffalo Sabres for fewest goals-for in the league.
Green's offensive prowess, accentuated by strong skating and creative passing ability, could help resurrect Vancouver's at even strength or otherwise. Green logged the second-most minutes per game among all Capitals players with 22:43 per game and 2:45 spent on the power play.
Jason Garrison arguably is cut from similar cloth, which questions Green's value in Vancouver. Garrison totaled 33 points this season (Green had 38), and his power-play time, clocking in at 2:43, is comparable to Green's. Where they differ is how they're used by coaches: Garrison has historically played a shutdown role with offensive upside, while Green has always been an offensive defenseman.
If this were 2010, the Canucks would have no need for Green. Christian Ehrhoff was a quintessential component of the Canucks' defensive corps until his contract ended and he signed with the Buffalo Sabres. Ehrhoff's departure left a void that remains unfilled to this day, but the addition of Green would fill most of that hole.
In addition to contributing strong penalty-killing skills, Ehrhoff provided durability during his tenure as a Canucks. Having missed only 5 games in 2 season with Vancouver, Ehrhoff was reliable night-in and night-out. Comparatively, Green sees little shorthanded ice time and has consistently missed large chunks of the season. Chalk it up to bad luck or the Eastern Conference's physicality, but a move out west could be beneficial for Green on both counts.
Would Kesler mesh with the Capitals?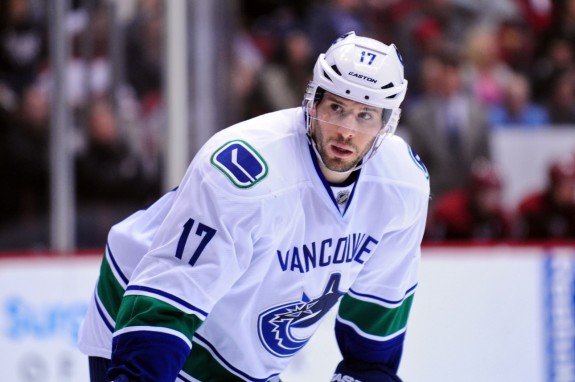 Whether or not Kesler wants to stay in or leave Vancouver, it's in the Canucks' best interests to trade him, assuming that he will waive his no-trade clause. Should Kesler make such a bold move, would he be willing to move from one rebuilding franchise to one that's barely in better shape? After all, the Canucks at least have a GM in place.
The Capitals are looking for direction, both on the ice and behind the bench–and they aren't hell-bent on having a GM and coach in place by the draft. They also must decide if they want to re-sign Mikhail Grabovski, who is unquestionably on the radar of other teams and will want a substantial pay raise.
Re-signing Grabovski is a realistic expectation of the Capitals; they have yet to lock down a quality second-line center for more than a season. Grabovski certainly fills that role, but so could Evgeny Kuznetsov. And so could Kesler, who has long been lacking an elite scoring winger to complement him. Playing in Washington offers the opportunity to play alongside one: Kuznetsov.
Sure, reconfiguring the Capitals' second line won't instantaneously turn them into a Cup contender, but it's common knowledge that Ted Leonsis wants to revitalize his team. Missing the playoffs was concrete evidence that the Capitals have been heading downhill, and the occurrence has already prompted Leonsis to make significant moves. The Capitals aren't a team in desperate need of a rebuild, like the Canucks. Leonsis's willingness to gamble and reconstruct a Cup-contending team should appeal to Kesler, especially with the addition of Kuznetsov.
Instead of forcing Kuznetsov into the role of center, why not pair him with Kesler? They could easily provide the secondary scoring that's been missing since Alex Semin's departure. While Kuznetsov is young, Kesler provides a plethora of experience. Together, they would form an incredibly effective line for the Capitals, who could also use another defensively sound forward. The combination of smart defensive play with dangerous playmaking skills and a talented linemate in Kuznetsov is tempting.
This is, of course, an idealistic scenario. Kesler turns 30 before the start of the next NHL season, and he exemplifies how injuries often accompany aging. Is replacing one injury-ridden player with another a good decision?
The next question asked is an obvious one: does Kesler have chemistry with any of the current Capitals? Will his playing style be stifled under a new coach? There's no way of knowing unless he's dealt, but bear in mind that his current contract expires at the end of the 2015-16 season. If he can't establish chemistry a la Martin Erat, the Capitals are free to let him walk. They'd be facing a similar decision anyway if Green were to stay in DC.
It's evident that neither the Capitals nor the Canucks are "one player away" from seriously contending for a Stanley Cup, but getting there takes time. Rebuilds to varying extents are involved, and for these teams, trading fan favorites might be a good place to start.