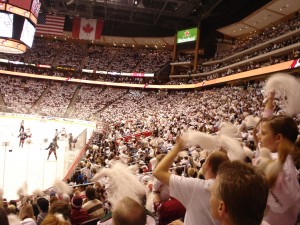 Beginning in 2002 and taking over from Cliff Fletcher, Mike Barnett was hired as the Phoenix Coyotes general manager. Mike Barnett would remain the employed by the Coyotes until his firing in 2007 when current general manager Don Maloney took over the reins.
Prior to taking over the Coyotes Mike Barnett had no prior management experience, however he had been an NHL agent for many years. His biggest client was his head coach, Wayne Gretzky. He was a very experienced agent having been dealing with National Hockey League players for over 20 years.
Unfortunately his time in Phoenix was not an overly successful run for the franchise. Some of this surely can be attributed to having a head coach with no professional coaching experience.
In any case during Barnett's four full seasons at the helm the Coyotes finished higher than 5th in the Pacific Division only once and never made a post season appearance. The team only won 37% of their games from 2002 to 2007 under Mike Barnett's stewardship.
However it is believed that Barnett set up the Coyotes for their current run of success through the drafts that he oversaw.
Notable Draft Picks
Blake Wheeler 2004, 5th
Daniel Winnik 2004, 265th
Keith Yandle 2005, 104th
The only Barnett picks that remain with the organization are Martin Hanzal, Keith Yandle and Chris Summers. Overall in five drafts to get two key pieces of a franchise is place is a good track record. He hit a home run selecting Keith Yandle in the fourth round in 2005. It must be said that current general manager Don Maloney does owe some of his success to Barnett's drafting.
http://youtu.be/7uolLk8wkoQ
Best Trades
March 8, 2004 – Chris Gratton, Ossi Vaananen and a 2005 2nd round pick to Colorado for Keith Ballard and Derek Morris.
The best player in this trade has turned out to be Derek Morris. He became a fixture on the Coyotes blue line and has played many valuable minutes for the team over the years.
January 20, 2006 – Petr Nedved to Philadelphia for Dennis Seidenberg
Seidenberg appears on both sides of the best and worst trades. It was a shrewd move acquiring him, however the Coyotes did not wait long enough for him to develop into the defensive stalwart that he later became in Boston.
February 1, 2006 – Brian Boucher and Mike Leclerc to Calgary for Steven Reinprecht and Philippe Sauve.
Reinprecht went one to have four productive seasons for the Coyotes as a top nine forward. While the rest of the players in this trade did not amount to much NHL impact afterwards.
Worst Trades
March 10, 2003 – Daniel Briere and a 3rd round pick in 2004 to Buffalo for Chris Gratton and a 2004 4th round pick.
The infamous Danny Briere trade and a classic case of giving up on a smaller player's talent too soon. While Chris Gratton was a serviceable NHLer for the Coyotes, Briere could have been their franchise center for a number of seasons. This is surely one of the more lopsided trades in NHL history.
January 3, 2007 – Mike Comrie to Ottawa for Alexei Kaigorodov
Comrie spent 132 games with the Coyotes while scoring at a 0.7 points per game pace. He was a solid top six scorer for them. Barnett never did convince Kaigorodov to come to North America essentially giving up a top six player for a bag of pucks.
January 8, 2007 – Dennis Seidenberg to Carolina for Kevyn Adams.
Granted the Hurricanes would also go on to give up on Seidenberg but the Coyotes did have a shutdown defenseman in their grasp and let him go.
Coyotes Record since Barnett's Firing
The next two seasons saw the Coyotes move up to fourth in the Pacific Division, but the playoffs still eluded them. From 2009 to 2012 they would qualify for the playoffs each season and even make a run to the Western Conference Final in 2012. However the last two seasons have seen the Coyotes miss the playoffs.
One could make the argument that Barnett helped to set up the current Coyotes for success. However the improvement in the team can also be linked to an improvement between the pipes. Since Barnett current general manager Don Maloney has been able to boast Ilya Bryzgalov and Mike Smith in the net.
Remember the old saying, "show me a good goalie and I'll show you a good coach". Well that saying also has some merit with general managers.
Where did Barnett go after Phoenix?
He would remain unemployed by an NHL franchise until he was hired as Senior Advisor to the President and General Manager and Director of U.S. Amateur Scouting for the New York Rangers under Glen Sather in July of 2008. He spent three years there prior to deciding to step away from the NHL in September 2011 to spend more time with his family.
At this time Mike Barnett appears happily settled into retirement with all the time in the world to spend with his wife and six children.