Many a Dallas fan waits with baited breath this off-season for a big move that sees a seasoned defensive player head to the Big D.
Sorry Dallas fans, but all signs are pointing to no—it's just not going to happen.
While Stars GM Jim Nill was quick the other week to reassure reporters that when it comes to the cap, Dallas is sitting pretty, he was equally quick to add that, "What it comes down to now is […] draft and development."
This, coupled with Dallas Coach Lindy Ruff's comment that he has "high hopes for other players in the [Dallas] organization," points not towards trade or big free agent acquisitions, but towards Dallas' affiliates in the AHL and the OHL.
Dallas Stars assign D Ludwig Bystrom to Texas Stars of AHL.

— Mark Stepneski (@StarsInsideEdge) May 3, 2014
Only 19 years old, Ludwig Byström has been making a name for himself and getting noticed playing for Farjestad BK of the Swedish Hockey League. Bystrom was signed to a three-year entry-level contract with Dallas in 2012, meaning contractually and development-wise it's time to see what he's capable of, and if its worth signing him to another contract. How much time he'll end up spending in the AHL, with the Texas Stars, is anyone's guess.
As Nill said himself, you can't rush defensive development.
Kevin Connauton and Patrik Nemeth are two contenders for a long-term or permanent move from the AHL to the NHL next season for Dallas.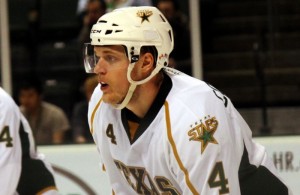 At 24 years old and 200 pounds, Kevin Connauton's a big guy who makes big blocks and is capable of racking up a lot of minutes on the ice. He was part of a defensive core that received a lot of negative attention during the playoff run, but the fault for that doesn't lie with Connauton or Nemeth.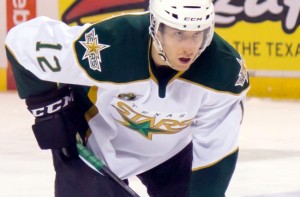 Patrik Nemeth managed 15 minutes or over in three of the four playoff games he appeared in, and did so with only a -2 rating. If Connauton is a big guy, Nemeth is a behemoth at 6' 3'' and 235 pounds. Nemeth is where I'd place my bet when it comes to D Men starting the season in the NHL, instead of their usual home in the AHL. He proved himself to be reliable in the playoffs; he's earned his shot.
What's good to keep in mind for any Dallas Stars fan who may feel frustrated at the (very real) possibility of no big moves being made to acquire a veteran D man is this: the team is still very new and very young.
Often forgotten in the success Dallas enjoyed during their rebuilding year is just that: it was a rebuilding year. They came remarkably far in a short amount of time, especially when compared to teams in similar situations with new coaches and/or new GMs (Buffalo and Vancouver).
Making any big blockbuster changes to the roster would be a mistake. What the team needed was a year to feel out and get used to new line chemistry and a new coaching style.
What it means is that next year, especially if they grow from within the organization, things can only get better.