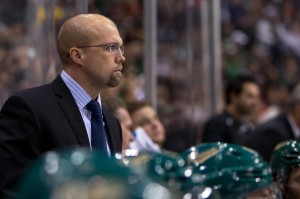 I'm finally recovering from the devastating thrilling overtime loss that the Minnesota Wild suffered at the hands of the defending Stanley Cup champions in St. Paul last night. Minnesota seemed to carry the play last night, outhitting, outshooting and even outchancing  the Chicago Blackhawks. In the end, a bad bounce went to Patrick Kane who displayed his skill and scored the series winner.
To define this series simply as the Blackhawks getting the bounces while being outplayed doesn't do justice to either team. The Wild played exceptionally well in the series and they weren't pushed around. In the end it was the skill of the champions and their ability to make the most of their chances that was the difference in the series.
The Chicago Blackhawks never panicked in the series. They acted and played like champions. Minnesota should be proud of how they played and have nothing to feel ashamed of. They went toe to toe with Chicago.
We should be celebrating a successful and great season by the Minnesota Wild. The way they finished the regular season and the way they played in the Stanley Cup Playoffs should give all Wild fans lots of hope for the future. It was a thrilling ride wasn't it?
Young Stars Shine
Minnesota's young stars like Erik Haula, Mikael Granlund, Charlie Coyle and Nino Niederreiter shined in the playoffs. Each one of these young players came up big for the Wild and they put everything on the line game in and game out.
Yes, its terribly disappointing that Minnesota's season has ended but I have great expectations for this team going forward. The young men on this team are blossoming into stars right before our eyes and a lot of that blossoming occurred in the playoffs.
Can you imagine what next season will look like with these guys getting even more experience? I can't wait to see how they develop. We should be in for a great ride.
My favorite players on the Wild have become Erik Haula and Charlie Coyle. Erik is a skilled player with tremendous skill. He has all the makings of becoming a natural goal scorer and playmaker and more importantly he turns his opportunities into goals.  Erik makes me want to Haula when I see him play.
Charlie Coyle is made for the playoffs. He's a gritty player who is able to win battles along the boards and is able to create goal scoring chances. He's the type of player that benefits from his hard work and so do his teammates.
Mike Yeo
Mike Yeo grew tremendously as a head coach this season and it was his leadership that allowed his team to be so competitive through two series of the Stanley Cup Playoffs. I will admit that early in the season I thought he should be fired. Thankfully I was wrong and the powers to be gave him time to show Wild fans what he's made of.
Yeo is an even tempered guy. Throughout the playoffs (and until last night) Yeo hasn't been too emotional during the highs and the lows. When his team suffered devastating losses, he picked up the pieces, remained calm and led his players through those tough times.
Yeo's composure and leadership has been remarkable to say the least. I can't imagine any other coach leading this team going forward. He's built a bond with his players and they don't only respect him, they also trust him.
When all was said and done and the season ended last night, we got to see the emotional side of Mike. He showed true character and it is evident to me that he bleeds Wild green and red. The Wild is Mike's team. He is the leader of these men and he's happy to go into battle with them.
When things got tough this season and he faced criticism, Yeo battled through it. He didn't overreact. He took everything in stride and he showed his team that he was their leader. He showed them how to navigate through tough times. He showed them how to battle through it. He showed them how to become winners.
Celebrating the Minnesota Wild
I'm going to refrain from analyzing what the Wild need to accomplish going forward. That will come in a future article. Right now I want to celebrate my favorite Minnesota Wild season ever. I want to dub this whole season the "Thrilla in Minnesota". That title especially refers to how the Wild played at home during the playoffs.
This season might be over but the Wild are winners in my mind. They did better than I expected and the way they fought through potentially devastating losses is incredible. The Wild were fun to watch. Their energy and determination was evident and fun to see.
I'm going to miss the intensity of their play. I'm going to miss going to bed late after a thrilling game and waking up like a zombie the next morning. If I thought I stayed up late all I had to think about is my good friend who lives in Baltimore. He's a huge Minnesota Wild fan and stayed up to watch every game!
Most importantly I'm going to miss seeing my team advance through the playoffs.
Minnesota Wild fans we now have the playoff bug!