It would seem fitting that the two teams who have played against each other in a game seven more than any other two teams would push each other to the brink. Montreal seemed dead in the water in game five, many fans on twitter, including myself, believed the series to be over. Like Lazarus they rose from the dead and in game six they were the dominant team. They did many things right in that game. Things that they will once again have to do in game seven if they want to walk away victorious.
Shut down Soderberg line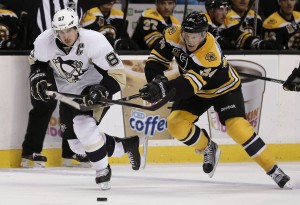 The trio of  Carl Soderberg, Loui Eriksson and Matt Fraser were Montreal's kryptonite in game four and five. In game four, they controlled they play and ultimately Matt Fraser scored the game winning goal. In game five, they combined for six points in a Habs beat down. However, in game six that line's dominance was a thing of the past. Without that line to draw upon the Bruins offense floundered. While having chances, the Bruins top line continued to falter. This left no offensive well for the Bruins to drink from.
Make Chara look human
Max Pacioretty was the beneficiary of a heads up play by Nathan Beaulieu but that wasn't the stand-out of a play that led to number 67's slump buster. Chara and Rask were both stuck in no man's land on that goal. Rask was frozen thinking if he should play it or step back. Chara didn't want Montreal to get a chance on their lethal power play. Didn't matter because Pacioretty made them both pay for their indecision. That one play wasn't the only incident of Chara looking less like a Norris Trophy winner and more like Hal Gill. Montreal seemed to get the better of him with their speed all night. It wasn't until Markov literally poked the bear that Chara woke up. At that point it was game over. It's hard to expect Chara to play pedestrian two games in a row. If he does though, game seven just got a lot easier for Les Habitants.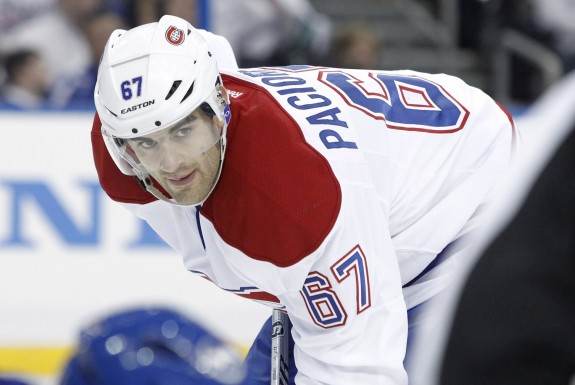 Pacioretty and Vanek need to carry over play
For the the first time in six games Vanek wasn't invisible. Sure he scored twice in game two and had a great assist after that, but for a guy that gets points you would expect to hear his name or see him more. Those both happened in game six. Vanek scored a big goal and used his body to lay some hits. He was actually playing playoff hockey. Vanek the Bruins killer needs  this style to continue for game seven.
Max Pacioretty is the human torch of hockey. When he scores he becomes en fuego. If that remains true let the red light show begin. The hustle was there from the Habs' big winger. He used his size and skill to be a factor all night. How much of a factor he is in game seven remains to be seen, but if game six was any indication of play to come. Signs point to the Eastern Conference Final.
Subban needs to walk the walk
PK finally sent shockwaves through the Bruins ranks when he told Sportsnet's Chris Johnston, "I can't wait for the crowd, the noise, the energy in the building. I can't wait to take that all away from them."
Those are the words you want to hear from your most talented player but only if he can bring his A game. The Bruins shut Subban down for two games. This quote is sure to be bulletin board material for The Bruins. They were beat down and frustrated at the end of game six. These words could be the fire they need to rekindle what they had in game five.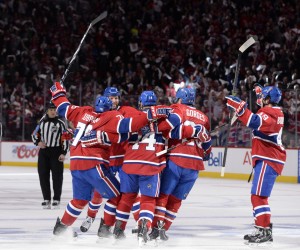 Just win baby
The pressure isn't on the Habs. They were the smaller team, the less talented team, the underdogs. Everyone said it'll go seven but they won't win it. And here they are in game seven, with the Bruins on the ropes after a dominating game. There is no onus on them to win. There is no home ice crowd to let
down. Just a fan base to quiet and a team to send to the golf course.