When the Blues took the ice in Game 1 of the 2014 playoffs against the Blackhawks last month, they were riding a season-long 143-minute, 79-second shutout streak, spanning from the third-to-last game of the regular season. The team needed a goal in a bad way to not only break the streak, but give them a chance in the series.
They needed just 4 minutes, 40 seconds to break the string of bad luck. No, it wasn't David Backes or Alexander Steen to give the Blues the lift.
It was Adam Cracknell who broke the scoreless tie, doing what every player is taught at a young age: go to the net. He tapped in the loose puck from an Alex Pietrangelo shot and dropped to his knees with unadulterated exuberance filling the Scottrade Center.
It shouldn't have been as big a surprise to Blues fans as it was. Cracknell has always provided small doses of offense through the years.
He has just six goals and 10 assists in 65 regular season games, but some of his goals have come in shining moments. His first career goal came on March 12, 2011, when the Blues were hosting the rival Detroit Red Wings and were in a heated playoff battle. It was a one timer that was ripped as hard as a Brett Hull bomb from the slot (maybe some exaggeration, but you get the picture). He also potted career goals five and six on April 4, 2013 against Chicago, when he added the first two goals for the Blues, who went on to win the game 4-3 in a six-round shootout. That game, by the way, was the team's second win of April, jumpstarting them to a tremendous month that ended with a 12-3 record. Cracknell's team catapulted from ninth place to fourth place in the Western Conference (maybe helped a touch by Brian Elliott's measly 1.28 GAA in the month).
I'm not trying to make the case that Cracknell is an offensive powerhouse that is wasting away as the 13th forward. Let's save that distinguishment for Magnus Paajarvi.
In a town that is fancied with the fourth-line grinders, which is so brilliantly explained by Laura of St. Louis Game Time in her article, "Blues Grinders Grinding it Out: Why Do We Love The Bottom Six-ers?," Cracknell should have his jersey displayed as much as a David Backes or T.J. Oshie. Unfortunately, he finds himself amidst a logjam of grinders that use the ultimate trump card in the game of playing time: experience.
It's a word that is thrown around NHL discussion as much as vision, front-of-net presence, or, if you're listening to Blues broadcaster Darren Pang, gumption.
I could pull out the argument that everyone uses when combating those experience-first believers: you need to be be able to play to gain experience and be a veteran. While that is true, let's look at this in a different light.
What Cracknell lacks in actual NHL game experience, he makes up with big-game experience.
At the junior level, Cracknell was a top-six forward for the Kootenay Ice of the WHL from 2002-03 to 2005-06. Each year he was a member, his team qualified for the playoffs. His best playoff year came in the 2004-05 season, when the right winger contributed eight goals and 16 points in 16 playoff games while his club lost in four games in the Western Conference final.
The next season, Cracknell even earned WHL Player of the Month honors for March, mostly for his two game-winning goals during the Ice's 6-1 run.
The 2004 Flames' ninth-round draft pick went on to spend the next couple of seasons teetering between the ECHL's Las Vegas Wranglers and AHL's Quad City Flames before reaching a contract agreement with the St. Louis Blues on July 23, 2009.. From there, he went on to be a force for the Peoria Rivermen of the AHL during parts of four seasons.
With his first few NHL contests sprinkled in (including his debut on Dec. 15, 2010), Cracknell became a fairly known name to Blues fans. He earned a steady top-six-forward role for the Rivermen, while playing with notable names Chris Porter, T.J. Hensick and Lars Eller throughout his tenure.
During his only Calder Cup playoffs appearance with Peoria, 2011, Cracknell scored two of the first three goals for the Rivermen in their opening-round series. Unfortunately, Peoria was swept out of the playoffs while being outscored, 14-7.
From there, Cracknell earned a spot on the Blues' roster the next two postseasons. He was effective as the third member of the CPR Line (Cracknell – Porter – Ryan Reaves) in 2013 and again in 2014 while skating with Porter and Maxim Lapierre.
In a few short months, Cracknell will find himself without an NHL contract.
The Blues have a plethora of aging veterans that are unrestricted free agents (UFAs) in July, including Brenden Morrow (35), Steve Ott (31) and Derek Roy (31). Although the latest Blues trend is to bring in a solid core of veterans to shake up the roster (Jason Arnott and Jamie Langenbrunner, to name a few), it's time to hand the torch to the hungry Cracknell, who has the potential to provide his teammates with the same tenacity and ferocious forecheck abilities that the other upcoming UFAs bring.
The reasons are simple. Not only has Cracknell been a warrior that's willing to bounce between the AHL and NHL without complaint, he comes with a much cheaper price tag. Sure, the Prince Albert, Saskatchewan native could be asking for a raise from his current one-year, $600 thousand contract, but it will likely still run less expensive than Morrow's $1.5 million or Ott's $2.95 million contracts.
You know what you're getting from an Ott or Morrow, too. With Cracknell, whose career high in NHL games played came in his rookie season (24), the potential upside is unknown.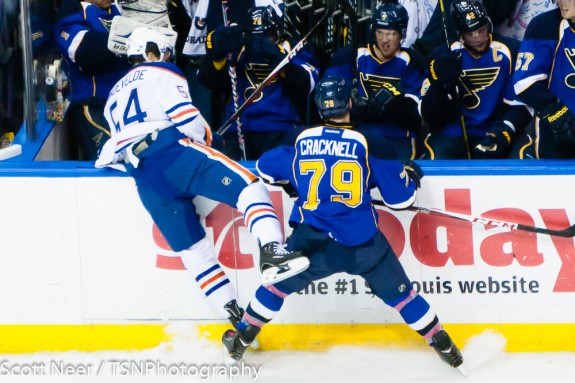 Just like the reliable garbageman who doesn't show up a minute past 7 am or the high school teacher who tutors a struggling student after school hours, Cracknell has been working beyond his regular job description thanklessly when called upon.
He hopes it has not gone on deaf ears and that his reward will come in the form of a full-time NHL role next season.