by Eldon MacDonald (edited by @ChrisRalphTHW)
Brendan Lemieux
THW's NHL Draft War Room Rankings – Apr-14: #38
THW's NHL Draft Rankings – The Next Ones Edition (aka Chris's List): #42 (March 2014)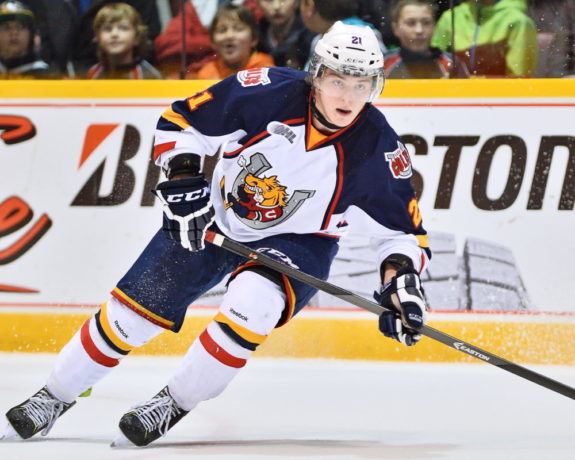 Hashtag: #TheAgitator
Nickname: Pepe
Team: #21, Barrie, OHL
Position: Left Wing
Shoots: Left
Height: 6'1
Weight: 210 lb.
Born: Denver, CO, 15-Mar-96
Twitter: @blemieux22
Stats
Other Rankings
26 – HockeyProspect.com, Feb-14
37 – NHL Combined – Final, Apr-14
37 – Bob MacKenzie, Jan-14
51 – Craig Button, Mar-14
Worth Retweeting
Claude Lemieux's son, Brendan, a top prospect for this year's #NHL draft #Habs #stuonsports #nhlpn: http://t.co/mtjEVBwXlv

— Stu Cowan (@StuCowan1) January 21, 2014
2014 NHL Draft Profile #37: Brendan Lemieux http://t.co/3Q9sPuPc45 via @lastwordBkerr #nhldraft @nhlinjurynews

— LastWordOnSports Inc (@lastwordonsport) May 10, 2014
Congrats to @blemieux22 and @EK5Colts on their U-18 gold medal, proud of you boys #canada #coltsboys

— mark scheifele (@markscheifele55) August 10, 2013
Fired Up #teamorr #prospectsgame http://t.co/V95taj92Ch

— Brendan Lemieux (@blemieux22) January 17, 2014
Profiles
Interviews
Quotables
Quote 1: Mark Hunter, former NHLer and London Knights General Manager, atTheBarrieExaminer.com, "He had a real good camp. He played hard, played smart. We all know he has God-given ability. He can skate. He's big and strong. As long as he plays the right way and plays smart out there … if he does what he's supposed to do, he should be on the U20 team when he's 19 and playing for them, because he's got all the ability in the world. I like how this young man plays. I like how he can make a pass. He has good hockey sense. Just as long as he keeps it together. We can't have penalties and it's important that he doesn't get his emotions too high or too low."
Quote 2: Aaron Ekblad at NHL.com, "I'm sure his dad taught him everything he knows; Brendan always says his dad is his biggest mentor. I've even learned quite a few things through his dad because me and Brendan are roommates in Barrie. Dad passed along the importance of being a hard-nosed player."
From the War Room
Eldon MacDonald, THW:  A few words on Brendan Lemieux:
The Agitator – Lips, feet, stick – all moving at the same time, a lethal combination. He will get to you with the lips, the body or the stick but he will get to you. And he doesn't stop, constant aggravation, constant irritation – he gives you the same warm cuddly feeling that you get when you stick your hand in a hornet's nest.
Genes – Son of Pépé, legendary agitator and four-time Stanley Cup champion, Claude Lemieux. Nephew of long time NHLer,Jocelyn Lemieux.
Offense – Brendan has some real NHL level type skills to go with his off the charts agitation level. He has a great wrister and one-timer, good passing skills and a nice feel for the game. But it is his willingness and determination to fight you not just for every inch of space but also for every breath you take that sets him apart from all others. He just sucks the life right out of you and then sits in your crease and bangs it in.
Improvements to make – Brendan needs to be better at keeping himself under control on the ice to really be able to ensconce himself as a legendary NHL level agitator, a la Pépé. And yes, surprise, surprise, Brendan's favourite movie is "I Am Legend."
Draft placement – Most rankings have Brendan in the second round. However, don't be at all surprised if a team such as Colorado takes him late in the first as that special missing piece of the puzzle, the how to make a Stanley Cup champion puzzle.
Video
Video 1: 2013-14 OHL Highlights