Evan Allen won't get talked about a future 1st round pick in the NHL…even a 2nd round pick may be a bit of a stretch.  Thing is, he will bring a tough, speedy, and offensive game to whichever team decides to select him.  But that wasn't always the case.
Evan Allen THW Close-Up:
Date of birth: 2/3/1995
Place of birth: Sterling Heights, Michigan
Ht: 5'11″     Wt: 185 lbs
Shoots: Right
Position: RW/C
NHL Draft Eligibility: 2013
Twitter: @evalhb10
THW The Next Ones Rankings (January 2013): 244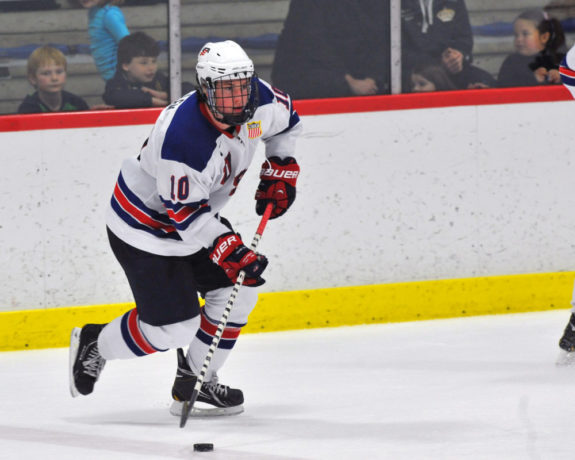 Other Rankings:
THW Warm Room Rankings (April): Not ranked
ISS (May): Not ranked
Future Considerations: Not ranked
Craig Button: Not ranked
Consensus aggregate of several services (NHL Numbers): 85
CS Final Rankings for North American skaters: 157
***
[NHL 2013 Draft Guide – The Next Ones Draft Headquarters: Your quintessential draft resource]
***
Evan Allen won't get talked about a future 1st round pick in the NHL – even a 2nd round pick may be a bit of a stretch.  Thing is, he will bring a tough, speedy, and offensive game to whomever decides to select him.  But that wasn't always the case.
He's suited up for the U.S. National Team Development Program for the past two seasons, but was originally slotted in a bottom six role to add some chipiness, tenacity, and grit.  While he managed to do those three things effectively, he was also able to spark some offense that was unexpected, yet very much welcomed.
Allen brings with him speed, control, and a blistering shot.  He can beat you on the outside or the inside with his acceleration.  For a player who isn't very big, his shot may be his best asset on the ice.  His quick release is just as impressive.
He can create a lot of chances and has pretty solid vision of the ice in all scenarios.  The Michigan native has been utilized on the powerplay.  However, his game does not come without a few flaws.
He does have a tendency to get out of position a bit, but he can usually make up for that by getting back into the play quickly.  Although his speed is quick, his skating could use a bit of work if he wants to be able to play in the NHL.  His effort, while relentless, has not helped much in his consistency.  It's an aspect of his game he should capitalize on when given the opportunity.
The future Michigan Wolverine will have his work cut out for him next season in Ann Arbor, but he certainly has the capability to throw his name into the pile of ever-increasing USNTDP prospects who make their way into the NHL.
Where Will He End Up In June:
If the stars align, Allen can be picked as high as the 3rd round, as I've seen in some rankings.  He is more likely to go anywhere between the 4th and 6th round if I were a betting man.
Scout's Honor:
"One of four 20-goal scorers on the U.S. roster this year, Allen can be a consistent source of offense for Team USA. He has good speed, to go along with some solid puck skills and a goal-scorer's release. His ability to get pucks to the net will be important particularly against the more stout defensive teams like Finland. Allen isn't afraid to shoot from anywhere and with increased time and space on the big surface, that could be deadly."
Chris Peters – United States of Hockey
"He's a fairly average sized kid.  I think he's 5'10, right in that area.  His skating is probably slightly above average.  He's got an NHL shot.  I mean, he can absolutely fire the puck.  Good vision.  Sees the ice well.  He's our main power play guy.  We kind of key our power play off of him and he's phenomenal on the power play.  We don't use him too much in the penalty kill situation.  But like I said, on the power play he's our go to guy.  He's been the leading scorer in the league the last two years."
Honeybaked coach, Mike Hamilton – MichiganHockey.net
Statistics:
Bio/Interview(s)/Links:
Interview with Hexys2Hander.com
Interview with MichiganHockey.net
International Tournaments:
Allen played in the U17 World Hockey Challenge where he ended up being the leading scorer for Team USA.  He five goals and one assist in six games.  He also played in seven games at the U18 World Junior Championships, recording two goals and two assists.
ETA:
5-7 years
Risk/Reward Analysis:
Risk: 3/5  Reward: 3/5
NHL Potential:
Solid bottom 6 forward
Strengths:
Shot
Vision
Speed
Puck Control
Grit/Effort/Tenacity
Flaws/Aspects He Needs To Work On:
Positioning
Consistency
Overall skating
Fantasy Hockey Potential:
Offensive: 5/10   Defensive: 3/10
NHL Player Comparison:
– While Allen likes to play like Ryan Kesler, a player that resembles him most would be Winnipeg Jets' Brian Little.
Video(s):
***
THW's The Next Ones prospect profile template design architect: Chris Ralph
Follow Shawn Reznik on Twitter: @ShawnTHW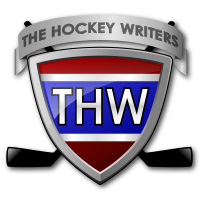 The archives of THW contain over 40,000 posts on all things hockey. We aim to share with you some of the gems we've published over the years.