Juuse Saros THW Close-Up:
Team: HPK of SM-liiga
Date of Birth: 4/19/1995
Place of Birth: Hameenlinna, Finland
Ht:  5'10″     Wt:  181 lbs
Catches: Left
Position: Goalie
NHL Draft Eligibility: 2013
THW Ranking: 93
Other Rankings:
CSS (International Goalies): 1
Craig Button: 61
***
*Check out THW 2013 Draft Guide: The Next Ones, your quintessential draft resource*
***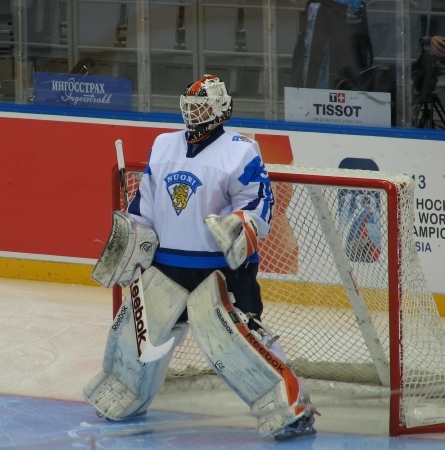 Big Surprises Do Come In Small Packages
At 5'10", Juuse Saros might not put fear into opposing skaters because of his size, but he sure has made shooters respect his game, especially over the 2012-2013 hockey season.
Saros will enter the 2013 NHL Entry Draft as the top ranked international goaltender, and the young Finn has certainly done a fair amount of work to deserve such a label. Saros appeared in 37 games for the HPK U20 team of the Jr. A SM-liiga and posted a stellar 1.86 GAA and .933 Save Percentage. Not only did Saros' performance over the course of the '12-'13 hockey season merit him the top international goalie honors, it paved the way for him being named to HPK's senior team in the SM-liiga.
While Saros will probably be serving backup duties with the senior club during the 2013-2014 hockey season, his promotion to HPK of the SM-liiga speaks volumes of how much the goalie's efforts have paid off in his native Finland. Saros' breakout season in the Jr. A SM-liiga certainly boosted his draft value, but the statistics that the goalie amassed during his most current hockey campaign were not uncalled for.
Over the years, Saros has proven himself to be a dependable netminder, despite all of the knocks against his height. Even though Saros might not have the optimal height for a goalie, he certainly makes the most use out of his natural ability. Not only is the Finnish netminder more than adept at playing his angles and remaining positionally sound, he plays a hybrid style of goaltending and can switch to and from the butterfly style when necessary. Although some might point to the fact that Saros leaves the top portion of the net exposed when he takes away the low ice from shooters, the goalie will have time to adapt to more experienced shooters in the SM-liiga and will undoubtedly tweak his positional play to combat some of his flaws.
Overall, Saros would be a solid selection for any team looking to take a goalie in the middle rounds of the NHL Entry Draft, and the time that the goalie will spend in the SM-liiga will only help him improve upon his current skill sets. Whether or not Saros will be passed over based upon his height remains to be seen, but any team that decides to put their stock into the young Finnish netminder will receive a talented and competitive netminder who already has a mindset well above his eighteen years of age.
Scout's Honour:
"Getting back to this year's draft prospects, there were several standouts — aside from Desrosiers and Klimchuk — we'd like to mention. Chief among them is Finnish netminder Juuse Saros, whose inspired play led Finland to a bronze medal, despite a complete absence of star power up front. We've been beating the drum for Saros all season, but recognize that he's not likely to be selected in the top three rounds solely because of his subpar 5-10 height. For shame!"
– Kyle Woodlief, via USA Today
"If you haven't heard of Juuse Saros, its okay, because neither has the hockey world. At least, not just yet. But take note of that name, because he is slated to be the next Finnish super-goalie. He is currently dominating the Finnish junior league with a save % hovering around .950 and a GAA of 1.50. He has also represented Finland at the under 18 level nine times, fielding just as stellar numbers as with his club-team. He's so good, he's projected to be HPK's senior team's backup goaltender next season – as an 18 year old! The only drawback is his size, 5'10", 181 pounds. All in all, he is the best draft eligible goalie in Europe."
– Graham Neysmith, The Scouting Report (January 2013)
"With Juuse in net, HPK won its first Finnish junior title. He's smallish but has very quick reflexes. He's difficult to beat up close to the net and he's excellent on rebounds."
– Goran Stubb, via NHL.com
"Smaller, stocky goaltender playing in the U-20 of Finland with considerable success. Years away from consideration as a possible pro goaltender, but shows excellent skills and upside. He was selected to the roster for the World Junior Under-18 Tournament in April and showed off his lightning quick reflexes, but the fact that he is undersized may see teams passing on him altogether."
– Bill Placzek, Draftsite.com
Where He'll End Up In June:
Saros will likely be the first international goalie selected at this year's draft and will likely be selected in the middle rounds of the NHL Entry Draft.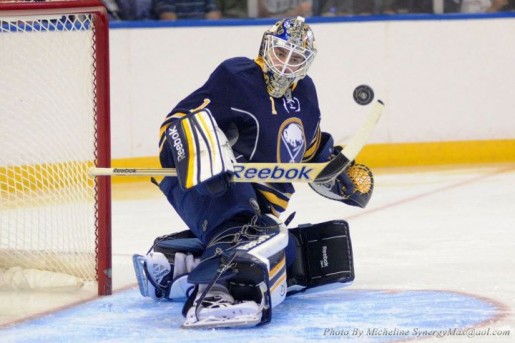 Statistics:
Bio/Interviews:
Short Bio/Interview via NHL.com
International Tournaments:
Saros has participated in a number of international tournaments as he has represented Finland's U16, U17, and U18 clubs in international play. Saros has also been on two Finnish WJC-18 teams and performed superbly (7 GP, 1.86 GAA, .946 Save Percentage) at this year's WJC-18 competition.
NHL ETA:
3-5 Years
Risk/Reward Analysis:
Risk: 2.5-3/5 Reward: 4/5
NHL Potential:
Number one starting goalie or strong backup
Strengths:
Good positioning
Quick
Athletic
Strong Competitor
Can read plays/shooters well
Flaws/Aspects He Needs to Work On:
No discernible flaws, though teams might hesitate on Saros because of his height.
Leaves top portion of net open when taking away lower portion of the ice.
Fantasy Potential:
Goaltending: 8.5-9/10
NHL Comparable:
Has drawn some comparisons to Jhonas Enroth because of height factor, but has enjoyed watching goalies such as Marc-Andre Fleury.
Tweets:
Just talked to a scout about draft eligible goalie Juuse Saros: "He has a pro dimension in his comfort in net…He can bail his team out."

— Ryan Kennedy (@THNRyanKennedy) May 6, 2013
*** THW's The Next Ones prospect profile template design architect: Chris Ralph
In his third year with The Hockey Writers, Toli covers all things related to the New York Islanders. Focusing on the Islanders, the NHL Draft & draft-eligible prospect goalies, and hockey history, Toli can be contacted on Facebook by searching/messaging Toli Metter and on twitter by searching @ToliMetterTHW.