Make no mistake about it – Thomas Vanek is the greatest Austrian-born player in NHL history.
Alright, sure, there have only been nine others in league history to come from the Central European country.  And sure, the next name on that list is probably Michael Grabner (would you really argue for Andreas Nodl or Thomas Pock?).
Still, this shouldn't diminish from what Vanek has accomplished in his career. He's been a star pretty much from the start, moving to the U.S. at 14 and making his way through the South Dakota High School hockey system.
History
It wasn't until 2002-03 that Vanek became a name to be known. As a freshman with the Minnesota Golden Gophers, a national power, Vanek would lead the team in goals (31), assists (31), and points (62) while taking home team MVP honors; a first for a freshman in school history.
He would continue his fantastic year into the NCAA Tournament, scoring the game-winning goals against Michigan in overtime of the semifinal and against New Hampshire in the final. Finishing 4th in the NCAA in goal-scoring, he won the 2003 WCHA Rookie of the Year award.
He would follow that up with a 26 goal, 51 point effort to lead the Gophers in goals and points and won the Twin Cities Best College Athlete award for 2004.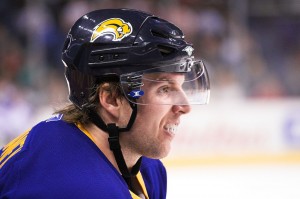 Vanek would be made the 5th overall selection in the 2003 NHL Entry Draft by the Buffalo Sabres, joining names like Marc-Andre Fleury, Eric Staal, Ryan Suter, Dion Phaneuf, Jeff Carter, Dustin Brown, Zach Parise, Ryan Getzlaf, Corey Perry, Mike Richards, and Ryan Kesler in a completely stacked first round.
Spending the locked out 2004-05 season with Buffalo's AHL affiliate in Rochester, Vanek would finish second on the team in points with 68 but pot an impressive 42 goals to lead the team and finish second in the league.
Tallying a solid 25 goals and 48 points as a rookie during the 2005-06 season, Vanek exploded the next year.  His 43 goals would be good enough for fifth in the league and he would finish with 84 points.  He would also finish with an NHL-best +47, earning the NHL Plus/Minus Award.
In the off-season, Vanek was unintentionally involved in major waves with both the Sabres and around the league. Well aware that valuable veterans Daniel Briere and Chris Drury were leaving as free agents during the 2007 off-season, the Edmonton Oilers offered Vanek a 7yr/$50M offer sheet, which he signed. The Sabres, having just lost Brier and Drury and in danger of losing their young sniper, immediately matched.
After a dip to 64 points in 2007-08, Vanek made his first All-Star Game appearance in 2009 and also helped the Sabres reach a milestone by scoring the 10,000th goal in team history. Continuing on the history-making trend, Vanek matched an NHL record by scoring his fourth consecutive hat-trick, a record originally set by Cy Denneny between 1923 and 1924. He wouldn't improved on his point total of 64 but his 40 goals was impressive; a league-leading 20 of them coming on the powerplay.
Vanek would continue to be a model of consistency, registering in the 60-70 point range since. To begin the lockout-shortened 2012-13 season, Vanek came out like a house of fire. Picking up points in his first eight games and eleven of his first twelve, Vanek shot out to a huge lead in the scoring race with 11 goals, 12 assists for 23 points in his first dozen games.
Injuries and increased attention would see a decline in his torrid pace as Vanek would often be the only scoring option for a team struggling to put the puck in the net.  He would still finish with 20 goals and 21 assists in 38 games, his best PPG total of his career.
What Thomas Vanek Means To The Sabres
Ready or not, Vanek is going to be asked to be apart of the leadership core in Buffalo.  Many questioned his ability to lead when Jason Pominville was named captain but on one of the youngest teams in the game, Vanek will have little choice.
Not only that but he is the Sabres' surest option when it comes to scoring goals.  He has yet to score fewer than 20 even in a lockout-shortened year and is one of the game's best in front of the net.
His presence on the top line will aid in the growth of young, potential number one centerman Cody Hodgson, whom the Sabres have extremely high hopes for down the road.
Looking Ahead: 2013/14
Times are interesting around the HSBC Arena.  Will the team's franchise scorer stay in Sabre blue past this year?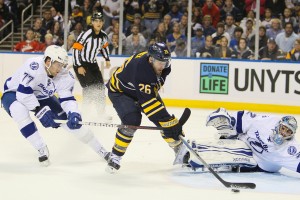 Vanek reportedly turned down and extension to keep him in Buffalo long-term and has expressed a lack of interest in being apart of a rebuilding project.  At 29, and having yet to be apart of a winner, it's hard to argue with his desire to win.
If he doesn't feel like he can do that here, Vanek will most assuredly be moved.  If not at the NHL Draft in June, certainly by the trading deadline in March to someone in need of a natural scorer to push them into Cup Contendership.
If, and that's a really big "if" at this point in the game, Vanek remains in the picture, he'll be asked to be "the man" in Buffalo. He'll need to lead both in the locker room and by example, providing a consistent scoring presence and helping the younger group grow.
Rebuild aside, Vanek is the highest-selected Sabre since Pierre Turgeon. For better or worse, he's the face of this struggling franchise. And it's up to Thomas Vanek to bear down or move out.
A long-time (and long-suffering) Buffalo sports fan. Sometimes optimistic, always weary. I write other stuff for a lot of other people.