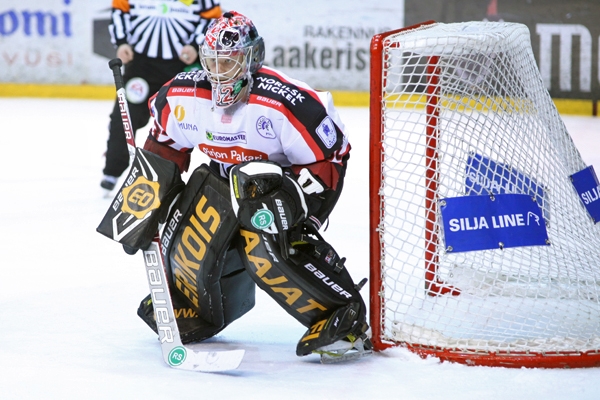 According to Juha Hiitela of Urheilusanomat, the Chicago Blackhawks have signed Finnish goaltender Antti Raanta to a one year entry-level deal.
Raanta, 24, led the SM-liiga in save percentage (0.943 SV%, third highest in league history), goals-against average (1.85 GAA), and ranked fifth in shutouts (5 SO), while compiling a 21-10-11 record with Assat Pori in the 2013 regular season. His fantastic play throughout the season earned him honors as best goaltender in the league and regular-season MVP.
In the 2013 playoffs, he elevated his play even higher, posting a 0.955 save percentage, 1.33 GAA, and helped his team capture the Canada Bowl (the Finnish equivalent of the Stanley Cup) while winning the Jari Kurri Trophy (equivalent to the Conn Smythe) for his dominating postseason performance.
Michael Russo of the Star Tribune reported that the Minnesota Wild were in hot pursuit of Raanta, the Edmonton Oilers and Winnipeg Jets also had interest in the goaltenders services.
"[Raanta] was physically in horrible shape when he got to Ässät, but has worked on that a lot, which also helped with the mental part of his game." says Juzmo on Hockey's Future. "Calm, good with the stick, and just a really solid goalie all around with no clear weaknesses at this level. Can be a bit of a showman."
Another scouting report on Hockey's Future states: "While not as flashy as some of the smaller goalies nor highly skilled, Raanta uses his size to advantage and is very consistent with his positioning. Foot speed might also be an issue but the competitiveness is definitely there."
As of now, Corey Crawford, Antti Raanta, Mac Carruth, and Kent Simpson are the only goaltenders under contract heading into the 2014-2015 NHL season.
With Ray Emery, Henrik Karlsson, Carter Hutton, and Alec Richards all set to become UFA's in the off-season, it's no surprise to see the Blackhawks add a little bit of depth to help shore up the goaltending position.
Raanta is expected to receive an opportunity to backup Crawford next season. One of Hutton or Karlsson could return to the Rockford IceHogs to compete with either Carruth or Simpson for ice time in the American Hockey League.
I started covering the Chicago Blackhawks in 2007 for IndianHeadNation.com and eventually on Twitter and now The Hockey Writers. Although I've never played at a professional level, I have followed the NHL religiously, analytically, and statistically since 1999, and a born fan since 1989. I have one true passion: HOCKEY.