John Quenneville THW Close-Up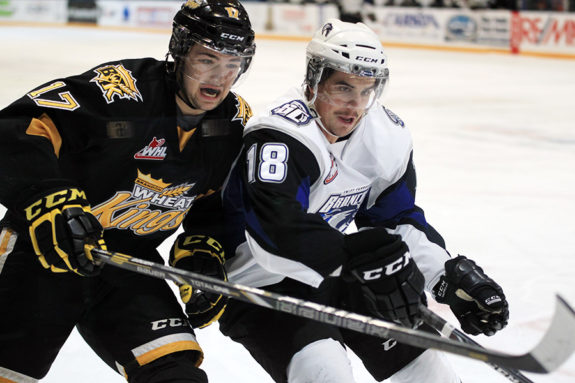 Date of Birth: April 16, 1996
Place of Birth: Sherwood Park, AB
Ht: 6'1" Wt: 187 lbs
Shoots: Left
Position: Center/Left Wing
NHL Draft Eligibility: 2014
You could be forgiven if John Quenneville's name isn't immediately recognizable.
First, his name recalls his second cousin, Chicago Blackhawks coach Joel, and sometimes he may be mistaken for his older brother Peter (also with Brandon) or his younger brother David (a Medicine Hat prospect). Second, his game is very substance over style. That's not to say that he's not flashy, just that he's not overly showy; he's just a quietly efficient player. He produced at just under a point-per-game during the season, and outside of a four-game stretch in October and a few multi-point games here and there, he was a steadily consistent producer all season long. And on a team with only a few "plus" players, he had a plus/minus in the black.
Quenneville plays a generally responsible three-zone game, but needs a bit more discipline at times. He plays physical and is willing to scrap – he had 5 fights in 2013-14 – but sometimes needs to rein in the aggression before it gets out of hand. He was second on the Wheat Kings in penalty minutes.
When he can tie it all together, though, Quenneville can be a good player verging on great. He led the Wheat Kings in playoff scoring and was easily their best player through two playoff rounds, utilizing his size, speed, instincts and superior hockey sense. The big question for his development is whether that great stretch is "just nine games," or indicative of how he can play all the time.
Scout's Honour:
"I liked [Quenneville] a lot when I saw him… He has the pro makeup and is a hard-worker. He makes good plays very quickly and is good at moving the puck. I'd like to see more consistency from him, but I like the way he finds open spaces and his ability to make any kind of pass."
–David Gregory, NHL Central Scouting
"John Quenneville is developing into a solid two-way forward with the versatility to play both left wing and centre. He really improved this year in all three zones and has moved himself up draft boards all year long. Offensively, Quenneville is at his best controlling the puck down low on the cycle game and setting up teammates with good vision, and very high hockey IQ. He can drive the net when given the opportunity and has the soft hands to finish in close."
–Ben Kerr, Last Word on Sports
Statistics:
Bio/Interview(s)/Link(s):
International Tournaments:
Quenneville represented Team Pacific at the World U-17 Hockey Challenge – winning silver – and Team Canada at the U-18 World Championships – winning bronze.
ETA:
2-3 years
Risk-Reward Analysis:
Risk 1/5, Reward 4/5
NHL Potential:
Third or fourth line player with upside.
Strengths:
Good hockey IQ.
Good skater.
Good offensive instincts.
Flaws/Aspects He Needs To Work On:
Relied too much on extra time and space of power-play to produce offense.
Gotta improve his discipline.
Consistency will be key.
Fantasy Hockey Potential:
Offensive 8/10, Defensive 7.5/10
NHL Player(s) Comparison:
A good comparable for Quenneville is someone like Nick Bonino or Craig Smith.
When He'll Go In June:
Quenneville could go anywhere in the second or third rounds.