by Eldon MacDonald (edited by @ChrisRalphTHW)
Thatcher Demko
THW's NHL Draft War Room Rankings (E-Mac): #31 (April 2014)
THW's NHL Draft Rankings – The Next Ones Edition (aka Chris's List): #53 (March 2014)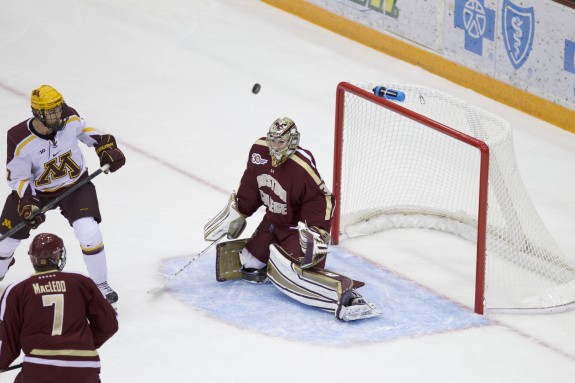 Hashtag: #TheAnchorman
Team: #30, Boston College, Hockey East
Position: Goalie
Shoots: Left
Height: 6'3
Weight: 192 lb.
Born: San Diego, CA, 8-Dec-95
Twitter A/C:@thatcher_hockey
Stats
Other Rankings
17 – Future Considerations, Apr-14
24 – HockeyProspect.com, Feb-14
32 – Bob MacKenzie, Jan-14
32 – NHL Combined, Final, Apr-14
44 – Craig Button, Mar-14
No 1 goalie – ISS, Apr-14
Worth Retweeting
http://t.co/dTmaEKMf2A
#1 G Thatcher Demko @thatcher_hockey
NHL frame & mindset. Strong development curve through two years w/ USNTDP & BC.

— ISS Hockey (@ISShockey) April 16, 2014
.@FCHockey's top ranked goalie and January Goalie of the Month Thatcher Demko was named the top goalie at the Beanpot http://t.co/tE4XVv9taw

— Zenon Herasymiuk (@ZenonHerasymiuk) February 11, 2014
3 closest statistical seasons to Thatcher Demko's 18 year old campaign would probably be Cory Schneider, Jimmy Howard and Joe Cannata.

— Corey Pronman (@coreypronman) April 10, 2014
Freshman Thatcher Demko finished 16-5-3 with a .919 save percentage and a 2.24 GAA. 611 saves for the youngest player in college hockey.

— Connor Mellas (@ConnorMellas) April 11, 2014
https://twitter.com/StolieTheGoalie/statuses/439080716316737536
[The 2014 NHL Draft War Room: Prospect Profile Index
Contains All the Prospects Profiled in This Series]
Profiles
Interviews
Boston College goalie Thatcher Demko's goalie mask includes a pretty cool tribute to the Boston Marathon. PHOTO: http://t.co/bZMA1fcwGW

— Chris Peters (@chrismpeters) October 5, 2013
Quotable
Quote 1: Al Jensen from NHL Central Scouting at NHL.com, "He's a huge, strong goalie with excellent net coverage. He has that NHL presence in the net. He's more of a positional-style goalie that relies on his angles and size and he plays big in his stance. When he drops in the butterfly he gets his body in front of a lot of shots. He's smart at reading the play and gets set quickly; strength is definitely not an issue with him."
Quote 2: Boston College Coach Jerry York, on the Beanpot Tournament at BostonGlobe.com, "Thatcher kept them off the boards. There was one save, a remarkable save right around the crease area. They made a tic-tac-toe play. I have to see the tape — I don't know how it stayed out of the net.I don't think it's a surprise that he could handle something like this and play well. Thatcher, as I watch him, he's getting more confident. He handles the puck now. He reminds me a lot of Cory Schneider at the same age."
From the War Room
Eldon MacDonald, THW:  A few words on Thatcher Demko:
Who can take a shootout
Sprinkle it with spew
Cover it with pads and a miracle or two
The Anchorman
Oh, the Anchorman can
The Anchorman can
'Cause he mixes it with glove
And makes the team look good
OK, so I am not Sammy Davis Jr. but the point is Thatcher Demko is the anchorman of your team, the guy you build your world around. If you don't believe me, just ask his teammates and coaches at Boston College.
Qualities: The three qualities that stand out that make Thatcher Demko an outstanding goalie:

Size – While he has that god-given size at 6'4, 192 lb, Thatcher plays even bigger in the net to the shooter.
Athleticism – Thatcher has outstanding lateral mobility – going post to post in the blink of an eye.
 Ownership – Thatcher is the owner of the situation, good or bad – he let's his teammates know that he has their back so that they can concentrate on getting the puck to the other end of the ice.

Comparable – Boston College Coach, Mike York, "He reminds me a lot of Cory Schneider at the same age."
Draft Placement  – Given the glut of goalies in the NHL, it has become a trend that a goalie isn't drafted until the second round. However, there is a strong possibility that one or two goalies could be drafted in the first round in this draft given the large number of high-end small players available around end of the first round. Whether it is first or second, I am confident that Thatcher will be the first goalie selected in the upcoming draft.
Video