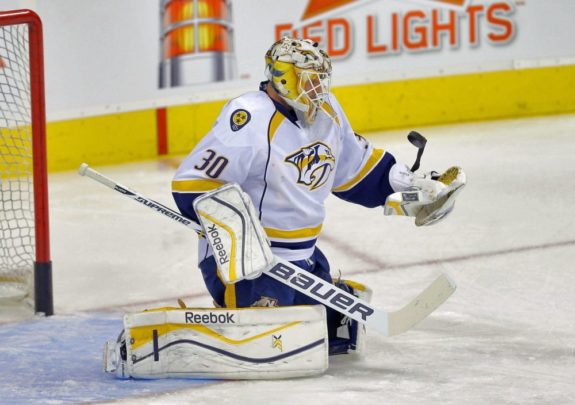 On July 5, Nashville Predators general manager David Poile promptly answered questions regarding the status of a backup goaltender heading into the 2013-14 season. With Pekka Rinne recovering from hip surgery, it was obvious that whoever the backup goalie was, he would get his share of work in the early parts of the regular season. However, Poile made a highly questionable move signing  6'1″ Carter Hutton to a one-year, $550,000 contract. The no-name tendy spent most of his career thus far in the American Hockey League (AHL) and East Coast Hockey League (ECHL) and had just one career NHL game under his belt for the Chicago Blackhawks. Other than that, there was not much known about him.
Predators' goalie coach Mitch Korn had something different on his hands and had to teach Hutton a different style based on quickness and efficiency, and didn't have a much size to work with as per usual in the franchise. Hutton was very streaky throughout the season and will certainly have to work on consistency in the near future. The 28-year old peaked early in the season with a .959 save percentage in his first three games. After that, however, the Thunder Bay, Ontario native's play dipped, allowing three or more goals in his next six starts.
While Rinne was out, a lot of the pressure was put on the shoulders of Hutton because he simply didn't want to lose his job. Hutton competed with prospects Magnus Hellberg and Marek Mazanec and pre-trade deadline acquisition Devan Dubnyk during the season for the backup job once Rinne returned. There were parts of the year where Mazanec was more deserving and seemed to have secured the NHL spot. However, this competition motivated Hutton to become better, allowing him to finish the season with a superb 20-11-4 record, 2.62 goals against average and .910 save percentage.
"Coming into this season, I didn't know if I'd even be able to play 20 games," said Hutton. "I think getting the chance to develop, work with Mitch and play with Pekka was a great development factor. With Pekka injured, I got a lot more extra time. Being able to win 20 games this season is huge for my confidence heading into next season."
Poile's risky, cheap free agent signing turned out to be yet another diamond in the rough for the franchise.
Looking Forward
After the twenty-win season, he undoubtedly deserves the million dollar contract this offseason. Constantly improving with Korn, who's contact is also up this summer, there is no limit to how skilled he can become. Poile couldn't have asked for a better goaltender for $550,000 elsewhere, which could turn out to be another great move to add to his resume.
If the Predators do not re-sign the UFA prior to July 1, he will hit the free agent market and likely signed later that day to a new team. Hutton is that valuable.