The 2014 NHL Entry Draft is still months away, but with CSS's midterm rankings being released a couple of weeks ago, the hunt to learn whatever one can about the upcoming draft class has certainly started. With Sam Reinhart (C) and Aaron Ekblad (D) drawing most of the early attention as the top picks of the '14 draft class, hockey fans shouldn't forget about the goalies.
Players such as Thatcher Demko have been making a name for themselves this season, and CSS was quick to agree as the netminder was ranked number one overall out of all of the draft-eligible goalies in North America. In only his first year at Boston College, Demko has been a tremendous addition to the Eagles as he has recorded a 2.17 GAA and .919 Save Percentage in ten games played at the NCAA level.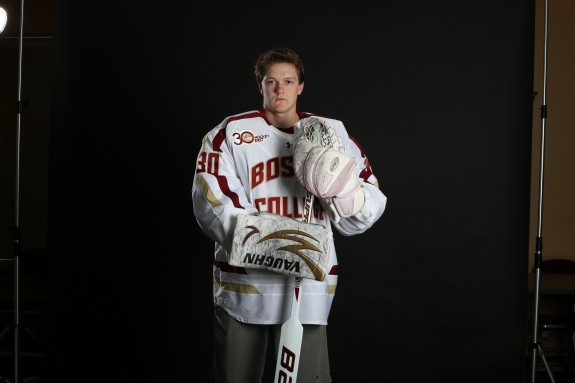 Despite the fact that Demko is only a freshman that is playing in an ever-competitive Hockey East conference, that hasn't detracted the goalie from his game and what has made him such a very bright prospect thus far in his young hockey career.
Recently, The Hockey Writers had a chance to to sit down and speak with Thatcher Demko, and the prospect goalie offered some insight on his experiences and success over the last few years:
Thatcher Demko Q & A
The Hockey Writers: What has been the biggest transition that you have had to make from being on the USNTDP & U.S National U18 team to playing for Boston College? Any noticeable difference between the USHL and NCAA?
Thatcher Demko: Of course, there's a pretty big difference there. Players are older, bigger, faster, and plays are made a little bit quicker, so it's definitely a transition. We played a couple of NCAA games last year, so that was a good experience to kind of fall back on coming in to this year, but playing consistently at this level has been a transition in itself and every day I'm working on trying to stay up with the pace.
THW: What has the atmosphere been like in Boston College so far? What was it like to face off and win against programs such as Boston University?
TD: It has been awesome. The fans and all the students give us great support, so it's great to be in an atmosphere where hockey means so much to the fans. Going into BU, it's a big rivalry game – you hear about it, it could be one of the biggest rivalries in college hockey, if not the biggest – so I always hear that it's a huge game. To win with the Boston College crowd in front of you was something that was really special and it was an awesome moment to share with my teammates.
THW: What has been your biggest or most significant learning experience thus far with the BC Eagles?
TD: Honestly, I think it was that loss to Holy Cross. Holy Cross is a huge high-ranked team, so we kind of took them lightly and we ended up losing 5-4. It felt [the outcome] like every team in college hockey is capable of winning on any night, so you have to bring your A-game and show up consistently.
THW: You just described some of your learning experiences thus far with the Eagles. What has it been like to learn from someone like Mike Ayers?
TD: It has been awesome. He played his collegiate hockey for UNH and he had a great career, he had great numbers up there. He's been around, especially in this part of the country with college teams, so I'm just learning from him every day and soaking up knowledge from him on and off the ice.
THW: Could you tell us a little bit about your experience at the World Juniors?
TD: Being a part of that was awesome, I just became a student of the game, and I didn't use me not playing as an excuse for me to stop getting better for that month or so there. I was on the ice almost every day with goalie coach David Lassonde, I had a goalie notebook and I was jotting down notes all the time just to make sure that I did whatever I could to get better.
THW: What was it like to back-up Jon Gillies and Anthony Stolarz? Seeing as how you guys are all big, tall, and athletic goalies, did they impart any knowledge on you that you intend to incorporate into your game in the future?
TD: Yes, of course. They're both very well respected goalies. Jon Gillies played in Hockey East, so we get to see him quite a bit, and Stolarz he's in London with the Knights. They're both really great goalies, they're both pretty big as one is 6'5″ and the other 6'6″, but at the same time they're both extremely athletic. I was trying to incorporate some stuff right away – making sure I stay reacting to pucks and kind of taking a little piece of their game and trying to see what works for mine.
THW: Was there a big difference between competing on the WJHC stage this year as opposed to another international event such as the Ivan Hlinka Memorial Tournament?
TD: I think there's an enormous difference. This one [WJHC] was under-20 and I think the Ivan Hlinka tournament was under-18. Most of these players [at the WJHC] have been drafted and they're playing in pro leagues or out in Europe. Some guys are even in the NHL or may be called upon, so I think that the skill level is just a bit better and some of the players are just faster and have more experience under their belt. The tournament was definitely at a higher pace and probably at a better skill level than the Ivan Hlinka Tournament.
THW: Speaking of skill-level, watching some of your highlights, it's plain to see that you're a positionally aware goalie. Are there any other aspects of your game that you are looking to fine tune in particular?
TD: Definitely. I'm trying to work on my consistency, just like I was talking about with the Holy Cross game. I'm trying to play my game every night the way that I know I can. Some other technical things like sticking to the puck and trying to make sure that my head is always facing the puck so I can be as big as I can at all times.
THW: What would you say is the strongest part of your game? What do you think are some of your biggest assets to teams potentially looking at you during the 2014 NHL Entry Draft?
TD: I think it's just the fact that I'm really competitive. I hate getting scored on, I hate to lose, so those are the kind of things that drive me. I'm a bigger guy, I try to use my athleticism, stay on my angles, and try to take up as much net as I can and be a goalie that can play in big games.
THW: Which goaltender in the NHL would you say that you most closely resemble in terms of style of play? Who is your favorite NHL goalie to watch/learn from?
TD: The guy that I resemble, or try to resemble, is Pekka Rinne. I think he's 6'5″ and at the same time he's extremely athletic. He battles for pucks and makes a big save when he has to. My favorite goalie is Jonathan Quick because I'm a huge Kings fan and he plays a certain style that I think nobody else can replicate. I can't really learn anything from him because he's so unique, but he's definitely a treat to watch.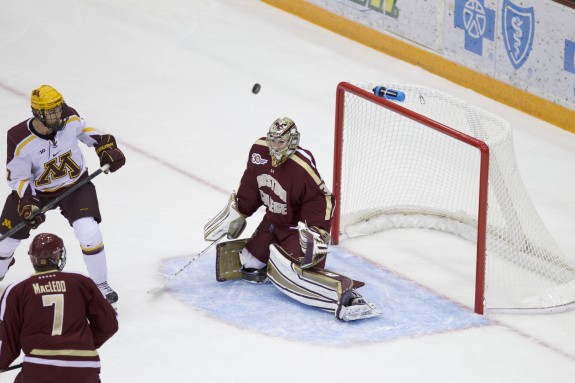 Not only does Thatcher Demko have the pedigree to be a successful goaltender in the NHL one day, he has the drive to excel wherever he meets any type of adversity. With Demko's prospects looking very strong for the 2014 NHL Entry Draft, it wouldn't be surprising to see the goalie selected in the late first round, or to be the first netminder taken during the draft. Regardless of when or where Demko is taken in the NHL Draft, any team that selects the goalie will be receiving an individual that is always eager to learn and can readily adapt to a variety of environments, situations, or circumstances.
In his third year with The Hockey Writers, Toli covers all things related to the New York Islanders. Focusing on the Islanders, the NHL Draft & draft-eligible prospect goalies, and hockey history, Toli can be contacted on Facebook by searching/messaging Toli Metter and on twitter by searching @ToliMetterTHW.