The month of January has been relatively terrible for the Blackhawks in comparison to their typical level of play. The team has sputtered its way through the month to the tune of a drab 4-3-5 record, scoring 2 goals or fewer in 8 of the 12 games and allowing 3 or more in 6. Chicago – once in genuine contention for the President's Trophy – now is projected to finish fourth in the Western Conference.
Many fans assume the reason for the slump is laziness. Others fixate on the substandard performance of specific players. I disagree with both schools of thought – the plunge away from winning ways in Chicago has everything to do with an ineffective possession game, stale line combinations, and fatigue.
Blackhawks' January Possession Numbers Are Down
*Fenwick for percentage is a proxy for puck possession – it can be defined in this context as the total percentage of all in-game shot attempts (excluding those that are blocked) that one team generates.
Chicago makes its hay with puck possession (for those not entirely clear on what that means, I've written on it in the past). Not so surprisingly, then, the recent downturn has been accompanied by a slide in possession performance. Chicago's *Fenwick for percentage has taken a noteworthy dip in January, as is depicted here.
More important than determining that the downward trend exists, of course, is determining why it does. It doesn't seem to be schedule-influenced, given that only 4 of Chicago's 12 January games were against top-10 possession teams (Sharks, Bruins, Devils, Rangers). Nor does it have anything to do with laziness, a topic I address at the end of this article.
No, the two central reasons for the Blackhawks' January possession declivity and corresponding on-ice slump have already been mentioned: stagnant line combinations and weariness.
Ineffective Forward Lines
The Blackhawks' first line of Sharp, Toews, and Hossa is dependably excellent, but having the team's three best defensive forwards playing together has impacted the ever-in-flux second line. Further, Toews' best offensive talent – goalscoring – has been somewhat depressed by virtue of centering two others who share that same trait. He hasn't lit the lamp in 7 games and is on pace for the worst per-82 goalscoring pace of his NHL career.
Moving on, inconsistency in production has begun to mar Patrick Kane's otherwise brilliant season. The staling of the forward lines is perhaps best exemplified by Kane's being on the scoresheet for only 4 of the 12 January games – this of course following an earlier streak of 26 in 27. The winger opposite him, Brandon Saad, is without a goal in the last 10 Blackhawks games.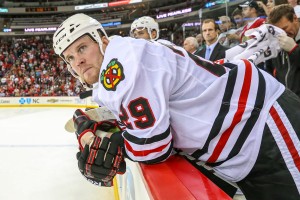 The third line has been miserable, to put it mildly. Michal Handzus has drawn the near-unanimous ire of Blackhawks fans, as his lack of speed and offensive production have manifested themselves as glaring problems regardless of his position in the lineup. Kris Versteeg, still not quite himself after a torn ACL last season, has mostly avoided criticism despite a meager 2 points in the 12 Blackhawks January tilts… although I'd be remiss not to point out his surprisingly favorable possession numbers during that span.
Finally, there is Bryan Bickell, Chicago's current favorite scapegoat.
Joel Quenneville on why he benched Bryan Bickell: "We need more. We need a lot more. We're looking for more." #Blackhawks

— Mark Lazerus (@MarkLazerus) January 27, 2014
For clarity's sake, let me say that Bickell was not benched; rather, he was scratched in favor of defenseman Michael Kostka, who took his place at wing on the third line in that night's game against Winnipeg. However, Bickell had been benched during the several games prior, playing less than 10 minutes on numerous occasions.
As I will be discussing laziness in a bit, I'll leave Quenneville's implication in the above tweet alone for now. But I will say this: it is nigh-on impossible to defend dressing a defenseman as a winger on a forward line that has been having as many difficulties as that one has. "Things weren't working as they were"  is not a quality justification for knowingly forcing a square peg into a round hole, and Quenneville has done so numerous times with the third line this season. He has proven himself transcendent as a coach, but baffling decisions such as this one nevertheless persist.
In summary, the top three forward lines in Chicago badly need a shakeup. I cannot understate the value of finding the right lines – the best teams are without exception greater than the sum of their parts, and this fact underlies the importance and necessity for changes. With Brandon Pirri again called up, it seems likely that we are going to see some immediately.
#Blackhawks recall forward Brandon Pirri from AHL Rockford.

— Chris Kuc (@ChrisKuc) January 27, 2014
Don't misunderstand me – Pirri is by no means an individual savior. But his inclusion in the lineup will presumably reshuffle Chicago's top three forward lines, and it is this that will make the biggest difference.
Fatigue
I don't think there is any doubt that the Blackhawks' January slump is at least partially owing to simply physical exhaustion. Fans often are unaware of – or simply forget – the vast physical toll on players that is inseparably paired with NHL hockey.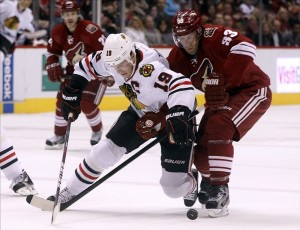 The 2012-13 season was significantly condensed and the playoffs concluded in late June, approximately 15 days later than usual. Consequently, Chicago had an even shorter summer than a typical Stanley Cup champion to recuperate and prepare for the following season. Moreover, 2013-14 is an Olympic year, and thus this season is compacted as well! It may be anathema to many Blackhawks fans and their stratospheric expectations, but these are undeniable performance-mitigating factors that we cannot simply ignore.
Mental fatigue is another possibility. With the core players of the roster coming off their second championship in four years and most of them headed to the Sochi Olympics, this would hardly be unreasonable. Indeed, waning focus seems almost inevitable.
I would contend that fatigue and inadequate forward lines are the two chief reasons for Chicago's unimpressive run so far in January. With that established, let us conclude things by debunking a third (non-) reason.
Is the Blackhawks' January Slump Due to Laziness?
Short answer: No.
Long answer: "They're playing lazy" is a ridiculous, trite cliche expressed (rather hypocritically) by people who themselves are too lazy to look any deeper. It manifests someone without any semblance of respect for the acute grind of NHL hockey or the physical demands of being a professional athlete.
Hockey players do not make it to the NHL by being lackadaisical. Apathy and lethargy are not traits that your typical professional possesses. There are outliers, but they are few and far between and often get weeded out rather quickly by those more willing to work.
This, then, is what is so frustrating about fans suggesting Chicago's slide can be ascribed to a lack of trying. It is comically absurd that this is even a discussion, as it entails labeling as "lazy" the defending champions of a sport which demands its players to lay everything out on the ice each night.
No, Bickell is not lazy, either. He's recovering from an injury that essentially eliminated any sense of on-ice rhythm he may have had, a common problem associated with missing time early on. The outrage many fans have displayed over Bickell is silly, and he certainly is not going to improve by being scratched in favor of a mediocre defenseman. Still, while the decision to scratch him for Kostka was bizarre and (frankly) inarguably foolish, Quenneville has proven himself as a high-quality coach, and fans need to have confidence that he and Bickell will right the ship.
For that matter, so will the Blackhawks.
Follow Sean Sarcu on Twitter: @seansarcu