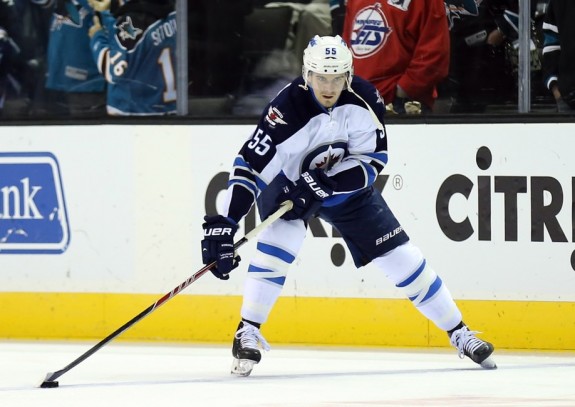 In the middle of November there were many Winnipeg Jets fans thinking, "Mark Scheifele simply isn't going to be the player we thought he'd be."
For the third straight season the Jets' first-round pick, seventh overall in 2011, wasn't producing. But, unlike the 2011 and 2012 campaigns, Scheifele wasn't going to be sent back down to the OHL's Barrie Colts to be coached by Winnipeg legend Dale Hawerchuk.
Scheifele hit rock bottom when in a two-game stretch against the Calgary Flames and Chicago Blackhawks he registered a minus-three rating and totaled less than 22 minutes in ice time. At that point he'd played 24 games, recording five points and a minus-five rating.
But, that's when things changed.
Mark Scheifele's Surge
On November 23rd in Winnipeg, the Jets played host to the Minnesota Wild. With the game tied early in the third, Scheifele went to play the puck deep in the offensive zone. He tripped and fell to the ice, but as he slid he pushed the puck back toward Michael Frolik, who hit a wide open Matt Halischuk in front. His first shot was stopped, but he tapped home the rebound to give the Jets a one goal lead. The Wild would win 3-2 in a shootout, but that awkward, lucky point marked the beginning of a major upswing in Scheifele's young career.
He notched one goal and three assists in his next four games and his ice time began to increase. The 20-year-old rookie began to play more like a 30-year-old veteran. He appeared more confident in all three zones, made quick decisions with and without the puck and most importantly, he showed off his creativity in the offensive zone.
Fast forward to Saturday night on Hockey Night in Canada where Scheifele scored a goal to help the Jets get by the Toronto Maple Leafs, 5-4 in overtime. It was his 20th point in his past 23 games and with the win the Jets improved to 5-1 under Paul Maurice.
A day later the Jets rallied to beat the defending Stanley Cup champion Chicago Blackhawks 3-1 at the United Center. Scheifele was held off the scoresheet, but blocked two shots and played over 15 minutes. Again, he continues to do the little things right. Whether that means chipping the puck deep and playing smart on the forecheck, outworking his man along the boards, or backchecking effectively. That style of play leads to more offensive chances, which Scheifele has cashed in on more often than not.
Mark Scheifele is currently 4th in rookie scoring. He is 5 pts behind first place. He has scored 6 pts (3G & 3A) in 6 games. #NHLJets

— Jacob Stoller (@JLStoller) January 26, 2014
In fact, despite his slow start he's trailing only Nathan MacKinnon, Tyler Johnson and Kris Kreider in rookie scoring. To become a serious Calder Trophy contender, Scheifele needs to continue to produce at his current pace and will likely have to finish in the top two in rookie scoring. After all, Boston defenseman Torey Krug is in the hunt, as of course is Scheifele's teammate, Jacob Trouba.
As for the immediate future, Scheifele can continue to focus on helping his team make a playoff push. The critics are long gone and so to is any pressure he may have felt early in the season. He's proven he has what it takes to compete at a high level every night, but it will still be a few more years before he's expected to be the guy in Winnipeg.
Check out our partners at TiqIQ for the best deals on Winnipeg Jets tickets for all 2013-14 games.