Jayce Hawryluk THW Close-Up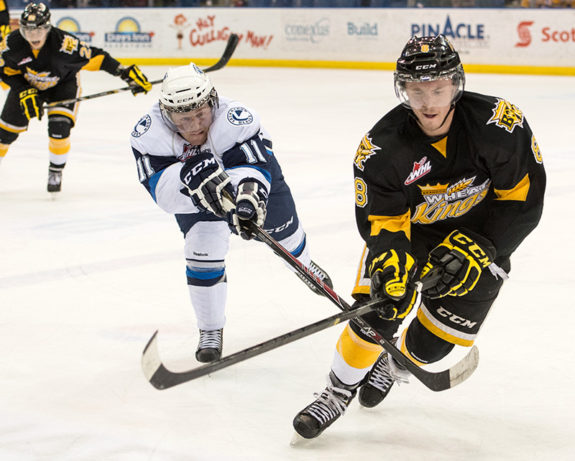 Date of Birth: January 1, 1996
Place of Birth: Yorkton, SK
Ht: 5'10" Wt: 192 lbs
Shoots: Right
Position: Center
NHL Draft Eligibility: 2014
Jayce Hawryluk has the talent to be a first or second round selection in the 2014 NHL Draft.
He emerged as one of the offensive engines for the Brandon Wheat Kings, upping his offensive production considerably from the season prior – he had 64 points, up from 43. And rather than rely on his own skills to generate chances, he's begun to use his teammates more and pass the puck in the offensive zone. That's resulted in him scoring fewer goals himself, sure, but also more chances for his team while he's on the ice.
Hawryluk is a good two-way player. He plays with an edge, buzzing around the ice to create chances or turnovers. He's an effective skater, has an accurate shots and moves the puck well in all three zones. His play away from the puck isn't amazing – his coverage when not fore-checking can be improved – but he's no liability.
Two factors may drive down his draft stock: his size and questions about his health. First, he's "just" 5'10" and 190 pounds. That's fine for the WHL, but his style of play won't translate well to the pro level unless he adds some size. He's got the grit, but he'll need to get bigger to survive. (And changing his playing style may make him less effective, so something's gotta give.) On the health front, he spent two days in hospital after collapsing after a playoff game against Regina, but apparently was in excellent shape at the NHL Combine.
While he was one of Brandon's best players down the stretch, especially in the post-season, those question marks may drive Hawryluk's status from "interesting asset" to "project" in the eyes of NHL clubs. But undoubtedly some team will take the risk, it's just a matter of when.
Scout's Honour:
"An energetic and dynamic forward with a good motor, Hawryluk has the ability to be a game breaker. While not the biggest player, he makes his presence felt with aggression on the forecheck and quickness in his hands and feet."
–Zenon Herasymiuk, Future Considerations head WHL scout
"Credited for a strong work ethic and determined forecheck, Hawryluk is a versatile forward capable of filling multiple roles throughout the lineup. His offensive and defensive awareness are both noteworthy and he has shown to be dangerous on the penalty kill."
–Brendan Ross, Dobber Prospects
"Hawryluk has good speed and very good acceleration, which complements his strong edgework and agility. Still his best assets are his core strength and balance as he is very hard to knock off the puck, forechecks hard, wins board battles, and plays a strong cycle game despite his size."
–Ben Kerr, Last Word on Sports
Statistics:
Bio/Interview(s)/Link(s):
International Tournaments:
Hawryluk represented Team Western Canada at the World Under-17 Challenge, and was part of Team Canada's at the Ivan Hlinka Memorial Tournament and the U-18 World Championship. He won gold at the Ivan Hlinka, and bronze at the U-18s.
ETA:
3-4 years
Risk-Reward Analysis:
Risk 1.5/5, Reward 4/5
NHL Potential:
Energy forward.
Strengths:
Great energy. Very quick.
Hard worker.
Very adaptable, can play in most situations.
Flaws/Aspects He Needs To Work On:
He's not physically large, and he needs to add some muscle to his frame.
He's not an amazing defensive player yet, merely an effective one.
Fantasy Hockey Potential:
Offensive 8/10, Defensive 7/10
NHL Player(s) Comparison:
At the NHL level, Hawryluk could be similar to Max Talbot, albeit with less of an agitating edge.
When He'll Go In June:
Hawryluk projects anywhere from the third to fifth rounds.