With a little over a month left until the 2014 NHL Entry Draft rolls around, hockey fans have undoubtedly started to do some research as to who their team might be positioned to select in late June. Even though skaters might be the focus of the first round this year, that doesn't mean that fans should forget about the draft-eligible goalies that are available.
After releasing their final rankings for the 2014 draft class, a number of goalies shot up in CSS's April rankings – and for good reason. While receiving a number six midterm ranking from CSS, Brent Moran was one of the goalies who managed to improve his standing as he shot up to the number three spot out of all the ranked North American netminders.
As a member of the Niagara IceDogs of the OHL, Moran received quite an increased workload (40 GP as opposed to 19 GP in '12-'13) in his second season with his junior team. Not only did Moran prove to be a reliable netminder during the course of the regular season, he also showcased his ability to perform in the postseason as he played in all seven of Niagara's playoff contests and compiled some impressive statistics (2.86 GAA, .921 Save Percentage) along the way. Recently, The Hockey Writers had a chance to sit down and speak with Moran, and it was certainly easy to see why the goaltender has seen his stock improve so much over the last few months.
The Hockey Writers: Growing up, was there a specific moment that got you into goaltending? What drew you to or made you want to play such a challenging position?
Brent Moran: I think I started to goaltend at the age of seven and I think that every kid always wanted to try on the pads. I'm not sure what kept me in net, but I love having the pressure on me and being a game-changer. I think that was a really big part of why I wanted to stay in. As a young kid trying out that gear, it was really comfortable, and I've just stuck with it until now.
THW: Could you talk a little bit about your experience in Bantam and Midget hockey and what that meant to you as a developing goalie?
BM: It was great obviously. Growing up in Ottawa, I had some great coaches. I started with the Gloucester Rangers in AA and I finished my Minor Midget year with the Jr. 67s – who I spent three years with and had great coaches there as well. It was a great time of my life and it really helped me develop for junior hockey, so I'm really thankful for everyone who helped me along the ay.
THW: You took on quite an increased workload this year in terms of games played for Niagara, what adjustments did you have to make in order to shoulder so many games this year?
BM: I love playing in games and I think that having a bigger workload really kept me into the game. Playing more often helped me get into a better groove and it was a big honor to know that the Niagara coaching staff had confidence in me – and I'm looking forward to doing the same thing next year.
THW: Has there been any particular experience or learning curve with Niagara that you feel has prepared you, in one way or another, for play at a higher level?
BM: Yeah, I think that stepping into junior hockey while coming out from midget was a big step, especially as a goaltender. The speed [of the game] was a lot faster and the guys were a lot stronger. I think that with the good coaching that I had in Niagara – from Head Coach Marty Williamson to my goalie coach Ben Vanderklok who worked with me all of the time – it really helped me progress in my development and I owe a lot to them.
THW: You really stepped your game up during the OHL playoffs this year. What was the playoff atmosphere like for you and what did you do in order to prepare yourself for games on such a big stage?
BM: I think that going into the playoffs, it's obviously a different atmosphere, but it was a great experience – especially with a young team. We all came together and did our best in the playoffs, we almost pulled off an upset, and I think it's something to definitely to build off for next season. I think that in terms of getting prepared, I tried my best to prepare the same way. It was a different magnitude in the playoff games, but the atmosphere was great, and I think that the fans cheering in both Niagara and North Bay gave us extra motivation to get a little bit more fired up.
THW: What are some of the routines or physical/mental exercises that you stick to in order to prepare yourself for game-day?
BM: I think that everyone has their own routine, but physically I try to warm up my body with some stretching – especially dynamic stretching. I don't do anything too special physically, but to get prepared mentally I read a lot of my mental training books between periods and before the games, so I feel like that helps me get focused for the rest of the game and keeps me in the zone.
THW: You're going into the 2014 NHL Entry Draft as the no. 3 ranked North American goaltender by CSS. What would you say makes you an asset of your draft class?
BM: I think that getting on that list was a big honor, and I think that my size would be amongst my strengths. I think I'm pretty mobile for a big guy, and I think I'm mentally tough. I try to stay as tough as I can, especially in different situations – which is a big key in goaltending. I think that I have to improve in every aspect of my game, but I think that those (size, mobility, mental toughness) would be my three biggest strengths.
THW: You mentioned your size. How do you try to use your size to your advantage while trying to stay mobile or looking to increase the efficiency of your movements?
BM: It's an advantage as a bigger guy, but I try not to use my size to block shots. I don't want to be a blocking goalie, I want to react to pucks and use my hands. I think that it's an advantage having my size, but sometimes I try to use it differently than other people would. I'm grateful to be tall, but at the same time I like to play the reactionary game and read the play well.
THW: Who is the toughest shooter that you have had to face in the OHL or in your career thus far as an ice hockey goalie?
BM: Well, the OHL is full of great shooters, and there's a long list of guys that are dangerous on the ice. I'd say that guys like Sam Bennett, Robby Fabbri, Max Domis, and Bo Horvat are all talented players – and the list could go on – but I'd have to say that Sam Bennett has been one of the toughest shooters so far.
THW: In terms of style of play, which goalie would you say that you most closely resemble or try to mimic? Was there a particular NHL or professional goalie that you enjoyed watching while growing up?
BM: Oh yeah, I remember watching Carey Price in the World Juniors, and right from that point I thought, "I know that guy is going to be my favorite goalie." Obviously a lot of people like him now and liked him back then, but I try to mimic my game after him and really try to stay under control. Seeing how calm he stays in the net, I really want to be like him and model my game after his play.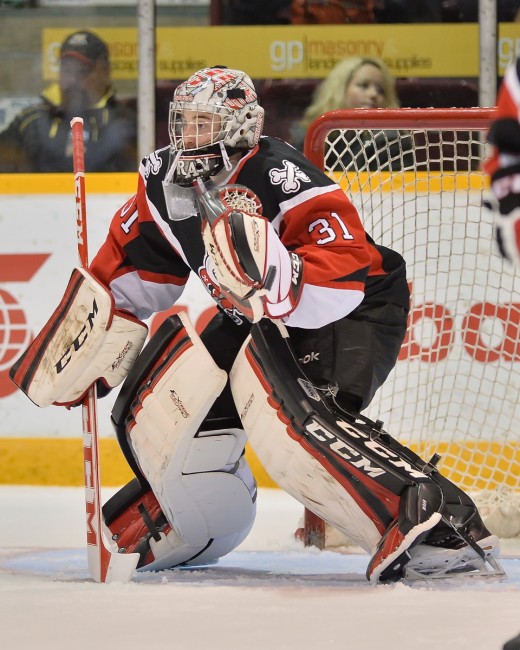 Being one of the bigger goalies available at the 2014 NHL Entry Draft, Brent Moran will certainly have a fair share of scouts evaluating him. Despite standing in at almost 6'4″, Moran has a number of other valuable assets in his arsenal and certainly has the mental acuity/strength to keep progressing steadily to the next levels of hockey play. After all, it wasn't as though Moran was the top-rated OHL goalie on CSS's rankings for no reason.
In his third year with The Hockey Writers, Toli covers all things related to the New York Islanders. Focusing on the Islanders, the NHL Draft & draft-eligible prospect goalies, and hockey history, Toli can be contacted on Facebook by searching/messaging Toli Metter and on twitter by searching @ToliMetterTHW.