Josh Ho-Sang
(a.k.a Joshua)
THW's NHL Draft War Room Rankings (E-Mac): #20 (Feb 2014)
THW's NHL Draft Rankings – The Next Ones Edition (aka Chris's List): #18 (March 2014)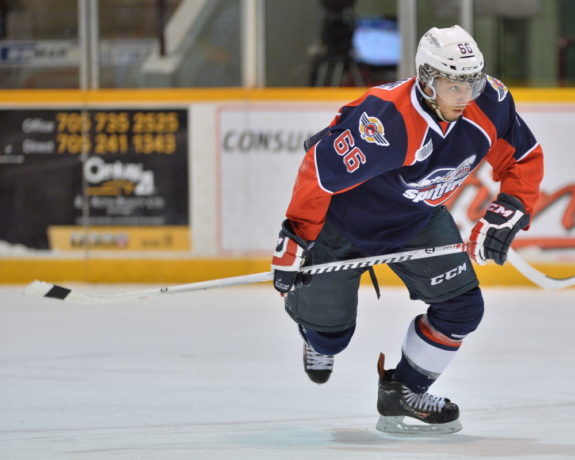 Hashtag/Nickname: #MrIncredible
Team: #66, Windsor, OHL
Position: Right Wing
Shoots: Right
Height: 5'11
Weight: 166 lb.
Born: Thornhill, ON, 22-Jan-96
Twitter: @66jhosang
Stats
Other Rankings
9 – ISS, Feb-14
22 – NHL Combined – Mid-term, Jan-14
29 – Bob MacKenzie, Jan-14
33 – Craig Button, Jan-14
Worth Retweeting
Really impressed with @SpitsHockey forward @66jhosang after getting to speak with him in our last segment. Solid. Humble. Mature.

— Guy Flaming (@TPS_Guy) October 19, 2013
Big riser this month may just be Josh Ho-Sang. Taken his game to a new level. Just too skilled to pass on. Top 10 pick without a doubt.

— Sean Lafortune (@SeanLafortune) February 26, 2014
http://t.co/TMB326PEad
#19 Joshua Ho-Sang @66jhosang
Outstanding skill-set w/ the puck… agile & elusive end-to-end ability. Tireless tempo

— ISS Hockey (@ISShockey) February 3, 2014
Profiles
https://twitter.com/Flyerdelphia/status/441755798394265600
Quotable
Quote 1: Joshua Ho-Sang, himself, at NHL.com, "I'm patient, dynamic, and explosive. I like to be precise with the passes and try to take pride in everything when it comes to the offensive side of my game. I've really been working on my defensive side this year. I feel I have the drive to be the best every day."
Quote 2: Windsor Spitfires Head Coach Bob Boughner says: "Josh is an immense talent with world class speed and all the tools you could hope for in a young player. He's got as much raw skill as any forward in the league."
From the THW War Room
Eldon MacDonald, THW: A few words on Joshua Ho-Sang:

Mr. Incredible – Watch the videos and see the spin-o-rama, see the puck behave like a yo-yo, see the incredible skating and stick handling.   
Skills – Incredible skating and stickhandling, sweet, soft passes, a natural goal scorer, elite creativity and a great shot.
Improvements – What I like best about Joshua is the improvements he has shown this year. He has gone from a somewhat selfish puck hog to the guy making the whole team better. In fact, since Windsor Spitfire General Manager, Warren Rychel, traded his son, Kerby Rychel, (Is no one safe these days?), Joshua has taken over as the face of the team and the team is one of the hottest in the OHL.
Draft placement – All over the place, ISS has him at 9 and Craig Button had him at 33rd in January, but recently moved him up to 20th. I have him currently at 20 but I will be moving a lot closer to ISS's ranking if he keeps up his current level of play.
Editor's Notes
Transferrable Skills: Hand-eye coordination – As evidenced on several goals and plays this season (see CHL Top Prospects Game goal), Josh has exceptional hand-eye coordination. Credit should be given to the fact that he has also played tennis at an elite level; not surprising since his father, Wayne, is an ex-tennis pro.
Video
Nice hand-eye coordination by @66jhosang batting in this goal at the CHL Top Prospects game! @SpitsHockey http://t.co/bnGAam7LZo

— Shnarped Hockey (@shnarpedhockey) January 16, 2014
About NHL Draft War Room Series
This series is compiled by Eldon MacDonald and edited by @ChrisRalphTHW)