Ready or not, it will soon be Teuvo Time in Chicago. With Chicago jockeying for the Central Division lead and home ice advantage in the playoffs, the Hawks' 2012 1st round draft pick, Teuvo Teravainen, will soon make his NHL debut. But is the timing right? Will Teuvo Time for the Blackhawks be a reenactment of the NFL's Tebow Time? Or will Teravainen be the piece that drives the Blackhawks over the top?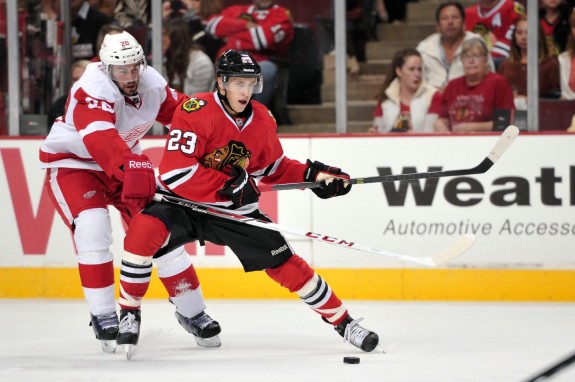 Is Teuvo Time A Risk Right Now?
With 17 regular season games left to be played, the Blackhawks find themselves third overall in the Western Conference standings, and four points behind the St. Louis Blues in the Central. To raise the stakes, the Colorado Avalanche are now a single point behind the Blackhawks with the same number of games remaining. And that's only in their own division; San Jose stands pat with 89 points as well, making each game feel like a must-win scenario if home ice advantage wants to be obtained.
Despite the nail biting competition throughout the conference to this point, the Blackhawks have continued to see an improvement in their penalty kill, which at one point was one of the league's worst. Since returning from the Olympic break, the Hawks have allowed only a single power play goal in 20 chances. And although their power play unit itself ranks 5th in the league, their 1-for-18 performance since the break has become another cause for concern.
With Jonathan Toews serving as the only viable source at the center position, clearly it makes sense to declare it time for the Blackhawks to see what Teravainen can do. But are the stakes too high to throw the 19-year-old into the water to sink or swim?
As of now, the plan appears to have Teravainen join the Blackhawks at the conclusion of his Finnish Liiga schedule. With scouting reports raving about his versatility and vision, Teravainen could be exactly what the Blackhawks need – A legitimate center who brings stability to the lineup.
#Blackhawks coach Joel Quenneville reiterates what Stan Bowman said recently: Teuvo Teravainen to come to Chicago after Finnish season ends.

— Chris Kuc (@ChrisKuc) March 11, 2014
"He's really progressed. Reports are excellent on his development," said Blackhawks head coach Joel Quenneville. "Our people believe that he can help us. So we look forward to getting that opportunity."
Obviously, Quenneville doesn't seem too concerned about the timing. But why? Here is a closer look at what some reports has to say about the prospect:
"A supremely skilled forward, Teravainen has the soft hands and hockey sense to be an offensive factor every time he touches the ice. He is an explosive skater and he uses his speed well to beat defenders one-on-one and create space for his linemates. His skill set is especially effective on the power play, where he is a talented distributor and can utilize his heavy one-timer. He can also create well on the rush and make plays at high speed. His defensive zone play is not especially strong and, at 5'11 and 165 pounds, he will need to continue adding strength before transitioning across the pond. After starting his draft year at left wing, Teravainen is expected to remain at center for Jokerit." — Hockey's Future

Joel Quenneville just told @MacAndSpiegs that Teuvo Teravainen will get a look at some point this season. I'll get exact quote ASAP.

— Jay Zawaski (@JayZawaski670) March 11, 2014

"A forward who can play as either a center or winger, Teräväinen is a solid scorer with very good playmaking. He has fantastic on-ice vision and excellent hockey IQ as well as very good puck-handling. Teräväinen is very creative and his playmaking ability makes him effective on the powerplay. He is often able to play his way out of trouble but still needs to improve his physicality and grit. Teräväinen is already smart enough to play in North America but has issues with his skating, overall strength and two-way play."– Elite Prospects
Teuvo Time Could Bring More Than Anticipated
With Teravainen's versatility, the Jokerit assistant captain could bring Quenneville even more options than just filling a center line hole. His ability to play on the wing could bring the same value in scoring that he's brought his SM-liiga team in his last three seasons.
In 47 games with Jokerit this season, Teravainen has struggled to find the back of the net, scoring only nine goals. His playmaking ability, however, is reflected in his overall point totals thanks to 34 assists. Despite the low number of goal scoring, Teravainen's 43 points is good enough to lead the team.
Back in December, it was Teuvo Time for Finland's IIHF World U20 Championship gold medal team. In seven games, Teravainen was sensational, scoring two goals and 13 assists for 15 points. The Media All-Star team member left his finger prints all over Finland's gold medal game against Sweden, assisting in all three of Finland's goals. Since then, the 18th overall selection in the 2012 NHL Entry Draft has continued to develop.
"I think when he left here in October, he was a little bit of a slow start," said Blackhawks GM Stan Bowman. "He had missed some games while he was in training camp with us. It took him a little bit to get going. I think he started playing well in December, and, ever since the world junior tournament, he's been dominating. He's been scoring every game. He's the leading scorer of the team even though he hasn't played as many games as other guys."
Teuvo Time Done Before?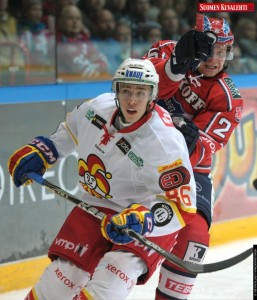 If the Blackhawks are true to their word and insert Teravainen into the lineup before the playoffs, they'll do so with confidence. Not only has he developed throughout his time in Europe, but the Blackhawks are familiar with baptizing their youth by fire.
In 2008, Chicago named a 20-year-old Jonathan Toews the captain of their team. A far bigger role of the dice with much bigger implications than seeing what Teravainen can do in a single Stanley Cup push. While the decision to name Toews the 34th captain in franchise history didn't produce a Stanley Cup that season, they did reach the Western Conference Finals before ultimately winning the Stanley Cup the following season.
Last season, Brandon Saad played 46 games for the Blackhawks, scoring 27 points. And although Saad wasn't a late season call up like Teravainen likely will be, he was only 20-years-old. Saad's light contribution to the Hawks in the playoffs (six points) certainly didn't land him on the map, but didn't hinder the Blackhawks either.
Still, Saad's 46 regular season games allowed him to find his bearings and enter the playoffs with as much familiarity as a rookie can have.
"He improves every single game," said teammate Jonathan Toews. "I think that's what says the most. You can talk about his skill all day, how fearless he is in the puck areas . . . but he's one of those guys that's determined to make a difference every night."
Teravainen may not be the answer for the Blackhawks this season, but then again, he just might. Chicago has been depleted at the center position outside of Toews. And as he's shown throughout his stint in Europe, Teuvo Time brings a two-way ability with outstanding playmaking talent. If he isn't the answer, he is still more than likely their best option.
Andy is a contributor for The Hockey Writers, covering the Philadelphia Flyers. He holds a Bachelor's Degree in Communications from Walsh University. He enjoys spending time with his family, golfing, and reading. He is married with a daughter. You can follow Andy on Twitter @ADudones.