Despite losing three of their last five games, things are looking up for the struggling Chicago Blackhawks when it comes to improving their woeful penalty kill. At 32-9-12, Chicago has maintained their Central Division lead by improving their only real achilles heel.
With only three teams below the Blackhawks in penalty kill percentage, Chicago's 27th ranked unit has pulled a 180 this season, going from 87.2 percent last season, to 78.3 percent to this point of the current campaign. The Hawks, however, have appeared to turn their weakness into a strength, killing off their last 13 penalties, which spans over their last four games.
[Keep Razorgator Tickets in mind for your Blackhawks tickets needs]
The Blackhawks last allowed a power play goal on January 14th, when Colorado's Tyson Barrie found the back of the net on an overtime power play goal. So how is Joel Quinneville's squad doing it?  
[su_heading size="20″ align="left"]Chemistry[/su_heading]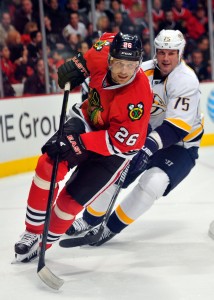 Chicago's penalty kill woes can be attributed to numerous factors, one in which being chemistry. Although it has taken longer to develop than anticipated or wanted, first-year Blackhawk Michal Handzus has appeared to start gelling with PK fixture Marcus Krueger.
According to Scott Powers of ESPN Chicago, Handzus had said that he and Krueger were "out of sync at times."
"With Kruges, he's been great. We just talk about it. Obviously, a lot different things we got to talk about. Now we know more what to do and other guys do. That really helps." – Michal Handzus
[su_heading size="20″ align="left"]Discipline[/su_heading]
The logic is simple: If the penalty kill is a weakness, stay out of the penalty box. That's basically what the Hawks have done, spending a total of 184 minutes in the sin bin through 53 games. Their 8.4 penalty minutes per game is third lowest in the league, with New Jersey and Carolina ranking ahead of them with games at hand.
Even Chicago's leading rule breaker, Brandon Bollig, has appeared to be tamed in a positive manner. Chris Kuc of the Chicago Tribune points out that Bollig last engaged in fisticuffs on December 8th, while finding synergism on the fourth line with Kruger and Ben Smith. And despite taking a two-minute break in the penalty box for high sticking Minnesota's Jonas Brodin in last night's game, Bollig was previously on a six-game streak in which he did not commit a penalty.
"It's part of my nature and part of my game and I love doing it, but if the role they want me to play is less fighting and more playing, I'm more than happy to do it. It's probably what's going to prolong my career in the long run." – Brandon Bollig
To further illustrate Chicago's overall discipline when it comes to taking penalties, the closest Blackhawk to Bollig in time out corner is Andrew Shaw, who trails Bollig by a staggering 30 minutes. The defending Stanley Cup Champions have yet to commit a single game misconduct or match penalty.
[su_heading size="20″ align="left"]Offense[/su_heading]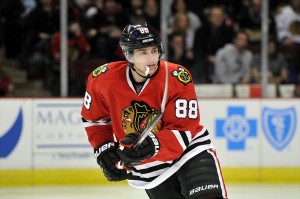 Not only is Chicago's 189 goals scored this season the most in the NHL, it's 10 more goals than the closest team to them in that category, the Anaheim Ducks. The Blackhawks' plus-43 goal differential ties them with the Pittsburgh Penguins for third in the league, while their 3.47 goals per game is the best in the NHL.
Chicago is scoring at an alarming rate with three 20-plus goal scorers and an effective power play, which we'll get to later. The Hawks are throwing an average of 33.5 shots per game at opposing goaltenders, while winning 52.1 percent of their faceoffs.
Of the three 20-plus goal scorers, both Patrick Kane and Patrick Sharp are in the top 10 in league-wide point scoring. Kane's 59 points is good for fourth, while Sharp's 52 points pits him at ninth in the league. Even captain Jonathan Toews is just one point shy of reaching 50 points, despite ranking 15th.
Even more impressive, the Blackhawks are one of just four teams who have yet to suffer a shutout defeat. Chicago has stayed on the offensive, pressuring opponents in their offensive zone and throwing 33.5 shots on goal per game.
[su_heading size="20″ align="left"]Power Play[/su_heading]
Unlike their struggling penalty kill, the Blackhawks boast the league's fifth best power play, going 38-for-170. Their 22.4 power play percentage comes with just 271:40 of total power play time, 23rd in the league.
Despite their lesser attempts on the man advantage, Chicago touts four players with double digit power play points in Kane, Sharp, Toews, and Duncan Keith.
Despite going ice cold of late, Chicago's power play unit strikes fear into anyone who gets caught cheating on the ice, marching out Shaw, Toews, and Kane on the first line, and Brandon Saad, Kris Versteeg, and Hossa on the second.
The Hawks have gone 1-for-17 their last power play chances over their last five games, yet still lead Nashville's sixth ranked power play by almost a full percentage point.
[su_heading size="20″ align="left"]Defense[/su_heading]
If Chicago's offensive fire power weren't enough to overcome their overall penalty kill deficiencies, their defense which boasts two legitimate Norris Trophy candidates is.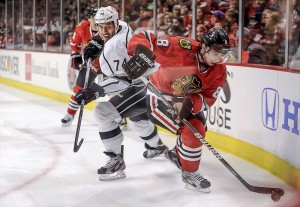 While Duncan Keith and Brent Seabrook slop up minutes, the pairing of Johnny Oduya and Niklas Hjalmarsson on the second line has gone head-to-head with the majority of their opponents best lines. And despite Nick Leddy representing a ghost on the stat sheet with only one assist in his last 10 games, his skating and versatility have been an underrated attribute to the team's overall defense.
With the elite defenders in front of him, Leddy has averaged 16:31 of average ice time in all of Chicago's 53 games. But with several other defenders in and out of the lineup, Leddy has adapted to his different pairings in stride.
Tracey Myers of CSN Chicago wrote, "The one constant on that third line defensive pair has been Nick Leddy. The 22-year-old has been the Blackhawks' steady fifth defenseman for the past two seasons."
"That's when communicating is huge. I've really started to work on that and I think I've gotten better at it. It's not as big of an adjustment for me as the other guys." – Nick Leddy
With a three point advantage over Central Division foe St. Louis, who owns three games at hand, the improving penalty kill has no room to let up. Before making a home pit stop to play the Winnipeg Jets on Sunday, Chicago will take to the road to start a seven-game road trip in which they'll see the likes of the Vancouver Canucks, San Jose Sharks, Anaheim Ducks, and surging New York Rangers. If the Blackhawks haven't been tested yet this season, they certainly will be now.