On frozen ponds across Massachusetts, countless peewees have lived vicariously through a heroic Winthrop native. Time and time again youngsters take the form of Mike Eruzione and slide one past an invisible Vladimir Myshkin to give Team USA the gold medal. The Olympic games were decided in my backyard every winter weekend of my youth, weather permitting. From the days when our parents were tying our skates for us, it was every kid's dream to bring his home country to glory on an international stage.
Unfortunately for almost all of us, we will never achieve this level of success. Some of today's best NHL talents are missing their chance in Sochi. Most folks don't take this situation lightly, particularly Bobby Ryan. The harsh reality of not representing your home country can be devastating. However, skipping the Olympics isn't always a bad thing.
The NHL season is both a physically and emotionally taxing endeavor. Being sharp in the mind and body for 82 straight games is nearly impossible. This doesn't even include the playoffs, where the games are twice as demanding. Some players may be risking their chance to hoist Lord Stanley by taking their talents to Sochi in February. Whether intended or not, some players who are not representing their respective nations are putting themselves in position to make a run down the stretch. Here are 5 players who will reap the benefits of skipping the Olympics.
The Gold, Silver and Bronze for Staying Home
Logan Couture, San Jose Sharks
Couture had a torrid start to this season. I documented his early success and meteoric rise as a Canadian Olympic contender for THW a few months back. Logan produced sporadically since then. He fell into a 7 game drought in December, only to follow it up with a 5 game point streak. Couture remains in the top 60 in scoring, top 50 in plus minus, and top 20 in shots.
Unfortunately for Couture, he injured his hand, underwent surgery and was left off the Canadian roster all in a matter of a few days. Happy New Year? While it seems like a raw deal for the young Ontario phenom, he should not fret about the news. His teammate Joe Pavelski has been picking up the slack in the meantime. Pavelski has notched 18 goals in his last 20 games, the second most in a 20 game span in Sharks history (per Elias Sports)!
Logan, please take time to recover from your injury and pick up where you left off after the break. You are 24 years old. I'd bet the family farm you'll be a member of the 2018 squad. If your number is called when a fellow countryman gets hurt, let the voice mail get it. Even if Pierre LeBrun disagrees…
Source says Logan Couture will undergo surgery Wednesday on injured hand. Expected to be out 3-4 weeks. Olympics still a possibility…

— Pierre LeBrun (@PierreVLeBrun) January 7, 2014
Kyle Okposo, New York Islanders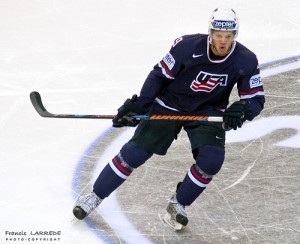 Kyle Okposo was near the top of everyone's Team USA Olympic snubs list a few weeks ago. There is no doubt that he has elevated his game to another level this year. The Okposo-Tavares-Vanek line is the hottest trio in hockey at the moment. The Islanders have ridden their coattails from the basement of the Eastern Conference to the playoff picture seemingly overnight.
Similar to Couture, Okposo will be a highly sought replacement if an American winger is stricken down by the Injury Ninja in the upcoming days. However, I'm sure there is more on Mr. Okposo's mind at the moment.
Kyle and Danielle welcomed a daughter into the world two weeks ago. We suggest you get as much rest as possible with a newborn. Your wife needs you at home, and I suppose the Isle's need you to keep scoring in the dirty areas.
P.S. 9 points in the 8 games since his daughter's birth is not too shabby.
It's a bummer for Kyle Okposo to miss the Olympics, but at least he gets to rest during the bre— oh wait he has a newborn baby nevermind.

— James O'Brien 📎 (@cyclelikesedins) January 23, 2014
Bobby Ryan, Ottawa Senators
Bobby Ryan was the main focus of every "Olympic snub" article from the moment David Poile and company left him off of Team USA. It became clear to the media and fans alike that Mr. Ryan was none too pleased with the way he was slandered by the same people he represented in Vancouver just 4 years earlier.
Ryan did his best to take high road, says he will use Olympic snub as motivation

— Ken Warren (@Citizenkwarren) January 2, 2014
Any front office member of any sports organization will tell you "nothing personal, it's just business." After Scott Burnside"s groundbreaking ESPN article covering the selection process, it hardly seemed so.
"He is not intense. That word is not in his vocabulary," Burke says. "It's never going to be in his vocabulary. He can't spell intense."
Rather than fully firing back, Ryan said he would use his snub as motivation for the remainder of the season. He remains fully committed to Team USA, and would be ready at the drop of a hat to rejoin the team.
Ryan has only scored once in his 9 games since the announcement and currently sites at 19-20-39 on the season. At this point,it is time for Bobby to put this disappointment behind him. Waiting for a phone call is no way spend the rest of his time before the Olympic break. He said he would come back even more motivated in the new year, but he has yet to show it. Ryan had 11 multi-point games before the Winter Classic with "no intensity."
Ryan needs to make the most of skipping the Olympics. Hies Senators are only 2 points out of a playoff spot. If he can restore his confidence over the break, look out for a major post season push and some more dynamic goals like this one.
Just Missed the Podium
Claude Giroux, Philadelphia Flyers
Claude Giroux has averaged over 1 point per game since the beginning of the 2010 season. That is truly astronomical in modern hockey. Yet for some reason, he will not be making the trip to Russia in a few weeks. Why?
Much of it likely had to do with his slow start. When a star player struggles so mightily, people take notice.
That awkward moment when Mike Smith has more goals than Claude Giroux.

— Wheeling Problems (@wheelingprobs) October 20, 2013
Yzerman briefly alluded that Giroux may not have been a specific puzzle piece fit for the Canadian jigsaw. In reality, Giroux is a top 2 center on almost any other national team. Giroux himself has already stated that he is only 26 and has many more years of hockey ahead of him. Expect him to be one of the top contributors in 2018.
Jiri Hudler, Calgary Flames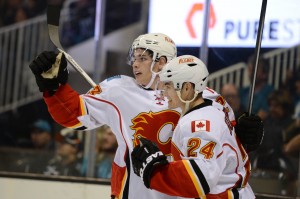 Jiri Hudler's 40 points this season make him the 3rd leading scoring (Krejci, Jagr) out of all Czech players in the NHL. 1998 Gold Medalist Jaromir Jagr is surprisingly not the senior in the Czech lineup. 41 year old Petr Nedved made the cut over the 30 year old Hudler. The Czech's are attempting to vanquish a seventh place finish in Vancouver with another magical run this year, yet are going to have to do so against one of the deepest Olympic player pools ever.
Hudler declined to comment about his obvious snubbing. He does not need to say much. The Czech team is deficient of wingers, projecting Jiri Novotny as a second or third line option. Novotny, a center, does not have nearly the track record that Hudler does. He never quite had the goods to make a name for himself during his five year tenure in the NHL.
Hudler was clearly bothered by the news, but he does not need to worry. If Petr Nedved can make the sqaud at 42, Hudler might be snubbing a younger, more talented Czech in 2026.